20ft 40ft shipping Prefab modular container restaurant for sale
Description
20ft 40ft shipping Prefab modular container restaurant coffee shop food container cafe and restaurant for sale
Modern 20ft 40ft shipping Prefab modular container restaurant for sale at the best rates. we ship and installed the prefab container in any city and state within the USA.
Services provided:
1, Professional Plan Provider
With experience over 10 years in industry, we will perfectly provide plan to meet your requirements.
2, 3D effects
Our designer will provide professional 3D images and videos to help you check the site plan and layout plan. It helps for bid projects.
3,Technical support
We have detailed video and install guidance brochure to teach you how to install. We could also send our staff to your project site to help.
4,Logistics plan
We will make a proper plan to ship your goods to save shipping cost and be more efficient.
5,Consummate service
Consummate pre-after sale service. 24 hours online to fast response. Professional advice for your project.
Production description
Item
20ft container
40ft container
Color
As request
As request
Size
L6058mm * W2438mm * H2896mm
L12192*W2438*H2896mm
Area
15m2
30m2
Weight
1980KG
3960KG
Life Span
Over 20 years
Over 20 years
Structure
Keel+insulation+Gypsum board,or Sandwich panel
Keel+insulation+Gypsum board,or Sandwich panel
Door
Aluminium-alloy door;U-PVC door;OR As request
Aluminium-alloy door;U-PVC door;OR As request
Window
Aluminium-alloy window;U-PVC window;OR As request
Aluminium-alloy window;U-PVC window;OR As request
Floor
Fiber cement+pvc flooring or customized
Fiber cement+pvc flooring or customized
Electricity system
UL;CE;SAA Australia/NZ STD;GB Or As request
UL;CE;SAA Australia/NZ STD;GB Or As request
Heat conductivity
0.03(normal temperature)
0.03(normal temperature)
20 Shipping Container Coffee Shop & Café Ideas for 2023
New and recycled shipping containers are providing everyday people, construction workers, and entrepreneurs with a valuable way to build cost-effective homes and run a successful business. One of the trending businesses being constructed from these sturdy steel frame structures is quality coffee shops and cafes.
Eco-friendly trends in housing and businesses are on the rise and one such way people are looking into how they can utilize environmentally friendly practices is through unique installations, recycling, reusing, and reducing their climate impact. Shipping containers are supporting this new lifestyle trend in distinctive ways.
Small businesses like cafes and bars are benefitting greatly from the portable option of shipping containers because their unique design can attract customers, their structure is durable, the interior provides enough space for the necessities of many developments and services, and typically the main focus of using a shipping container for a café is to create an environmental appeal.
20ft 40ft shipping  container restaurant for sale
If you're looking for inspiration to design a coffee shop and café, look no further. We have searched the globe through the world wide web and found 20 unique, wonderful, and cost-effective shipping container café's to pass on some valuable motivation for your own café concept.
From the US to the glorious streets of Italy to the sunshine coasts of Australia and further, take a look at these container ideas below to light a spark of innovation and inspiration
Buy Shipping container restaurant, coffee shops online
Shipping container restaurant is a modern design creative ideas portable restaurant ideas. It's not only a perfect mobile coffee shop and food hall for outdoor environments but also the best solution for modular kitchens business. Everyone looks forward to a good dining experience. But it's hard when we taking food outside the restaurant. However, The shipping container designs offer a totally new, fresh outdoor food kiosk ideas. We can utilize modified, recycled shipping containers or new sea container to create an eco-friendly, turn-key and juice bars, or customized container restaurants. Those container shops perfectly combine the food kiosk function within a steel box. By redesigning, cutting and welding, we can turn the Old or out of use shipping containers into beautiful design coffee shops, food booth, or other container franchises. What's more, We can also make sea containers into a modern office and pleasant home. With used sea containers, Ant Display provides the possibility of unique functions for outdoor food shops and modular business solutions; Check our site and find your perfection options.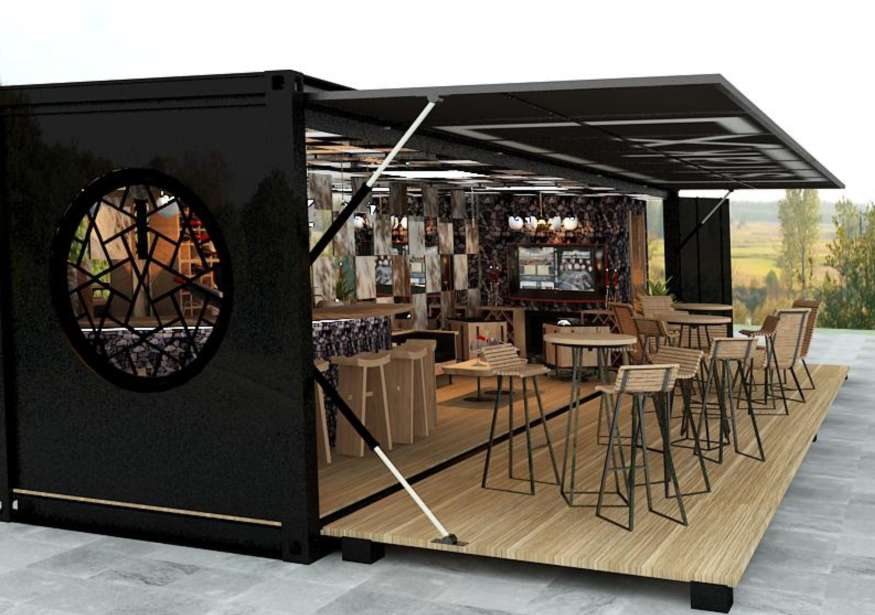 20ft 40ft shipping Prefab modular container restaurant coffee shop food container
The modern design container restaurant is modified with Hydraulic opening system doors, So it can easily open to enlarge the shop and close as a box again to keep it safe. Besides standard 8'x10′, 20′, and 40′ sizes, Ant Display can also custom the shop containers according to the size of your requirements by joining modular containers together to create a larger store. Our shipping container box is just perfect display solution for foodservice, retail business as well as event business. Check our Page and find your favorite shipping container restaurant.
What kind of food business you can do within a shipping container restaurant?
Containers restaurant are a portable restaurant that has the same function for the food stall. Therefore, generally speaking, all type of food service business you can operate within a container food bar. Whether you want to open a wine bar on the business plaza or start an industrial cafe bar downtown, Container concept restaurant will never let you down. It can not only present a unique style out-design but also offer an extremely wonderful dining environment. Lots of food concession business has great profit inside the container box restaurant. Here below are the top 5 food concessions that you can start.
Beverage & Coffee
20ft 40ft shipping Prefab modular container restaurant for sale
Shipping container coffee shop is one of the most popular container restaurants. in the first instance, the industrial style shipping containers with metal, steel textures are just perfect for coffee shop decoration. Beverage juice and fresh fruit juice are also popular in the container food hall. You can either start a takeaway juice bar or small mini portable restaurant with a seating area.
Ice Cream& Dessert
Vendors who are in foodservice business all know that ice cream retail is a profitable business. You can open an ice cream shop in various locations. From the indoor shopping malls to the outdoor street or public transaction stations. Shipping container restaurants with attractive features is just an ideal food shop for those mobile businesses.
Packed foods
Packed foods is also a good business you can serve within a shipping container restaurant. Whether factory-made foods or other fast takeaways, as long as it only needs to warm up and sell can be an ideal business ideal in a container food hut.
On-site cooking
On-site cooking food hut is the most complicated food stall idea. But it's also the most popular food concession hall. Within an on-site cooking food stall, you need a large kitchen with lots of equipment. Such as pizza kiosk, crepe, or pancake waffles.
Our shipping container food bar is equipped with high-quality bar counters as well as health code compliant kitchen equipment. All those food bars are finished with food-grade stainless steel as an NSF surface. You only need to give us your equipment list, our designer will help you create a user-friendly functional layout plan to fit your business.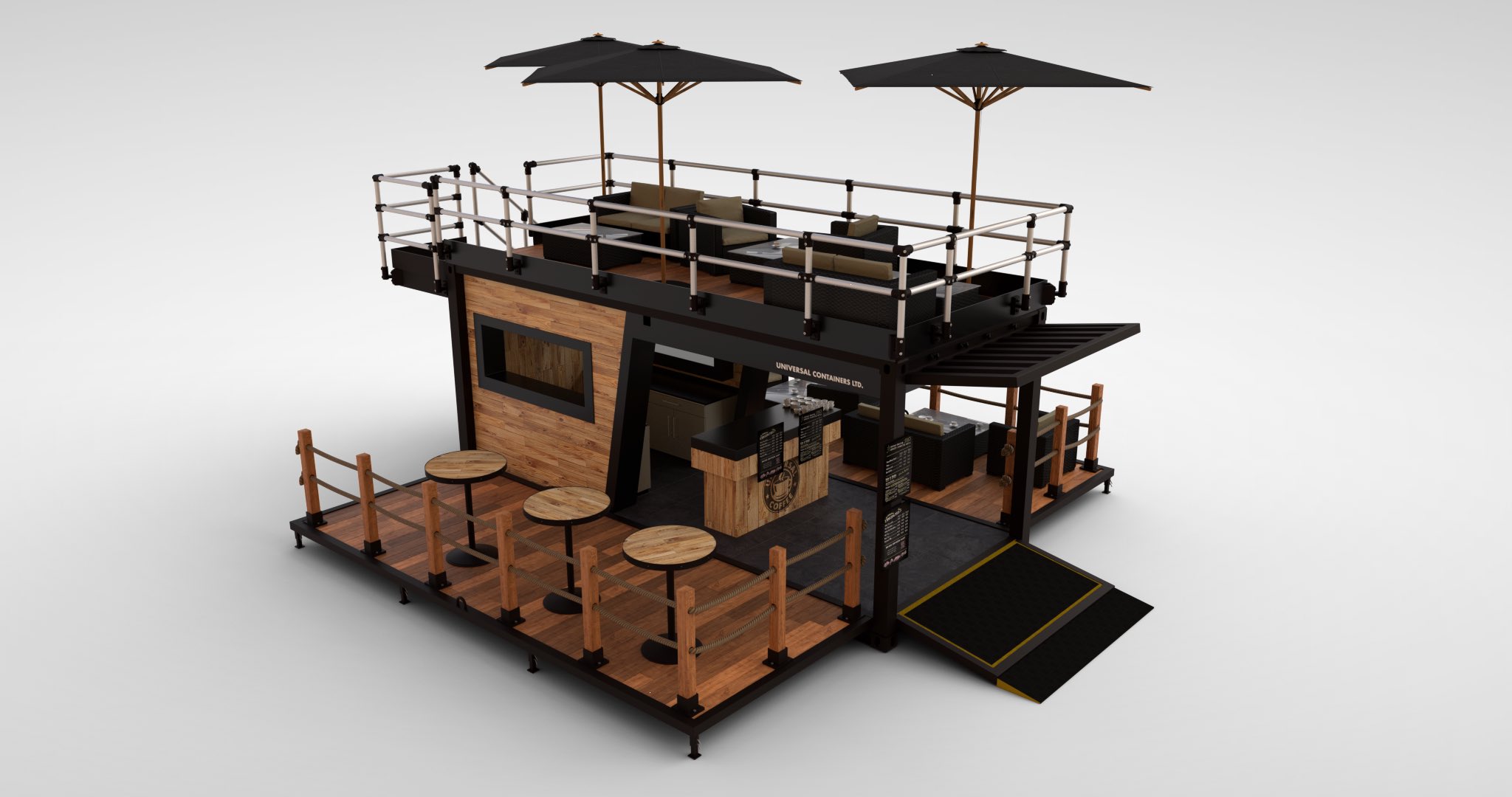 What are the dimensions of the container restaurant?
Our most common containers are 20 feet and 40 feet. There are many types of container restaurants. They can add other things on top of the container. For example, stairs, as you can see from the container model on our website. Install stairs and the top of the container can be used as a seating area. There are also some container hotels where several containers are put together alive and stacked together. So their size is not fixed. There are regular and irregular, depending on the client's budget and ideas.
What is included in the container restaurant?
For Ant Display, we are committed to providing the best quality and the most convenient choice for customers. Our container restaurant can contain internal counters (we can install sinks and water systems on the counters.), luminous logos, lightbox paintings, ceiling lights, sockets, and floors. The design of the container restaurant is special. When it is closed, it is in the shape of an ordinary container. When it is opened, its wall can be used as the floor. We can put tables and chairs on the floor as a dining area. We will install a hydraulic system on the wall so that the wall can rise and fall automatically. In short, what we provide must be a complete store-like container. If you have other special requirements, such as installing an air conditioner or oil suction machine, you can tell us and we can help you buy it and install it in the container
LOGISTICS & Transportation
Because our shipping container restaurant is in standard shipping size. So, it can easily close up and shipped as a sea container. Our containers shop and restaurant can be places anywhere and any business spots.  Whether you want one 20ft container restaurant on the street or need a two-layer 40ft fast food cafe placed in the business plaza. You will always get your perfect work here.  By using the conventional transit method. You can move the container shops virtually anywhere that needed.