Sale!
Buy 120-gallon propane Tanks Online
$850.00 – $1,100.00
Description
Buy 120-gallon propane Tanks Online
Owning your propane tank has several advantages, the greatest being the freedom to shop around for the best propane prices and services. To own your tank, it is critical to have the tank installed in a safe way that follows all codes and regulations. Inter-modal Container Ltd. gives you peace of mind knowing that your propane tank and connections are installed safely, properly, and with quality workmanship.
​We offer our 120-gallon propane tanks for sale throughout the USA

Propane continues to be a popular choice among consumers when it comes to heating for residential, agricultural, and commercial industries. If you're looking for a 100-gal propane tank size, this is the right choice for you. 100 gallons refers to the actual number of gallons of propane the tank can hold, and 120 gallons refers to the total water capacity of the tank.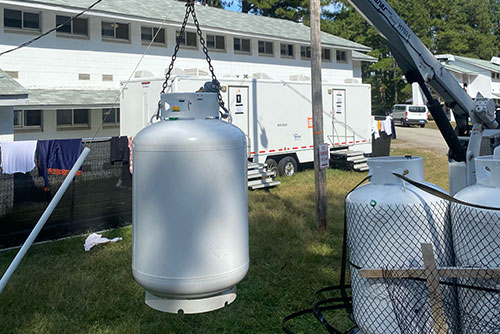 Why Is It Important to Pick the Right Size Propane Tank?
This guide is devoted to helping you pick the right size propane tank. However, you may be wondering: why is it so important that I pick the right size?
The right size propane tank can help you save on your energy bills by controlling how often you need to fill it up.
While buying a tank that is too big isn't too much of a disadvantage, buying a tank that is too small will affect your budget because you will need deliveries more often. Also, since you're buying a smaller quantity of propane, the cost might be slightly higher.
Propane Tank Sizes
Before you can figure out what size tank you need, it's important to know what sizes are available. Use our guide to figure out exactly which one of these you should buy for your particular home needs.
20 Pound Tanks
One of the most common residential propane tanks is the 20 lb. tank, which is the size of the tank you hook up to your propane gas grill or for other modest residential energy needs, like a fireplace.
20 lb. tanks are not used for home heating or anything else that a large scale, but the benefit is that you can purchase several tanks to have on hand for backup, and you can have them refilled at any propane retailer.
33 Pound Tanks
33 lb. propane tanks are relatively specialized. They are used almost exclusively to power certain vehicles, including forklifts, although they can fuel any vehicle that relies on autogas.
Because of the focus on powering vehicles, a 33 lb. propane tank may not be the best choice for most residential homes. However, people with farms or large tracts of land where you might need to use specialized vehicles may find such tanks very useful.
100 Pound Tanks
100 lb. tanks are a good choice if you have smaller appliances or heating devices that use propane. For instance, many people rely on 100 lb. propane tanks to power their gas cooking ranges, as well as their indoor fireplaces.
These tanks are obviously much larger than the 20 or 33 lb. tanks, but they are still small enough to be relatively portable.
Remember, the more items in your home that are fueled by propane, the more likely it is you will need a larger propane tank. Keep in mind that the bigger the tank, the stricter the local safety and installation regulations may be. You will want to keep tanks of this size at least three feet away from your house.
420 Pound or 100 Gallon Tanks
420 lb. tanks are large enough to be used for a variety of commercial purposes. However, these tanks can have many residential uses as well.
They work well as a heating solution for your home, for instance. They can also power emergency generators and are a great way to heat a swimming pool if you have one. If you intend to use your fireplace a lot, these tanks are also suitable for that purpose.
Just so you know, some homeowners and professionals refer to 420 lb. tanks as "100-gallon tanks" because that is how many gallons this size tank can hold.
The 500-gallon tank is the most common size propane tank for residential propane use. It is often used for home heating, generator powering, cooking, pool heating, and more.
The primary benefit of this larger tank is that you can go that much longer without having to get it refilled. And when you are buying more gallons of propane, you can often get a slightly lower price rate for buying in bulk.
Typically, a home needs to be at least 2,500 square feet, and using propane for multiple appliances for a 500-gallon tank is the best choice. You can also choose above-ground or below-ground tank installation for 500-gallon tanks.
Long story short about the 1,000-gallon tank? It does everything that the 500-gallon tank does, but it is twice as big.
That means this tank is also suitable for heating homes and pools and for powering generators. However, because this tank is so large, you should not buy it unless your home is at least 4,500 square feet.
1,000-gallon tanks are also popular for agricultural uses.
2000 Gallon propane Tanks
Dimensions: 46.77″ OD x 23′ 9″ OAL
Capacity: 2000 Gallons
Year Model: 2021
Manufacturer: Arcosa Tank
What uses the most propane in a house?
Furnaces, water heaters, and gas fireplaces use the most propane in your home. Here's how much propane they use. The average 100,000 BTU propane gas furnace uses approximately 1 gallon per hour or 500-1,200 gallons per year.
This type of tank is also known as a 420 lb. tank, which refers to the number of pounds of propane the tank will hold when filled to 80 percent. Typically, 100-gallon propane tanks are used for home heating, hot water, dryers, generators, and pool heat. 100-gallon propane tanks are also used for commercial applications such as heating, cooking, and dry cleaning. They are about 4 ft. tall.
WHY PURCHASE YOUR 120-GALLON TANK FROM US?
Safety is our #1 goal, and we are trained and certified in all state and federal regulations. 
Have peace of mind knowing that if anything should happen, our team is fully insured.
The manufacturer's warranties on the tanks, parts, and components are passed on to you as the customer.
Are you looking to purchase a 120-gallon propane tank (or a series of tanks) for your home or business?
​If so, talk to us at Affordable Tanks to see what is right for your situation!
​We offer stand-alone 120-gallon propane tanks for Chester, Lancaster, and surrounding counties in PA. 
​Because of its smaller size, the 120-gallon tank has several distinct advantages. Most of these advantages come from the fact that they are upright tanks, and therefore have fewer regulations and can be installed beside a home or business – thus reducing trenching and other related costs. And if your home or business needs more than 120 gallons of propane, you can always install several tanks in parallel for a larger propane supply!
​If you're looking for a 100-gallon or 125-gallon propane tank, our standard-sized 120-gallon tank should suit your needs well. If you're looking for a 200-gallon tank, we can either supply two 120-gal. tanks in parallel or you can inquire about our custom sizes.
120 Gallon Propane Storage Tanks
Buy 120 gallon propane Tanks Online
Looking to power your heat, fireplace, or stove with a propane supply and seeking the appropriate propane tanks for the job? There are some options to choose from based on how much propane you use every month.
Chances are you'll do fine with a 120-gallon horizontal Propane Tank or Vertical Tank, depending on where you'll be placing the unit. Either type can be placed above ground near the home.
Let's take a closer look at a 120-gallon propane tank and why it might be a good fit for your current propane needs.
Uses
The 120-gallon propane tank is designed to give a residential customer a propane supply of 30 days based on limited propane use.
Thus, this tank would be considered if you're using propane for a water heater, space heater, or stove. These propane tanks are also great for specialty uses, such as specialty cookers, fryers, and smokers; pool heaters; or gaslighting.
If you wish to heat your home with propane rather than electric, then a 120-gallon horizontal propane tank or vertical propane tank should be sufficient to meet your monthly demands.
​It is important to remember that your tank must be installed and hooked up according to state and federal codes and regulations.  For your safety, please make sure you select a reputable installer.  If you are local to Southeast PA, then Affordable Tank Services would love to install it for you!
How long does a 120-gallon propane tank last?
As a rule of thumb, one tank of propane will typically last between 18-20 hours if you're grilling on a medium-sized grill. Whereas larger grills can burn through 20 pounds of propane in as little as 10 hours. On average, you'll use one or two pounds of fuel per meal if you use a medium-sized grill on high heat
What is the cost of a 120-gallon propane tank?
| Tank Size | Above Ground Tank Cost (installed) | Underground Tank Cost (installed) |
| --- | --- | --- |
| 120 Gallon | $350–$600 | N/A |
| 250 Gallon | $450–$1,000 | N/A |
| 330 Gallon | $500–$1,400 | N/A |
| 500 Gallon | $700–$2,500 | $1,500–$3,000 |
Additional information
| | |
| --- | --- |
| Horizontal | 120 Vertical propane gas tank, 120 gallon underground propane tank, 120 gallon above ground propane tank |