Sale!
Buy 2000 Gallon Propane Gas Tanks
$3,500.00 – $8,100.00

Buy Propane Gas Tanks Online
Propane Gas Tank
DOT & ASME Steel Cylinders
Propane Tank Sizes
Different portable propane tank sizes give you options when it comes to how much equipment you want to power and how long you can operate before you run out of gas.
Propane tanks come in all different sizes and vary in use from powering your grill to your food truck, from your forklift to your fleet, from drying your crops to keeping your materials warm. In all cases, propane keeps your business fueled and operating with the highest efficiency.
Buy Propane Gas Tank Online
Description
Buy 2000 Gallon Propane Gas Tanks
Buy Propane Tank Online
Commercial and Industrial Propane Tanks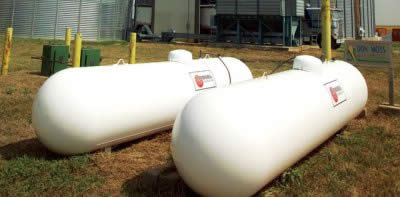 Propane is widely used as a commercial and industrial fuel for numerous high volume usage activities. These types of large volume applications range from fleet fueling, agricultural heating and commercial kitchen cooking to resale cylinder filling and forklift fueling. There are so many different industrial and commercial uses for propane that choosing a properly sized tank to suit the application requirements can sometimes be complex. Tanks for commercial propane use are generally larger than residential propane tanks
One gallon of propane weighs 4.2 pounds which needs to be considered in addition to the weight of the empty tank.
Residential Propane Tanks: How to Figure Out What Size Propane Tank You Need for Your Home
Choosing the right size propane tank is a critical starting point for your propane investment. If you have the wrong size tank installed, your budget will suffer.
You may think it couldn't happen to you. However, countless people install the wrong size residential propane tanks in their homes every year.
Owning your own propane tank has several advantages, the greatest being the freedom to shop around for the best propane prices and services.
Tank Sizing for Commercial and Industrial Applications
Commercial and industrial propane tank sizing can be very simple or extremely complex depending on usage requirements and application. There are exponentially more factors that go into selecting an appropriate tank size to meet the needs of propane users in commercial and industrial markets. Luckily, if the application requires more propane, a larger tank or an additional propane tank can be installed to meet the demand requirements. Industrial and commercial propane usage demands can be extremely high in certain situations and when available space for tank installation is limited, propane vaporizers can be incorporated into the industrial LP Gas system.
To own your own tank, it is critical to have the tank installed in a safe way that follows all codes and regulations.
It's also important to regularly reevaluate your propane usage and ensure your tank size is meeting your needs. New propane appliances or even a growing family can dramatically change your propane needs and may warrant installing a new tank.
However, with our handy propane tank guide, you'll find the size that's just right. Keep reading for tips about buying the correct size propane tank.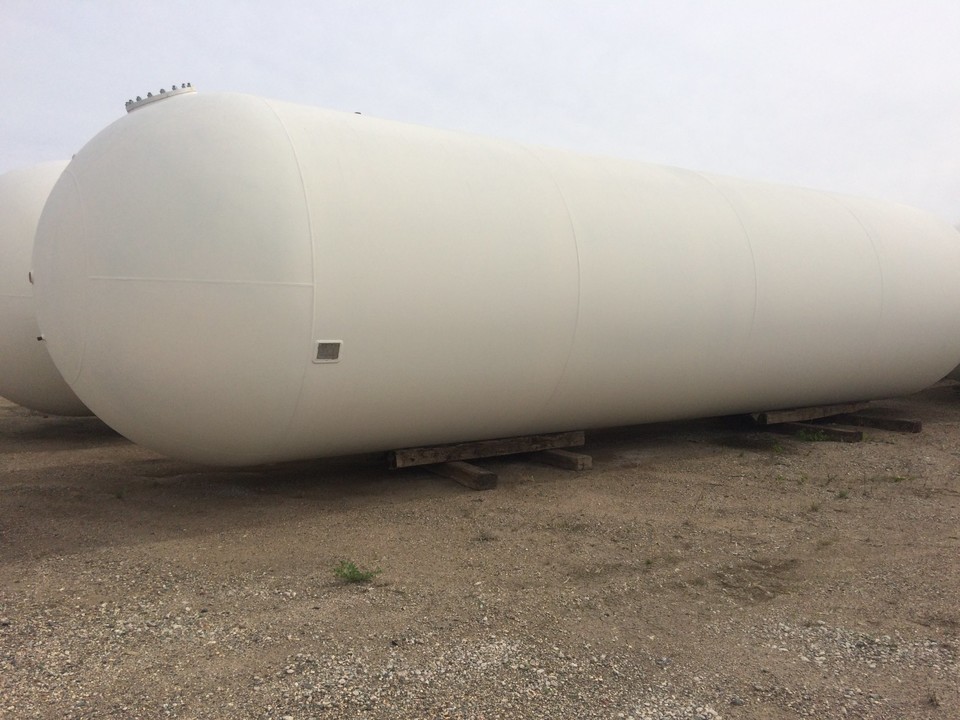 Industrial/Commercial Propane Tank Selection
Choosing a tank size is solely dependent up how much propane you expect to use. This is not a tricky subject in the propane industry but for many people unfamiliar with propane, it can be a bit confusing. It is recommended that you visit with a propane company to determine the best size tank for a commercial propane application. When talking with them, let them know about any future changes that may impact gas usage. This will help in selecting the most appropriate LP Gas tank for the industrial/commercial application. To get an approximate idea of what size tank you may need, add up the total BTU's of LP Gas appliances that will be using propane and divide by 91,500. This will give you a fairly accurate idea of how many gallons of propane will be used in an hour. If the total load is 1,000,000 BTU, the system will use about 11 gallons of propane an hour. It is important to know that this figure represents the BTU load at capacity (100%) so if all appliances are used 10 hours per day at full capacity, the propane consumption will be around 110 gallons per day. Usage such as this would probably require around 2,000 gallons or more in storage.
While commercial and industrial applications may require a year-round supply of propane at a fairly steady rate, any appliances or equipment used during the heating season must be taken into consideration. It would be fairly straight forward to size a large propane tank for use in an industrial setting where LP Gas fired equipment runs at a steady and constant rate. But when the demand for gas increases significantly during cold temperatures and the draw on that same tank is much higher, problems with adequate propane vaporization can arise. This is just one reason that commercial and industrial propane tank sizing is better left to licensed, professional propane companies.
What size propane tank do you need?
Tank sizes range from portable 20-lb. containers to tanks that can hold over 2,000 gallons. The size of your propane tank will depend on the size of your home as well as the number and size of appliances using propane.
Your geographical location and local climate can also play a role in choosing your propane tank size. For example, a tank for heating in milder climates may not need to be as big as a tank for heating in a colder climate. This guide can help you determine the right size tank for your needs and location.
Propane Tank for Sale
Review the propane tank size guide below for more information on propane tank sizes. It is important to note that a propane tank is only able to be filled to 80%. The tank details will highlight how many gallons you get when full.
Propane cylinders for sale in capacities of 5 lb (1.2 gallon), 10 lb (2.4 gallon), 11 lb (2.6 gallon), 20 lb (5 gallon), 30 lb (7.5 gallon), 40 lb (10 gallon), 50 lb (11.8 gallon), 60 lb (14 gallon), 100 lb (24 gallon). 200 lb (45.6 gallons), and 420 lb (120 gallons).  We offer corrosion-resistant steel or lightweight aluminum, horizontal vs vertical, low profile, and standard shapes. Our prices of propane tanks are always discounted to ensure you the best value at a cheap price.
Find Your Gauge on Underground & Aboveground Tanks
DOT specifications require that cylinders of 40 lbs or less are equipped with an OPD safety device and have POL and Type 1/QCC ACME threads. Please note that the cylinders requiring these features are labeled accordingly.  Consult your appliance manufacturer's owner manual to determine the cylinder type and size required.
Why Is It Important to Pick the Right Size Propane Tank?
This guide is devoted to helping you pick the right size propane tank. However, you may be wondering: why is it so important that I pick the right size?
The right size propane tank can help you save on your energy bills by controlling how often you need to fill it up.
While buying a tank that is too big isn't too much of a disadvantage, buying a tank that is too small will affect your budget because you will need deliveries more often. Also, since you're buying a smaller quantity of propane, the cost might be slightly higher.
Propane Tank Sizes
Before you can figure out what size tank you need, it's important to know what sizes are available. Use our guide to figure out exactly which one of these you should buy for your particular home needs.
20 Pound Tanks
One of the most common residential propane tanks is the 20 lb. tank, which is the size of the tank you hook up to your propane gas grill or for other modest residential energy needs, like a fireplace.
20 lb. tanks are not used for home heating or anything else that a large scale, but the benefit is that you can purchase several tanks to have on hand for backup, and you can have them refilled at any propane retailer.
33 Pound Tanks
33 lb. propane tanks are relatively specialized. They are used almost exclusively to power certain vehicles, including forklifts, although they can fuel any vehicle that relies on autogas.
Because of the focus on powering vehicles, a 33 lb. propane tank may not be the best choice for most residential homes. However, people with farms or large tracts of land where you might need to use specialized vehicles may find such tanks very useful.
100 Pound Tanks
100 lb. tanks are a good choice if you have smaller appliances or heating devices that use propane. For instance, many people rely on 100 lb. propane tanks to power their gas cooking ranges, as well as their indoor fireplaces.
These tanks are obviously much larger than the 20 or 33 lb. tanks, but they are still small enough to be relatively portable.
Remember, the more items in your home that are fueled by propane, the more likely it is you will need a larger propane tank. Keep in mind that the bigger the tank, the stricter the local safety and installation regulations may be. You will want to keep tanks of this size at least three feet away from your house.
420 Pound or 100 Gallon Tanks
420 lb. tanks are large enough to be used for a variety of commercial purposes. However, these tanks can have many residential uses as well.
They work well as a heating solution for your home, for instance. They can also power emergency generators and are a great way to heat a swimming pool if you have one. If you intend to use your fireplace a lot, these tanks are also suitable for that purpose.
Just so you know, some homeowners and professionals refer to 420 lb. tanks as "100-gallon tanks" because that is how many gallons this size tank can hold.
The 500-gallon tank is the most common size propane tank for residential propane use. It is often used for home heating, generator powering, cooking, pool heating, and more.
The primary benefit of this larger tank is that you can go that much longer without having to get it refilled. And when you are buying more gallons of propane, you can often get a slightly lower price rate for buying in bulk.
Typically, a home needs to be at least 2,500 square feet, and using propane for multiple appliances for a 500-gallon tank is the best choice. You can also choose above-ground or below-ground tank installation for 500-gallon tanks.
Long story short about the 1,000-gallon tank? It does everything that the 500-gallon tank does, but it is twice as big.
That means this tank is also suitable for heating homes and pools and for powering generators. However, because this tank is so large, you should not buy it unless your home is at least 4,500 square feet.
1,000-gallon tanks are also popular for agricultural uses.
2000 Gallon propane Tanks
Dimensions: 46.77″ OD x 23′ 9″ OAL
Capacity: 2000 Gallons
Year Model: 2021
Manufacturer: Arcosa Tank
Buy Propane Gas Tank Online
What's the Verdict?
With all that being said, the question remains: what size residential propane tank do you actually need?
It all comes down to how large your house is and how many propane appliances you own. Smaller homes with fewer appliances need smaller tanks; larger homes with more appliances and items like heated pools are going to need much larger ones.
Residential Propane Tanks: The Bottom Line
Now you know all about how to buy the best residential propane tanks. But do you know where to buy them?
Industrial, commercial, residential, and agriculture industries all benefit from clean-burning propane. Kleen-Rite offers different sizes of propane tanks. Learn more about our 100-gallon propane tanks and 500-gallon propane tanks for sale. The size that you use depends on your demand, usage, and the number of appliances. The most common uses include fireplace inserts, furnaces, water heaters, stoves, and standby generators.
Why use propane over gas or diesel? Propane stores well, it's clean-burning, and the price is typically better than gas. We recommend buying your own tank because you get a better price per gallon and you can own the same tank long-term. Browse our above-ground and underground propane tanks to find the one that's right for your property. Underground propane tanks are great because they won't be an eyesore and detract from your landscaping.
We offer DOT and ASME tanks. DOT (Department of Transportation) tanks are certified to travel. Use them for food trucks, tow motors, grills, or other units that move. ASME is a certification, and once this type of tank is installed, it doesn't move. ASME tanks are typically larger and used for home heating.
We also carry the essential propane tank cylinder parts and accessories you need for your propane system. Every tank needs a regulator to reduce the pressure of the tank to the correct working pressure. We carry single-stage, two-stage, and twin-stage regulators.
Beyond propane supply, we're here to help you do business better. Your dedicated account manager will work to understand your business, so we can optimize your day-to-day operations and plot your long-term path to success. From training your staff to monitoring your usage to budgeting, Inter-modal Containers Ltd. is an expert teammate to help your business run smarter.
Important LPG Tank Information
The propane industry is educated about tanks, proper installation requirements, laws, and procedures governing the repair of tanks and systems they service. It is of the utmost importance that unlicensed individuals do not attempt to make repairs or modifications to their own tanks for safety and continued serviceability.
Because the laws and safety practices change within the propane industry, tank installation and maintenance should only be performed by those who are familiar with these codes and regulations regarding LP Gas tanks. This cannot be stressed enough. DO NOT MOVE, REPAIR OR MODIFY ANY PART OF AN LP GAS TANK OR ANY PART OF THE GAS PIPING SYSTEM.
The information provided within this section is for consumer educational purposes only and is intended to better familiarize users with propane tanks and their parts. Portable tanks, known as bottles or cylinders are used as a fuel source for gas grills as well as forklifts. Stationary propane tanks are often found behind homes or businesses supplying all propane-fueled appliances in the structure. Stationary tanks are also used to refill cylinders and mobile containers at bottle plants.
Propane tanks, regardless of size, store propane liquid until it is used as either a liquid or vapor. All tanks are subject to rules based on safety for users, service technicians, and the general public and can only be filled to about 80% which constitutes a "full" tank of gas. Many people believe that propane tanks and butane tanks are the same but propane pressure is much higher than that of butane.
This means that while mostly identical in appearance and attached fittings, propane tanks are subject to higher pressures and the two types of tanks are in fact very different and cannot be filled with either of the two LP Gases. Propane tanks are for storing only propane. This section covers related subjects such as
Basic explanations to help LP Gas consumers to better understand tanks
Various sizes of propane tanks and how it relates to demand requirements
Installation of and basic facts about underground tanks
An overview and explanation of the tank installation process
Safeguarding and protection of propane tanks
Propane supplied to vaporizers for high-demand applications
Additional information
| | |
| --- | --- |
| Tank Condition | New, Used |
| Tank Type | Above-ground, Under-ground |