Sale!
Buy 20ft Refrigerated Shipping Containers Best Standard Cold Storage
$5,500.00 – $7,500.00
Buy 20ft refrigerated shipping containers Online
20-Foot refrigerated shipping containers
NEW & USED 20FT REEFERS
WITH ENVIRONMENTAL FRIENDLY R452A FREON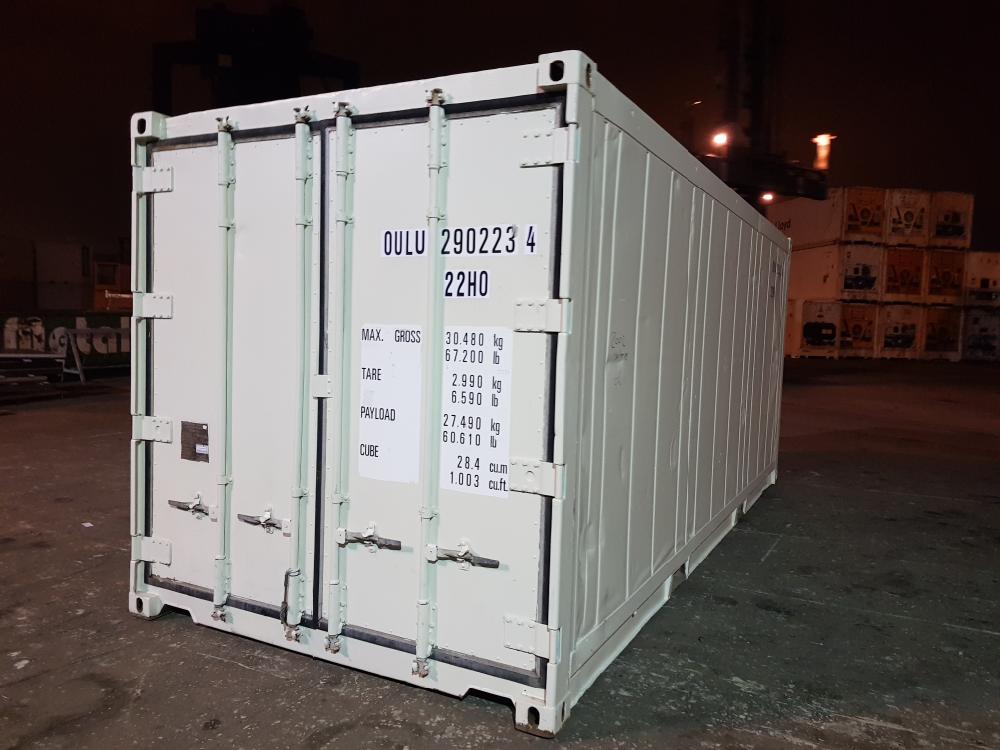 We recently added a new 20FT reefer container to our offer. The 20FT reefer built-in 06/2020 makes use of the environmentally friendly R452A Freon. Besides that, the Thermoking Magnum Plus Unit is able to freeze up to -40 degrees Celsius with a quick pull-down. This makes it ideal for fresh products as well as frozen foods. The reefer is CSC certified.
Refrigerated Containers – 20ft
Save time and money with our mobile refrigerated storage containers. We specialize in long-term hire of premium cold storage solutions,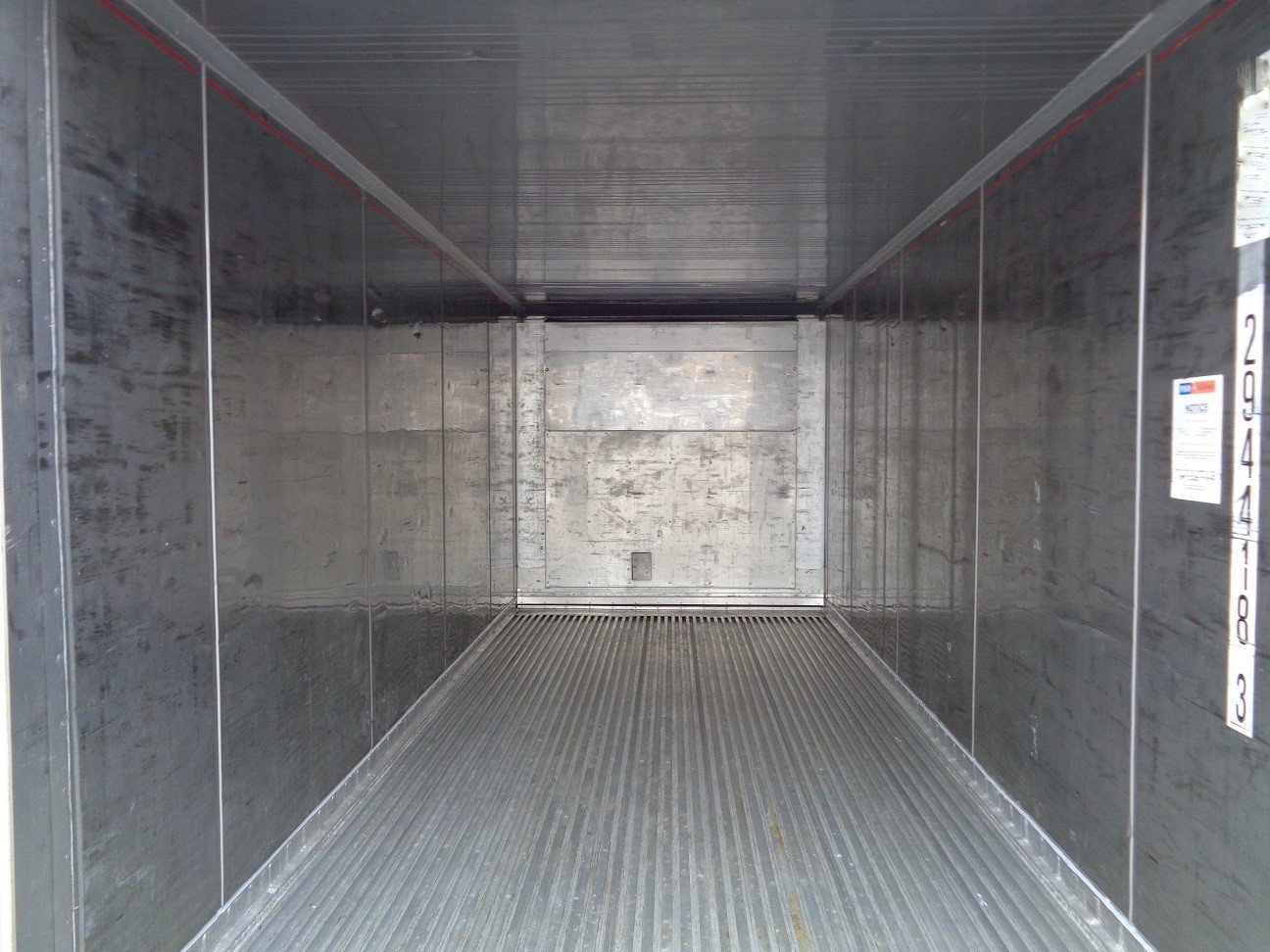 Description
Buy 20ft Refrigerated Shipping Containers For Sale
20′ Reefer Container For Sale
The 20′ (6 m) used Reefer Container is the most popular and best-selling reefer container in our collection. The container offers approx. 27 m³ of thermally regulated space for transportation or storage. The container has its own 32A powered refrigeration unit at one end wall and double doors at the other end.
 designs and manufactures a large selection of self-contained and shore-powered 20′ refrigerated containers which have been tested and proven effective for repeated military deployments in the harshest of environments.
20′ NEW REFRIGERATED CONTAINERS
These containers can come pre-set and even pre-chilled / heated to your required temperature and humidity setting. All containers come with a minimum 6-month CSC plate allowing you to export the container with major shipping lines and an industry-standard PTI check for the engine (meaning the engine had been checked over by a qualified engineer before it leaves our depot and is deemed to be running well with no apparent potential failures).
20ft refrigerated shipping container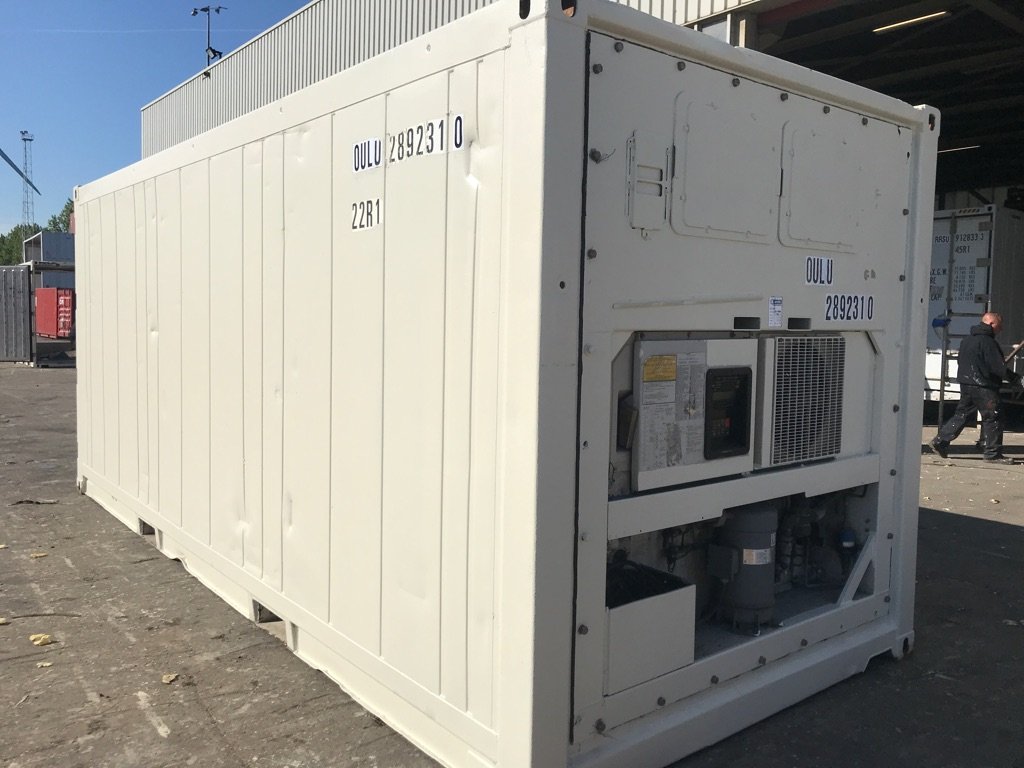 The 20′ i.e. 6 m Reefer Container is our best-known and best-selling reefer container. This popular container is a perfect choice for you when you need a thermally controlled space for freight or storage use. The interior surfaces of the container are made of stainless steel and aluminum so they are easy to keep clean and are suitable for example for food storage. Reefer Container For Sale come with a standard T-grid floor and lockable double doors. The container requires 5-pole 32A/400V power supply to operate. The 20′ Reefer Containers are also available as an HC (High Cube) model with a height of approx. + 30cm.
All our used containers are maintained, tested, and repainted. Our technicians have tested all the machinery and they have performed a PTI test, which the machinery must pass before being sold. We repaint all used containers before delivery to extend the life cycle of the container. The standard colors are white and light grey, but the container can be custom painted in your desired color. All of our containers are suitable for freight use and have a valid CSC plate. As mixed cargo.
We always have about 10-20 containers of different models available and you can always get the price of the day by asking for an offer from our sales team.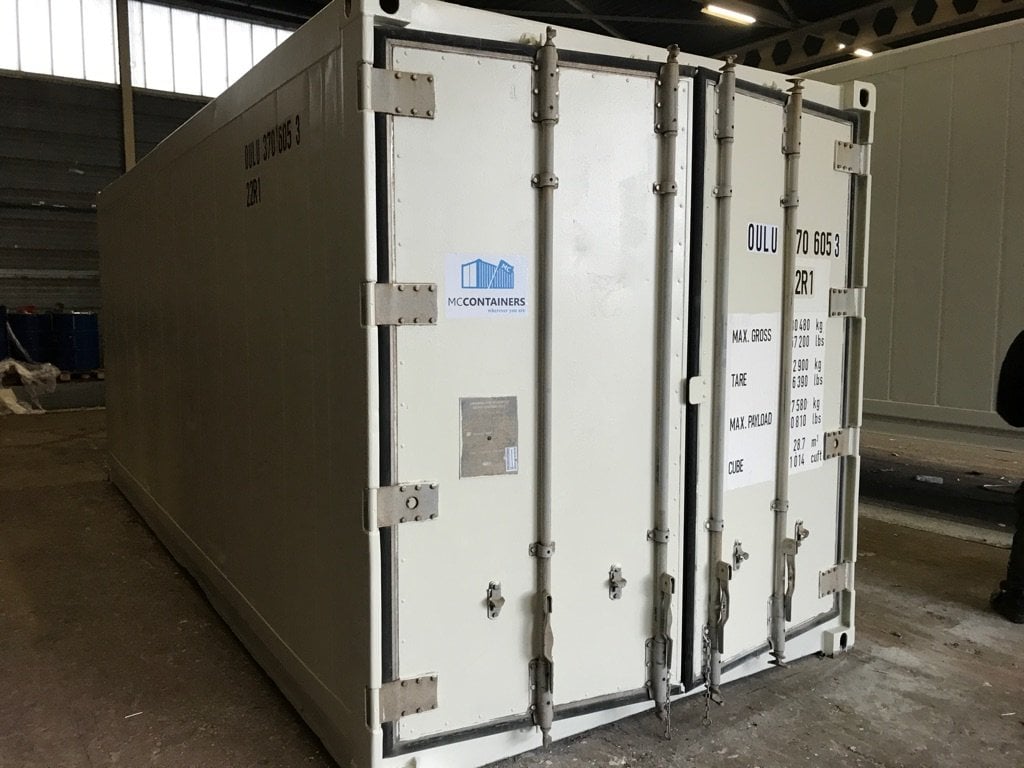 20ft refrigerated shipping containers
For site, storage and use these used 20ft refrigerated shipping containers offer excellent value as a walk-in fridge, freezers, or ambient temperature-controlled stores. We will typically insist on installing (commissioning) the container as well as offering potentially required conversion options to bring it up to standard for your use (e.g.
walk-in freezers may require man trap alarms by law, You may wish for lights with shielded cabling to allow you or your staff to see properly, but also suitably installed to allow you to jet wash the container clean when required, you may wish to have thermal curtains installed to help efficiency and depending on your specific use other suggestions may be made). We can also offer cosmetic improvements such as a basic re-paint or operational additional such as a plate floor to allow forklifts to operate inside with ease.
Accessories
We offer a large range of accessories, such as lights, access doors, ramps, and much more, for used reefer containers to facilitate their use of. Regarding the access doors, please note that the container is delivered without door installation. The door cannot be kept attached due to ocean transportation and the door needs to be lifted into its place after the arrival. We can get this done for you at Oulu and Vuosaari Harbor for an additional cost of $250 + VAT. Available door sizes
Installed on the side wall: 100×200, 120×200, 140×200.
Installed in place of double doors: 100×200, 120×200, 140×200
The  20-refrigerated shipping container is also commonly known as a reefer container.  built with a stainless steel exterior that protects against corrosion and a hybrid aluminum & stainless steel interior that is food grade and easy to clean. Our 20ft new reefer containers are fully insulated and include the latest in refrigeration
20ft refrigerated shipping containers
20ft Refrigerated cargo container, designed for heavy refrigerated cargo or where the 20ft size type better suits the reefer operation.
As these are highly specialized pieces of kit, please contact us first to have a brief chat about your specific requirements and we will be able to arrange for a complete quote and offer our advice on the suitability or any required conversion options to ensure you get the best use from one of these units.
Also worth noting, whilst there is currently a worldwide shortage of used 20ft refrigerated containers, there are plenty of 40ft used refrigerated containers in the marketplace. A used 40ft refrigerated container (basic unit only) may come in as little as 10% more than a 20ft container, so if you have the stuff to fill a 40ft container it may well save you a few thousand pounds over 2 separate 20ft units.
Warranty
We provide a 3-month warranty for spare parts of used refrigerated containers. In the event that the container does not work the first time it is used or does not match the order, contact the seller immediately. We will repair the container as soon as possible. The containers have a warranty for the spare parts for the first 3 (three) months. If, during the warranty period, the container becomes defective or any part is defective, we will deliver the spare parts free of charge. The warranty does not cover repair work, travel expenses, or replacement of parts, but only the delivery of spare parts. The warranty period starts from the date of purchase not from the time of delivery.
Delivery time for containers is approx. 1 to 3 weeks depending on the port and the selected container. The installation of accessories increases the delivery time by approx. 1 to 3 weeks, depending on the installations
At present no major shipping lines run high cube 20ft refrigerated containers (9ft 6 high options) so there are only standard height or 8ft 6 high units available. If you need the high cube option this is available with 40ft refrigerated shipping containers.
Overview
High Payload
Strengthened box design to reduce damage and operating costs
High Grade 'T' Floor material Aluminium 6082 T6
MGSS* underfloor
MGSS* sill design
Unique door sill design provides low air leakage (2m3/hr) for improved energy efficiency
Low heat leakage
ATO-DLO** certification for flower bulb transportation
USDA*** certification for in-transit cold treatment
*MGSS – Muffler Grade Stainless Steel*** USDA – United States Department of Agriculture
Working with Cambridge Refrigeration Technology
Also available in High Cube dimensions for sale or hire.
| | |
| --- | --- |
| ExternalLength | 6,058 mm |
| ExternalWidth | 2,438 mm |
| ExternalHeight | 2,591 mm |
| InternalLength | 5,454 mm |
| InternalWidth | 2,284 mm |
| InternalHeight | 2,263 mm |
| Door OpeningWidth | 2,290 mm |
| Door OpeningHeight | 2,291 mm |
| Cargo AccessHeight | 2,220 mm |
| CubicCapacity | 28.2 m3 |
| | |
| --- | --- |
| Heat Leakagekcal/deg.c.hr | 23 |
Weights (with Carrier PrimeLINE machinery)
| | |
| --- | --- |
| Maximum GrossWeight | 30,480 kgs |
| TareWeight (excluding machinery) | 2,500 kgs |
| TareWeight (including Machinery) | 2,880 kgs |
| PayloadWeight | 27,600 kgs |
Weights (with Carrier Thinline machinery)
| | |
| --- | --- |
| Maximum GrossWeight | 30,480 kgs |
| TareWeight (excluding machinery) | 2,470 kgs |
| TareWeight (including Machinery) | 2,980 kgs |
| PayloadWeight | 27,500 kgs |
Refrigerated containers can hold temperatures from -35C to +30C and are food-grade, with easy-to-clean interiors. They are essential in the storage and transportation of foods and other temperature-sensitive materials. Like all other shipping and storage containers, the door handles allow for the installation of a padlock for additional security and the white-painted exterior allows it to blend into its surroundings and keep internal temperatures low.
Our new 40' refrigerated containers can maintain temperatures as low as -40 Celsius ideal for covid-19 vaccine storage. These can be used as portable vaccine freezers and be mobilized from site to site as covid-19 virus hot spots emerge. We offer a turnkey solution for continuously changing pandemic needs.
Buy 20ft refrigerated shipping containers
Specifications
New 40' HC ISO Reefer container body
Stainless steel (MGSS) outer cladding
4 Automatic floor drains, self-closing (2 front and 2 rear)
Fully insulated with polyurethane
Stainless steel interior walls, food-grade
Additional Features Included
Panic Alarm with exterior siren and strobe light
Interior aluminum scuff liner
Aluminum flat floor
Heavy-duty sliding door curtain to help maintain temperature
The safety door, can be opened from inside
Interior lighting plus light switch
Machinery Specifications
Thermo King Magnum Plus refrigeration unit
Digital scroll compressor with aluminized coating
460 volts, 3 phase
30 amps circuit requirement
Temperature range: -40C to +30C
Refrigerant: R452A
50ft. power cable
Warranty
Warranty included with all new reefer containers directly from Thermo King through their extensive nationwide dealer network
Reefer warranty attached
Dimensions
Buy 20ft refrigerated shipping containers
Exterior: 40'L x 8'W x 9'6"HInterior: 38'L x 7'6"W x 8'5"HDoor Opening: 7'6" W x 8'5" H
Weight: 9,920 LBSPayload: 65,040 LBS
Intermodal Container Ltd is one of America's leading manufacturers and suppliers of shipping containers, delivering them throughout the USA, to individuals and to the mining, construction, agricultural and corporate sectors. We offer new, used, modified, and customized shipping containers for sale in a variety of sizes and types, with fast and efficient service direct to your worksite, business, or home. And with multiple depots all over Australia, we can usually have your order to you within a few days.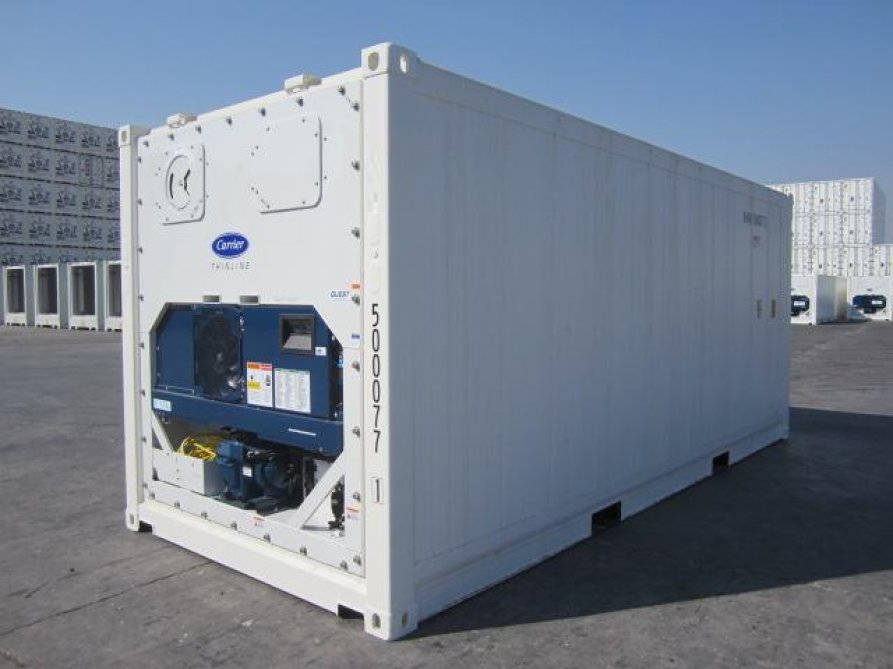 All Refrigerated units are inspected prior to delivery with a 24/7 breakdown service available in metro areas (approximately 50km from our offices in CA). Our qualified refrigeration mechanics are available to ensure that your Refrigerated Container is fully installed and complies with the latest safety legislation.
 corten steel
28mm thick marine ply flooring
Types – standard box & high cube (extra height allowing more room for storage and larger items)
Accessories – lighting, shelving, ramps, Ezi Enta doors (easy access single door), double doors (allows bulk loading), freezer curtains & high-security locking
Reefer Container Uses:
Catering support for events & functions
Extra cold storage for the busy season
Florists
Temporary cold storage during renovations
You can order your containers from Intermodal Container Ltd at any time of the day or night. This process is entirely digital with an easy check-out process. So easy, you can complete your order in only a few minutes.
Buy 20ft refrigerated shipping containers
Intermodal Container Ltd offers several shipping options. If you select one of the delivery options, your container will be delivered to your location within the delivery window you've selected after the order payment date.
For those that need their containers quicker, select the pick-up option and you can pick up your container the following business day after placing your order. If you choose the pick-up option, you can pick up your container the following business day after placing your order.
we deliver shipping containers to and partner with customers from major industries, such as commercial, construction, retail, education, and theme parks. We help you arrive at the perfect price for containers.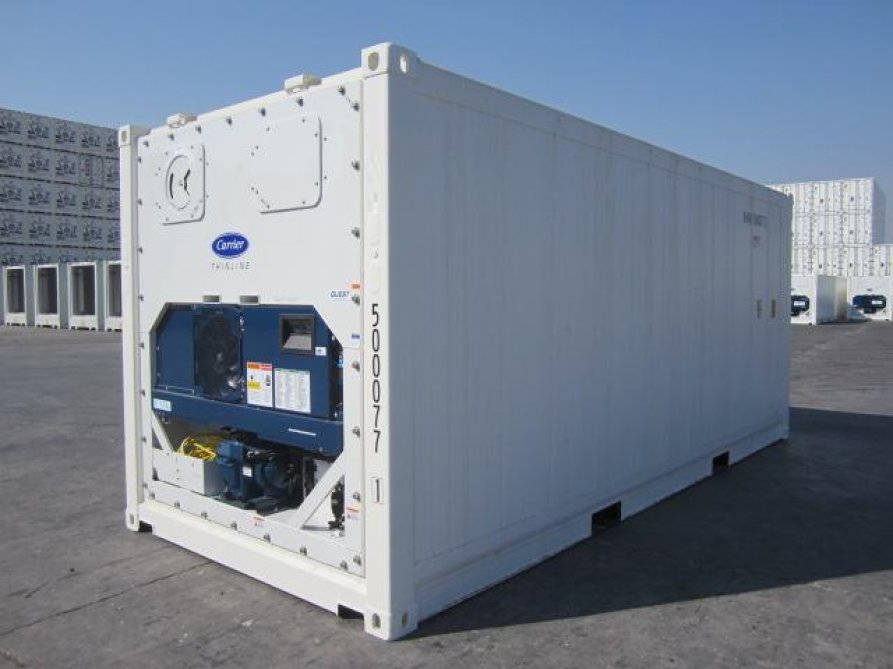 We rent at a 30-day billing plan at no extra cost, unlike the usual 28-day billing cycle. Mobile Modular Portable Storage delivers the shipping containers in excellent condition and delivered on the scheduled day with our own fleet of trucks and trailers. This means you can expect delivery according to your timeline.
We serve multiple locations across the US. Speak to our dedicated support team for custom options and a free quote.
20-Foot Refrigerated Containers
Although we like digital efficiency, we will always stay human. This means you can easily call, e-mail, or chat with us through our U.S.-located customer service department. Intermodal Container Ltd  delivers shipping containers quickly and at the fairest price online – exactly what you need. And our fully digital operation is far more sustainable than other businesses.

Shipping container conditions.NEW "One Trip" containers are shipped from Asia with a single container cargo load. These containers are referred to as "new" or in "like new" condition. One-trip containers are ideal if appearance and longevity are top priorities.
Buy 20ft refrigerated shipping containers
USED cargo-worthy containers are certified for global transport based on the condition of the doors, floor, walls, and ceiling. Dents, rust, and corroded paint may be present. The unit is leakproof.
For customers who plan to export their container, please make sure to purchase a CWO (cargo worthy) or One Trip container as well as a CSC Survey. Please note that we cannot move loaded containers, and strongly recommend customers that who are exporting their containers work with their shipping company to pick up the container after the survey is complete.
All our used 20ft refrigerated shipping containers are sourced directly from shipping lines or major leasing companies. You may hear of these being called Reefer or Reefers in the industry. As these are relatively specialized items we only work with a few key suppliers whom we trust to offer quality equipment. There will typically have a range of engine makes, ages, and cosmetic conditions available, and for this reason, prices will vary. Please note the photos shown are from previously used refrigerated containers we have supplied.
At present there is an international shortage of used 20ft refrigerated containers, so the majority of our stock is stored either at Southampton or Rotterdam and moved to a local depot before the sale. However, we do also have occasional stocks at our London, Felixstowe, Leeds, Manchester, and Liverpool depots.
Inter-modal containers Ltd. Delivery servicesIntermodal Container Ltd transforms an essential service into the customer experience with on-demand storage unit delivery services for customers. We need to know things like door direction, site contact, and that you have enough space for the truck to deliver the container safely.
Customers have scheduled deliveries to ensure consistency. At Intermodal Container Ltd , we have a dedicated team that helps our customers to plan better and operate smarter. Emergency transportation services are available. Reduce your overall logistics costs and request our 3 – 7-day truck and trailer delivery move.
We believe in providing up-front and transparent pricing to our customers.
Shipping Containers For Sale | Buy Shipping Containers
Intermodal Container Ltd has a huge selection of shipping containers for sale. In addition to selling the standard General Purpose, High Cube, and Side Opening containers, we are proud to be Australia's specialist supplier and manufacturer of modified shipping containers.
From site offices, first aid rooms, portable accommodation, kitchens, lunch rooms, and switch rooms; to storage containers, dangerous goods containers, training containers, and ablution blocks. Whatever your work site or property requires, Port can modify a container to perfectly match your needs.
Buy 20ft refrigerated shipping containers
Intermodal Container Ltd products and solutions. Intermodal Container Ltd  can provide standard, insulated, refrigerated, freezer, and office containers in 10′ – 45′ standard, custom, or high cube sizes.
If you require easy accessibility to your cargo, our fleet of shipping containers for sale offers an assortment of entry configurations, including quad doors, doors on both ends, roll-up doors, or open side doors.
Purchase air-conditioned job-site offices, trade show booths, living spaces, or extra-large dry storage units for your personal or company items. All units are leak-proof and durable for relocation, pack-up, and shipping.
How to Buy a Shipping Container:
Pick-up: 2-3 Business DaysDelivery: 4-7 Business Days
After you order, we'll be in touch within one business day to confirm your order and coordinate the logistics. To ensure everyone's safety, only customers with the proper equipment should select intermodal depot pick-up (please allow 2-3 business days for release information). Delivery is optional and calculated at checkout by zip code.  Contact us with any questions, we're always happy to help.
Selecting the right container & buying containers online
Browse the website for new and used containers that meet your requirements. If you are unsure please contact our container sales team for advice and information.  Buy your container online. Select your container and accessories and follow the simple checkout process.
The Trucks are Big, and We Need Space to Deliver
Our haulers need 80′ of additional space in order to deliver a 40′ shipping container (120′ of total space), plus room for the truck to maneuver. Please make sure you've got space for delivery. 20′ shipping containers are delivered on a different size truck, and so we only need an additional 55′ of space (75′ of total space) to deliver 20′ containers.