Sale!
Buy 40ft Office Containers Online New
Buy 40ft Office Containers Online
40ft office containers for sale
40ft Mobile office container
Nationwide Delivery
40′ Mobile office container is the most effective method to get your office up and running. Our turnkey mobile office container provides a secure structure and comfortable workspace. The mobile office container has built-in HVAC.
Buy 40′ Mobile Office Container
Built from 40' HC containers, modern shipping container offices offer a durable and budget-friendly solution to all your on-site office needs.
Tailor the 40′ mobile office container to meet your requirements with our custom fabrication options. Quick and reliable delivery of the 40′ mobile office container is available.
40ft mobile office container for sale near me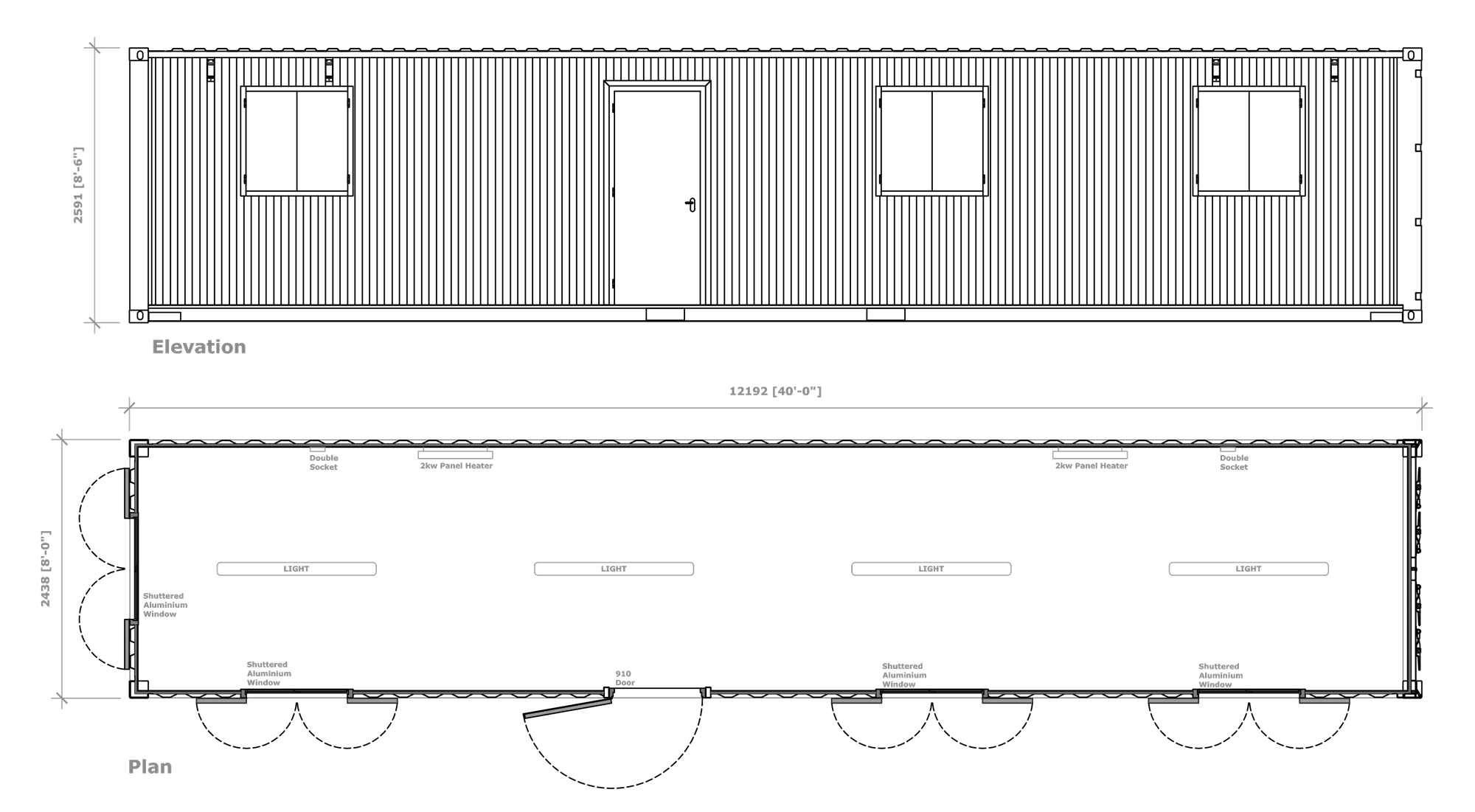 Buy 40′ Office Container
In today's fast-paced business environment, issues regarding office spaces require modern and efficient solutions like mobile office containers. In this article, we explain everything you need to know about shipping container offices.
40ft Shipping Container Mobile Office For Sale
40ft long office conversions ready for your business to move in.
The perfect solution for businesses looking for extra-large office space.
Gallery
Description
Buy 40ft Office Containers Online
40 ft Office Containers For Sale
The 40ft office unit offers spacious and flexible interior space for businesses or individuals looking for additional office premises. Converted from a 40ft once used shipping container, one personnel steel is and four anti-vandal shutter windows are installed on the outside, allowing plenty of natural ventilation and lighting from the exterior.
The interior walls are insulated and lined using 3mm vinyl "Wilkins White" and the floor is covered with non-slip vinyl. This conversion also features a US-certified electrical installation fitted throughout with an external 220-240V single phase inlet and an internal distribution board, four ceiling battens for illumination, two switched sockets, and two wall-mounted convector heaters.
There is plenty of interior space to set up multiple working stations.
40′ x 8′ 9′ Container Office/Storage Combo for Rent or Sale
10-year warranty on new mobile office containers and fabrications
40ft Office Container
40ft Site office Container Features
The beauty of this design is that could be used for a number of other applications other than a 40-foot shipping container office. It would work perfectly as an accommodation unit or as a teenage retreat in your own backyard. Just add a bed and a wardrobe in the private bedroom, a couch and a dining table in the main area of the container, and voilà – you have a temporary or permanent living space with a functional toilet and kitchenette!
40ft Site office Container Inclusions
Built from a 40 Foot New Build High Cube Container
Ports 3 Coat modification Paint System
Personal Access Door x 1
Small Vented Windows x2
Fully insulated (50mm bonded paneling system)
Insulated Partition Wall x 1
Insulated Partition Wall With access door x 1
Custom Built timber desk 2400mm wide x 600mm deep
Kitchenette
40ft Site office Container Inclusions
1.5hp split system air conditioner
Commercial Grade Vinyl Flooring
TOILET x 1
BASIN x 1
Toilet Roll Holder x 1
Electrical fit out x1 (6 Double GPO 4 x Led Lights RCD, Circuit Breaker, Sub Board, Hard Wired to jbox)
1210×600 glass sliding windows x 2
Glass sliding door x 2
40FT CONTAINER CONVERSION OFFICE
Custom Portable 40ft Container Offices
If you like the look of the above 40ft Container Office but would like something tailored to your needs then give us a call. We can add more windows, doors, benches, appliances, insulation, air conditioning, security systems, and more. We can build Container Offices out of 10ft, 20ft, and 40ft shipping containers, at competitive prices.
As we design and modify our containers at our own factories and not overseas like our competitors, we can get you your customized shipping container office in fast turn-around times. We deliver worldwide using a range of transport options available to suit your location.
Floor Plywood + High-End Vinyl Flooring
Insulation SIP Panels w/R-13 Polyurethane Insulation
Window s1 x (36" x 36") Standart Window
Door Man Door
Paint Standart RAL (green, blue, grey, black)
HVAC 1 x 12,000 BTU Air Conditioner with Heat
Electrical Package 12 x Double Socket (110V Outlets), 8 x 4′ Spot Lights, 1 x Pre-wired Data Boxes with CAT5, 1 x External Hook-Up, 100 AMP Inside Breaker Box, Breakers, 1 x Exterior Junction Box
Appliances Refrigerator, Dishwasher, Microwave Oven, Cookstove
Specifications
Container Type 40ft Shipping Container
Material Steel
State New
Warranty
20 years structural and 10 years wind and watertight warranty for 40ft new shipping containers and modifications
Dimensions
External
Length 40′ (12.19m
Width 8′ (2.44m)
Height 8′ 6" (2.62m)
Internal
Length 39′ 3" (11.96m)
Width 7′ 8" (2.34m)
Height 7′ 10" (2.38m)

Weight
Tare 8,267 lbs (3,750 kg)
40′ x 8′ office and storage combo containers offer the dual benefit of working from and storing expensive items in a single secure unit. You can also
Stack the office storage combo container on top of each other to build a larger office
Install a steel container without digging on site
Get the flexibility to move the office to another location if required
Keep your valuables safe with standard locks and optional high-security locks
All of this comes with attractive aesthetic appeal offered at a competitive cost without compromising on quality. Businesses and contractors also benefit from the corrugated steel construction that protects the container from harsh weather and theft. The high-quality mobile office storage container is OSHA compliant and ISO-grade and offers a climate-controlled safe space for your staff.
Shipping container offices or on-ground container offices are often associated with the modular construction industry and modular building suppliers but due to their cost efficiency, many businesses opt for using custom shipping containers to build modern and functional offices.
Using 40 HC containers, it is possible to build impressive offices for both the on-site and off-site needs of your business. Since shipping container offices can be built very rapidly and require little to no paperwork, they are perfect for on-site offices. You can simply purchase a 40' shipping container for sale, customize it to your liking and welcome all your customers in an exquisite on-site office that is built in only a few days.
specialized in building 40-foot-long custom shipping and storage container offices for job sites and construction sites.
It is not a secret that the functionality and comfort of an office have a direct and significant impact on the employees. Imagine having to work at a crumpled, noisy office that is freezing in winter and boiling in summer. Would you be able to get any work done? Of course not!
That is why many companies take issues related to office space very seriously. Providing their employees with welcoming, comfortable and accessible offices brings success to any business! Yet doing this on a budget is not an easy task. That is why most businesses look for shipping container offices for sale or building shipping container offices with bathrooms.
FEATURES
DIMENSIONS
Length: 40′ Long
Width: 8′ Wide
ELECTRIC
Breaker Panel
Duplex receptacles
Fluorescent ceiling lights
Phone/data rough-in
EXTERIOR FINISHES
Steel ribbed panel, colonial white/green
GENERAL
Skid-mounted office unit constructed using a one-trip ISO shipping container
HEATING/COOLING
Environmentally controlled with heat and AC
INTERIOR FINISHES
15' Office space; 25' Storage space
8' Pre-finished interior ceiling panel
Pre-finished walls
Tile floor with vinyl wall base
WINDOWS/DOORS
Commercial steel door with deadbolt
Horizontal sliding window with steel window guard
Rear storage security lock
Features of 40-foot Portable Office Storage Combo Container
 R-11 insulated walls and ceiling
 125 AMP panel box
 Durable flooring
 Security bars on windows and doors
 1-1/8 Inch-thick marine-grade plywood or timber plank wood floor
 Entrance light
 Forklift pockets to facilitate movement
 High-security HASP locks
 External GFCI receptacle(s)
 Lockable door handles
 Air conditioning and heating – HVAC with heat strip
 Phone and data access points
 Refrigeration units (reefers) available in select locations
We also offer the following optional upgrades
 Shackle puck locks
 Shelving brackets with three 1,100 lb. rated support arms
 Pipe racks with four solid support arms
 Plan tables in 6'8" W x 3'0" D x 3'1" H size
 Waiver against fire and smoke damage, windstorms, lightning, floods, hail, earthquakes, explosions, and collisions with vehicles
Shipping container office project
40-foot shipping container modified into a portable office
As you can see it looks fantastic, and the container features a boardroom space, office, kitchen, and bathroom facilities. The office and kitchen areas open up for indoor-outdoor flow with the installation of big sliding doors, while the addition of six windows along the opposite side of the container provides plenty of natural light to create a very pleasant working environment.
If you are looking for an attractive and economical option for new offices, look no further than a modified shipping container solution. Please contact us to discuss your options and how we can assist.
Our 40 ft. office containers are designed to fit your exact
Moreover, you can opt for using a shipping container office building as a permanent solution as well. Due to virtually endless customization options and budget-friendly costs, many businesses switch to shipping container offices. It is possible to paint, get plumbing and electricity, and add doors and additional units like bathrooms to 40 HC containers. Thus, you can create an alluring and sturdy office space for your employees through shipping container office conversion.
Our office containers are made from the same heavy-duty steel frame found in our storage containers. These mobile office containers are designed for portable office use or as a construction office but may be moved from site to site and offer a secure portable onsite setup at remote locations.
40ft mobile office container standard features
3 dual pane windows
2 Personnel Man Doors
Insulated
HVAC
Security Bars on Windows
Electrical Package
Motion sensing Light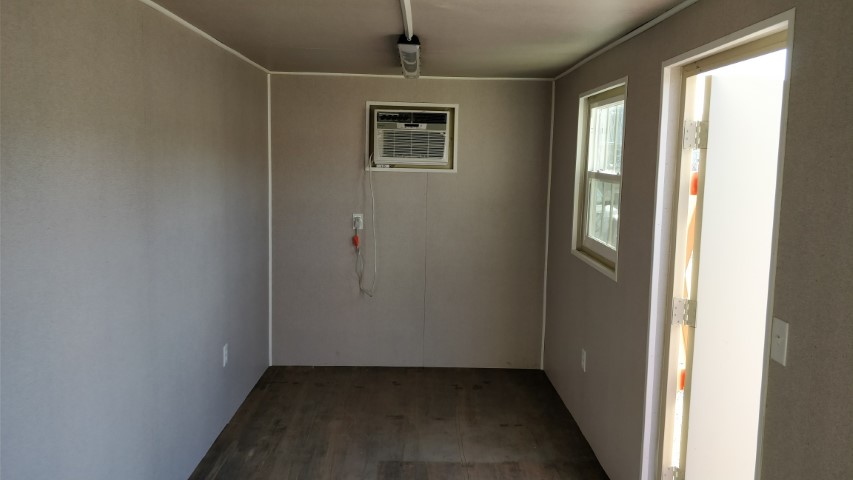 No matter what style of container office you need, our Container can help find a solution to meet your needs and budget! We offer these for sale and for rent in selected areas. You can read testimonials from many of our satisfied customers below.
40ft mobile office container optional fabrications
​​​​​Custom exterior color
Y-shaped lock box
Roll-up doors
Bathroom
Built-in furniture
40-Foot Office Container
40-Foot Office Container for Rent or Sale Near Me
40′ mobile office container to meet your requirements with our custom fabrication options. Quick and reliable delivery of the 40′ mobile office containers is available.
40ft mobile office container specifications
| | | |
| --- | --- | --- |
| External dimensions | Internal dimensions | Man door dimensions  |
| Length: 40′ (12.19m) | Length: 39′ 3" (11.96m) | Width: 3′ (0.91m) |
| Width: 8′ (2.44m) | Width: 7′ 8" (2.34m) | Height: 6′ 6" (2.01m) |
| Height: 8′ 6" (2.62m) | Height: 7′ 10" (2.38m) | |
What Are Shipping Container Offices?
Long Beach off-coast Port Structures delivers high-quality modular building solutions for a wide range of industries. We provide portable custom-built shipping container offices to clients around the country who rely on us for our design expertise and our commitment to customer service. We take pride in our mission to awaken our clients' inner architects and guide them through the manufacture of their ideal buildings.
Modular office spaces can be built on your existing property as a separate outbuilding, an extension of your current facilities, or even a rooftop structure on top of your current building. Find out how to build a shipping container office that's bespoke by speaking with a BMarko Structures representative today!
Let's examine the different aspects of shipping container modifications and consider how a BMarko modular unit can benefit your business.
In addition to corporate businesses, freelancers look for containers for sale as well to build luxurious backyard shipping container offices. If you are working from home and want to separate your living space and working space, building an impressive shipping container office in your backyard is a perfect solution for you!
You can improve your backyard office by a series of customizations like dividing the shipping container into rooms, building a cozy kitchenette, creating a waiting lounge, or adding a break room. You can add electrical wiring and plumbing to make your shipping container office fully functional. If you are on a tight budget, you can opt for other solutions like getting a water tank and an electrical generator.
Shipping Container Office Conversion
Creating a shipping container office is much easier than it sounds. All you need to do is determine your needs and decide on container size. Most businesses go for 20' HC containers since they are affordable and very spacious.
Depending on your location, you can choose an optional damage waiver that covers damage to the office container due to fire, windstorms and tornadoes, floods, and certain other natural disasters and accidents. Speak to us for customization and damage protection options.
Benefits of Shipping Container Office Buildings
The most important benefit of a shipping container office building is its cost! It is possible to build a shipping container office for a fraction of the price of a brick-and-mortar office.
Moreover, building a professional-looking and functional shipping container office takes very little time. If you need a quick and durable solution, shipping container offices are one of the best options. After the building site is prepared carefully, building a shipping container office takes no more than 2 days! After the construction is complete, your shipping container office is as strong and durable as a castle. It can withstand extreme weather conditions and the test of time.
You can also customize and upgrade your shipping container office. It is possible to paint both interior and exterior, get plumbing and electricity, add a cozy kitchenette, include additional security measures like a Lock Box or Swing Arm, install heating units, and build windows, roll-up doors, impressive main entrance doors, and personnel doors.
Moreover, getting the necessary permits for a shipping container office is very easy! All you need to do is to fill out some forms and voila, you are ready to build the office of your dreams for a very affordable price.
Unlike other solutions such as used trailers, shipping container offices keep their structural integrity and value over time. Due to the strong and durable materials used in the construction of shipping containers, shipping container mobile offices can withstand extreme weather conditions and heavy use. Thus, they maintain their value even after many years.
Even if your need for a mobile office is temporary, investing in shipping container offices is the best option since you can always sell your shipping container office at a very good price after you are done with it. Thus, you can both solve your temporary office needs and get your money back when you no longer need a shipping container office.
40' office container for sale,
40 ft connex price, office containers for sale,40ft office containers for sale,
mobile office container for sale,
portable office units for sale,
container office for sale 
Additional information
| | |
| --- | --- |
| 20ft Office Container Condition | New, Used |