Sale!
Buy T75 40ft Cryogenic LNG ISO Tanks Online
$52,000.00 – $74,500.00
Buy T75 40ft Cryogenic LNG ISO Tanks Online
40ft ISO LNG Container Tank
40ft ISO Tank Container For Sale
T75 UN Portable Cryogenic 40ft LNG ISO Tank Container In Stock
Fast Solution for All Your LNG / Cryogenic
Gas Storage & Transport Needs
LNG ISO Tank Containers
ISO storage tanks for Liquified Natural Gas (LNG) are characterized by their ability to hold this gas at temperatures of -162 °C (-260 °F).
40 feet LNG Tank Container
LNG ISO tanks are designed specially to transport gases. Looking for an LNG ISO tank? Get a full overview of the features and specifications as well as average prices on different types.
LNG T75 ISO TANK CONTAINER
The use of tank containers for storage has been a game changer for many small to mid-size companies. Tank containers can commonly be stacked up to six units high, and can be piped together and manifolded. The flexibility of tank containers as a storage tank combined with clear cost and time savings versus land-based storage tanks has given bulk liquid and gas producers and users an alternative for their long-term and short-term storage needs.
Description
Buy T75 40ft Cryogenic LNG ISO Tanks Online
40ft ISO LNG Container
T75 40′ Cryogenic Tanks For Sale
45,000 liters or as per your request
Tank Container & ISO Tank Container – The Ultimate Guide
LNG ISO INTERMODAL CONTAINERS
ISO CRYOGENIC BULK LIQUIDS
Cryogenic Tank Containers for LNG Life Span: <25 Years
Inter-modal Containers Ltd tank containers for liquefied natural gas (LNG) are used around the world for extending energy supply chains. LNG is increasingly being viewed as an alternative to fossil-based fuels. Delivery of the gas in 40-foot tank containers opens energy options for cities and remote locations alike.
40ft/45ft ISO LNG Tank Container -T75
T75 tank for cryogenic gases storage and transport, like LOX, LIN, LAR, LCO2 and LNG. Our T75 tanks are designed, manufactured, and inspected according to European standards. They are made from high-strength stainless steel material and have features of advanced tank design, excellent insulation properties, low static evaporation rate etc.
With Smart-Flow-Pump functionality, makes the discharging process easier. At Inter-modal Containers Ltd, we believe that our tank containers and staff are second to none. We offer our tank containers to the global market, we sell T75 cryogenic tank containers in new and used conditions.
T75 Cryogenic Isotank Container for sale. This is a tank that is suitable for your Cryogenic gas transportation needs. Liquid such as LNG, Ethane, Ethylene, Methane, and Liquid Nitrogen. Gases are perfect for using this type of tank container. With the ISO standard we have, we don't have to worry about our quality. You can use it as an iso bulk container to carry your bulk cargo. We can supply 40ft and 20ft iso tank containers.
In the fast-growing liquefied gas market there is an increasing need for transporting and storing Liquefied gas. Specifically refers to liquefied natural gas (LNG), liquid oxygen (LOX), liquid nitrogen (LIN), liquid argon (LAR), and CO2.
304L Stainless Steel Inner and Outer vessel material
Vacuum with multi-layer super insulation
Bottom Fill/Liquid Line – dual-drilled DN80/65 PN40 Flange
Top Fill/Gas Line – dual-drilled DN50/40 PN40 Flange
Gasket – PTFE
Design Code:  ASME VIII Division 1
Our 40-foot LNG tanks carry worldwide approval and provide market-leading tare weights and capacities.
Our strength is in our ability to offer solutions by working with our customers and understanding their requirements.
The tanks are the most up-to-date UN T75 design and cannot be compared to older IMO7 series vessels for performance and in particular, the payloads, hold times, and maintenance costs.
Model Type: UN Portable Tank T75
Dimensions: 40' x 8' x 8'6''(12192 X 2591 X 2438mm)
Gross Capacity:46.0m³
International and Intermodal transportation by road, sea and rail.
Design temperature: -196, +50 ºC
Working pressure:0.8Mpa
Material: Inner vessel SS304/ Out vessel Q345R
Insulating with vacuum multi-layers
CSC, IMDG, DOT, RID, ADR, TPED, LR, ASME, TC approved
Inter-modal Containers Ltd 40-foot tanks can provide up to 130 days of hold time for LNG.
Pumps and flow meters and Telematic tracking systems can be tailored to meet customer requirements.
LNG ISO Intermodal Containers

 LNG (Liquefied Natural Gas) ISO Intermodal Containers are the easiest method of LNG transport.

LNG containers are used to transport LNG
worldwide by ship, rail, or road and are considered the best

value available on the market.
Our global inventory of equipment supported by a network of maintenance facilities delivers the confidence you are looking for in a leasing partner. Our team of technical experts is here to support you with any modifications you may need on the 40ft cryogenic tanks
Certified LNG 40FT ISO Container
LNG ISO tank has two containers — an inner tank containing LNG, and an outer tank with insulation materials. Full containment tanks are most common and vary significantly in size based on their purpose. Transporting LNG in ISO tanks is an innovative and effective alternative to conventional natural gas distribution.
40ft Liquefied Natural Gas (LNG) ISO Container
Using state-of-the-art technology from Chart allows you to take advantage of the many benefits and features.
Count on Chart to help you transport LNG with ease.
While tank containers are known for transporting liquid products, ISO tank containers are built based on ISO standards (International Organization for Standardization) and are designed to carry liquids in bulk, both hazardous and non-hazardous.
Tank containers are barrel-shaped vessels serving multi-purposes and used for the bulk transportation of the following materials
LNG ISO Tank Container Vessel
We were relying on the strong background of Inter-modal Containers Ltd, and our professional expertise on LNG tank containers. We developed an ISO LNG Tank Vessel, to realize the convenient shipment of the LNG. For short distances and convenient for transportation of LNG, we developed a 1,000-unit LNG tank container ship for LNG transport, at present, we have 500 units, 700 units, 10,00 units, and 2,000 units of the loading capacity of vessel for your selection. Or customized capacity.
700-unit LNG Tank Container Vessel: Length 192meters, width 37.6meters, it can load 700 units of 45ft ISO LNG tanks, approx loading 15,000tons LNG. The power is LNG double fuel engines. Under LNG power mode, it can sail 5,000 sea miles. It meets the emission requirements of Tier III, compared with traditional LNG carriers, and it can realize a "door-to-door" transportation service. It has created an important milestone in the LNG transport business model.
LNG ISO Tank and how to get them at the best price.
40 feet cryogenic 40ft long iso tank container
Built to last, our Cryogenic tank containers provide versatile and efficient means of transportation over the road.  Inter-modal Containers Ltd also specializes in manufacturing Tank Trailers for LNG transportation and fueling/refueling. Designed for ease of use and equipped with numerous safety features, our transport vessels are optimized for intermodal transportation of cryogenic/liquefied gases via Road, Rail, and Sea.
Ideal for short/mid-term small storage
Can be fully custom designed
20, 40, and 53-foot sizes
CSC, IMDG, DOT, RID, ADR, TPED, ASME, and TC approved
Triple liquid (LNG, Ethane, Ethylene) certified
Low boil-off-rate (BOR), at 0.15 to 0.30% per day
Long holding time (up to 90+ days)
Top quality with extensive manufacturing/servicing experience
As the demand for international trade rises day by day, the need for good quality and reliable means of conveyance increases. To carry liquefied natural gas across the world, the LNG ISO tank caters to the demand with a variety of customizable features.
T75 40FT LNG ISO Tank Container 45500liters Portable Natural Gas Tank
A tank container is suitable for the transportation of materials whether they are hazardous or non-hazardous.
In many countries, LNG ISO tank containers are used to optimize energy supply chains and obtain Liquefied Natural Gas (LNG) for use in cities and remote locations. The LNG containers are available for short and long-term lease and offer an effective solution to the LNG supply problem choosing the T'75 Cryogenic Tank, you get many benefits such as:
No moving parts
Lifetime warranty on the metering section
High accuracy
Long-term stability Easy Operation
With Flow-Pump-Smart functionality
Our Isotank has international safety standards and can be sent by many transportation modes, commonly referred to as intermodal tank containers. You can use trucks, ships, and trains to transport these container tanks.We serve many international clients. The increasing demand for LNG worldwide has made the demand for LNG transport increase. That is why the choice of using an LNG iso tank container to help your cargo delivery process becomes more manageable and safer.Tradecorp is an iso tank container provider where we offer to sell our tank containers. We have new and used iso tanks for sale in Asia/Pacific and other regions. Tradecorp offers you the best solution for tank containers. Our staff will be more than happy to help you find the best solution for your tank container needs. Contact us now to get more information and the best price for you.
40ft LNG Iso Container For Sale
The ISO VAC 40-LNG has been designed as a standard 40ft ISO Container for the safe storage and transport of Liquefied Natural Gas (LNG)
This new addition to our range is built around a standard 40ft ISO frame with Blair cor­ner cast­ings, and & a lock­able valve pro­tec­tion cab­i­net, con­tain­ing the valves, gauges, vac­uum check gauge con­nec­tion, and a sep­a­rate doc­u­ment holder.
This tank can also be con­fig­ured to accept cryo­genic trans­fer pumps. This tank has approvals for road, rail, and sea transport.
The tank can be pro­duced with work­ing pres­sures rang­ing from 100psi to 10 Bar and can be used for the safe trans­port of LNG.
40-foot models; 8 feet, 6 inches in height, and 8 feet wide ISO dimensions for international transport.
46000 liter (12151 US gallon) capacity.
Custom specifications available
Working pressures: Ranging from 7 bar/101 PSI to 10bar/145 PSI.
Inner and Outer vessels: Both vessels are built in 304-grade stainless steel, for lower maintenance cost and lighter weight.
Product piping is 304-grade stainless steel with suitable relief devices and valves for product fill, product withdrawal, and pressure building.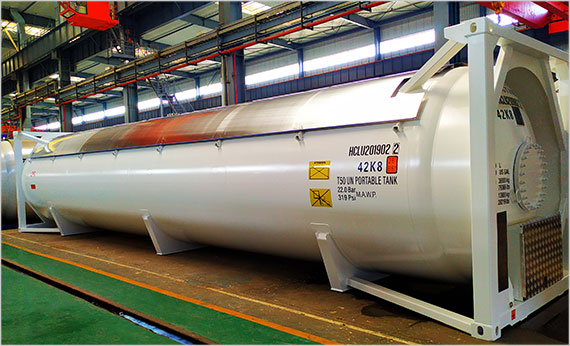 The ISO VAC 40 LNG also fea­tures high vac­uum super-insulation, stack­ing capa­bil­ity 9 units high to ISO 1496 – 3, full set of decals (includ­ing logo's where sup­plied by cus­tomer), and var­i­ous pipework and valve options to offer max­i­mum ver­sa­til­ity to end user and operator.
All tank containers and swap tanks require essential manufacturing and test data to be recorded on a data plate. This will be generally found on the rear of the tank but may be found attached to the side of one of the rear corner posts.The plate shown in figure 4.11 is a typical tank data plate with the sections identified.
Figure 4.11 Typical tank data plate

Owner's name and address
Manufacturers name, address and manufacturing serial number
Tank design details
Operation details
Pressures
Materials
Connections
Inspecting authority
Hydraulic test data
Timber content
CSC safety approval plate
Customs plate
The important sections are the CSC safety approval plate and the hydraulic test data. Every tank should be subjected to a pressure test every 30 months and a full hydraulic test every 5 years and the date of the test should be marked on the data plate.
Watch here our animation about the 40ft rebuild bitumen tank
LNG ISO INTERMODAL CONTAINERS
ISO CRYOGENIC BULK LIQUIDS
ISO intermodal containers utilize rugged,
40 ft LNG ISO Tank Container
Type: Vertically Mounted & Horizontal MountedTank Capacity: 45,000 liters or as per your request.
Design Standard: GB or ASMEExternal Dimension: 40'*8'*8'6" (12192x2438x2591mm)Certificate: CSC certificate like GL/LR/BV/ABSWorking Pressure: 10.0 barTest Pressure: 14.3 barMOQ: 1 unit
Design Type
Beam
Dimensions
40'*8'*8'6"
Tank Capacity
45,000 Litres
Weight
Tare Weight
12,900 kg
MGW
36,000 kg
Working Pressure
10.0 Bar
Test Pressure
14.3 Bar
Maximum Payload
LNG
18,400 kg
Ethylene
23,100 kg
Holding Timesunder perfect conditions
LNG
85 days at 82% fill (14,870 kg)
10 days at 98% fill (17,480kg)
Material
Shell Material
Stainless Inner and Outer Vessel
Pipework
Stainless Steel (304L)
Valve Cabinet
Stainless Steel (316)
Insulation
Vacuum and multi-player
Baffles
5 sets
Vaporizer
Optional
200 kg extra weight
Pump
Optional
Approvals
RID/ADR-TIR-CSC-IMDG-ISO ASME VIII Div with U-stamp UN T75
All of these products are experiencing significant market growth. And, as an alternative fuel for ships and trucks and considered the most environmentally friendly fuel, LNG, in particular, has skyrocketed.
LNG is dominated by ethane and methane gas. Usually, it's widely used as a fuel for vehicles, industrial machinery, power plants, and even fertilizer. Because it has environmentally friendly and non-flammable properties, LNG is safe to use and is in high demand. In developed countries, LNG is widely used as a fuel for vehicles with large loads because it is efficient.
Given the sizable investment required, for example, in an LNG plant where stationary tanks are responsible for keeping the Liquid Natural Gas the need for portable and more affordable intermodal tank containers increases. This will lead to lower operating costs.
This LNG tank container is manufactured for use in trans-shipment as well as land trailer and train
transportation as a 40 ft tank container; the ISO 40ft dimension tank container frame loads a cryogenic
a container as well as pertaining valves and measuring instruments, and shall be used for container
transport of liquefied natural gas.
Cryogenic tank container design for liquefied gases is a complex task given the applicable standards and regulations and requirements over the tank's life cycle. This cryogenic container consists of two layers. The outer and the inside layer, namely the inner and outer tanks. Between the two layers, there is a space called a vacuum which functions as a vacuum and air insulation to reduce heat transfer in the tank so transporting this iso tank will remain safe and does not easily get hot if exposed to heat.

The cryogenic container consists of a stainless steel inner vessel and carbon steel outer vessel, and the
the insulation layer consists of vacuum composite insulation so that natural evaporation of the liquefied
natural gas is kept to an absolute minimum and able to provide safe transportation. Also, the necessary
valves and measuring instruments for the operation are compactly installed inside the rear operating
cabinet.
In times of unloading etc., the pressurizing evaporator will use the local ground facilities and a pressure
build coil is not installed.
Each instrument of this LNG tank container is manufactured according to UN Portable Tank T75, and
specifications are respectively regulated by those related laws and rules, making operational safety etc. a
requirement. When using these facilities, please fully understand the function of the apparatus for correct
operations, in order to safely and efficiently use the stored gas.
What Can You Transport In LNG ISO Tank Containers? 
LNG ISO tank containers are intermodal containers used to move liquids, gases, and powders. It is built in accordance with the ISO standards, making it suitable for different modes of transportation. Both hazardous and non-hazardous products can be transported in tank containers.
LNG tanks are typically constructed with 4 to 6 tanks arranged in a row down the center. The vessel has a double-hull design because two separate ballast tanks, cofferdams, and voids surround the tanks.
LNG or Liquified Natural Gas is natural gas (predominantly methane, CH4, with some mixture of ethane, C2H6) converted into liquid form for storage or transportation without the use of pressurized vessels or storage. LNG is odorless, colorless, non-toxic, and non-corrosive gas.
The market is full of companies providing LNG ISO tanks at standard rates. xChange helps you to find the right LNG ISO tank container as per your requirements from a pool of verified suppliers.
ISO Tank Container Types
ISO tanks are cost-effective containers as they can store and transport material with a lower shipping and transportation cost. There are different types of ISO tank containers available in the market catering to diverse requirements.
ISO Tank Containers are regulated by ISO standards which mandate their manufacturing, testing, and certification as per international guidelines. This certification guarantees their reliability to transport a range of products from food, oil, chemicals, solvents, and fuel.
Here are the major types of ISO tank containers:
Food-grade Tank Container
Used to transport food products made of stainless steel with mineral wool insulation.
Silo Tank Container
Transport bulk powder commodities like cement, fly ash, plaster, and lime.
Swap-body Tank Container
Comes with a barrel that is larger than the frame, and the standard length is 23 to 25 feet.
Reefer Tank Container
A refrigerated tank that maintains a set temperature to preserve products.
Gas Tank Container
Suitable for the intermodal transportation of liquefied gases.
Multi-compartment Tank Container
Have 1/2 partitions inside the tank to allow different products to be shipped in a single container.
LNG ISO Tanks Container
Used to transport liquids, gases, and powders as bulk cargo.
ISO Container Solutions
developed a concept for the distribution of LNG on 40ft ISO containers for potential gas consumers not connected to a pipeline today. Applicable for smaller LNG volumes (0-100MW equivalent power plants, but can also be economically developed for up to 300MW depending on LNG sourcing point) and customers requiring quick startup.
 LNG ISO Container Solutions – Intermodal LNG Transportation
 developed a concept for distribution of LNG on 40ft ISO containers for potential gas ­consumers not connected to a pipeline today providing prospective clients with the following benefits:

Reduced lead time compared to conventional Small Scale LNG solutions – 6 months vs 24-36 months.

The use of standard ISO LNG containers with IMDG certification does not require extensive approval procedures before application. Can be used at the existing port and road infrastructure.

Lower CAPEX as intermodular infrastructure can be rented on a shorter-term basis.

The LNG ISO container solution can be applied anywhere in the world with a container port and suitable roads to move containers on land.

LNG can be supplied from a truck loading unit connected to a terminal or storage tank (relevant ­examples are Spain or Singapore), or a floating barge with a truck loading unit that can be moored against a large LNG carrier creating a "floating jetty".
If loaded from an LNG Carrier, a barge can be stationed alongside an LNG "Mother vessel" where the empty containers received from the feeder's vessel can be filled up.
The LNG ISO containers can be transported by sea on traditional container feeder vessels, or ­alternatively an economical Norgas ISO carrier can be developed by utilizing an existing Offshore Support Vessel with minimal modifications.
The transportation of LNG via ISO tank containers is an innovative and effective supplement to conventional natural gas distribution. It is a flexible, quick, and low-cost solution with a short lead time. It's a well ­proven solution and the ISO LNG tank container model is very well suited as a start-up solution or for smaller ­volumes in remote locations.
Top
Flame tube chimney outlet
Top
Walkways, cladding (50mm thick), and frame are refurbished to an acceptable level for certification and cosmetic purposes as well.
All decals are replaced and the tank is painted in black color.
Rear side
Temperature measuring
Flame tubes for connection of the burners
A 3" BSP bottom ball valve is installed. This is the most common valve used for bitumen products.
The valve is heatproof up to 300 degrees Celsius.
Top of the bitumen tank
Pressure relief valves are refurbished and installed. And of course, set on the right settings. The manlid and other valves are fitted with new gaskets.
Flame Tubes
The flame tube system inside the Bitumen tank
Temperature
A new temperature meter is installed which can indicate a temperature of up to 250 Degrees Celsius.
Flame Tubes
The flame tube system can reach up to a temperature -20/+230 °C and is certified by Lloyds Register and compatible with IMO/ADR/RID/USDOT regulations. The IMO2 / T3 / L2.65BN codes will be applicable.
LNG Tank Container FAQ
Are LNG tanks pressurized?
Yes, LNG Tanks are pressurized. The maximum working pressure of a standard LNG ISO tank is 250 PSIG or lower, with the product stored at 50-120 PSIG.
What is a rollover in LNG tanks?
The rollover in LNG tanks occurs when the vapors from an LNG tank are rapidly released because of stratification.
Delivery
Because bitumen tanks are rebuilt from standard ISO tanks we can supply these units fast and unlimited from our depotThe rebuilt bitumen tanks can be delivered to any port worldwide.
LNG ISO Tank Container Specifications
LNG ISO tank containers are the easiest means of conveyance to transport liquified natural gases. The tank containers are available in various specifications to serve different purposes.
Similarly, two 40ft LNG ISO containers can have different specifications, and they can be leveraged for different purposes. For instance, a 40ft cryogenic LNG ISO container provides an exceptional 45,000 liters of capacity with an incomparable total payload of up to 36,000 kg. The working pressures for a 40ft LNG ISO standard container range between 10 BARG to 22 BARG with and without pump options.
Furthermore, a 45 ft swap body type LNG ISO container is also available in the market with a 7 BARG working pressure and a maximum capacity of 60,000 liters, ensuring the fastest liquid transport with low tare weight.
LNG ISO Tank Types
There are a variety of LNG ISO containers available in the market, like:
| | | | |
| --- | --- | --- | --- |
| ContainerType | Container Specification(L x B x H /mm) | Loading Capacity(in L) | Design Temperature(ºC) |
| 20 ft LNG ISO Container | 6058 x 2438 x 2591 | 22,000 L | 55 |
| 40 ft LNG ISO Container | 12460 x 2500 x 3980 | 25,000 L | 55 |
| 20 ft Standard Cryogenic LNG ISO | 6058 x 2438 x 2591 | 20,200 L | 55 |
These containers are made of stainless steel and are surrounded by various types of protective layers. Based on the cargo type, different skins can be used. The container has a manhole on the top along with at least one valve and another valve on the bottom. They are shaped like a cylinder. Since ISO tanks are built based on ISO standards, the frame in which the tank sits measures about 6 meters long, 2.4 meters wide, and between 2.4 – 2.5 meters high and varies in size and type, and can carry between 21,000 and 40,000 liters of liquid.
LNG Container Safety Considerations
LNG ISO tank containers are advised to be handled with extra care since they might contain highly inflammable shipments. Here are some other safety aspects to consider:
Whenever handling natural gas, there is a possibility that gas will permeate clothing, so avoid smoking near the tank, especially while filling and discharging.
In case of a leak, remove any ignition sources and cut off the gas supply. Further, shut off the leaky spot, and have ample ventilation. Also, make sure it is away from any electrical units.
LNG Tanks Under Pressure
LNG ISO tank containers are multi-layered vacuum-insulated pressure tanks, supported by double-walled transport tanks. They are designed for efficient and economical transportation of LNG. The maximum pressure level of an LNG ISO tank container is 0.690 MPa.
What are the types of Tank Containers?
Various tank containers are depending on the usage. These tanks have various applications which are explained in the table below:
| | |
| --- | --- |
| Container Type | Usage |
| Fuel tank   | For transporting gases. |
| Storehouse tank  | To ship grains and powders |
| Reefer tank  | Thicanto cool the item to be shipped |
| Food-grade tank   | It is a standard tank container that can only ship food items |
| Swap body tank   | Swap body tank normally has a bigger cubic limit than standard ISO containers making them ideal for moving extremely lightweight cargoes. |
| Baffle Tanks  | Warming frameworks including steam, warm water, and thermostatically controlled electrical warming or cooling can be included in this tank container. |
| Lined Tanks   | They are intended for the transport of both pure or exceptionally destructive items. This sort of tank is lined and has extra security frameworks. |
| Heated Tanks   | To ship items that must be kept hot or warm during the transport. |
What is the Average Cost of Every Type of Tank Container?   
All businesses need to invest carefully to prevent any kind of loss. As the new containers cost a lot, people usually go for used containers. Below is a comparison between the price of a new and a used tank container in a tabular form.
| | | |
| --- | --- | --- |
| | Cost of New Container | Cost of Used Container |
| 20-foot tank container | £9,100.00 | £6,200.00 |
| 40-foot tank container | £10,500.00 | £7,000.00 |
Also, Read
| | |
| --- | --- |
| Open Top Container | Hard Top Container |
| Platform Container | Insulated Shipping |
| Flat Rack Container | Pallet Wide Containers |
| Intermediate Bulk Container | Reefer Container |
| Ventilated Container | Dry Container |
Uses of Tank Container  
A tank container is used for the storage or bulk transportation of liquids, chemicals, LS or food items including:
Groceries
Wines and Spirits
Organic product juices
Sweet Oils
Synthetics
Fills
Harmful substances
Gases
The items to be transported are labeled under IMO. IMO types refer to the grouping of dangerous goods. The tank containers can be used to ship the items of the following classes.
Below are some of the benefits of ISO tank containers.
1. ISO tank containers are a reliable, cost-effective (depending on the product being shipped), any safe way of transporting bulk liquids.2. ISO tanks are designed to meet specific criteria according to the substance they will be carrying.3. Because of the above, ISO tanks are very reliable and can withstand extreme pressure and damage.4. ISO tanks are highly unlikely to leak and do not require additional packaging materials for cargo.5. ISO tanks maintain a specific temperature for temperature-sensitive cargo and can be transported by land or ocean.
| | | | | |
| --- | --- | --- | --- | --- |
| IMO Type | Class | Flashpoint of materials | Type of materials | Tank type |
| IMO Type 1 | 1,3-9 | Under 0°C | explosives, combustible fluids, and destructive and harmful substances. | Hazardous Tanks |
| IMO Type 2 | 3 | 0 – 61°C | flammable fluids incorporate diesel and cooking oils. | Low Hazardous Tanks |
| IMO Type 5 | 2 | | non-refrigerated condensed gases | Gas Tanks |
For reference, IMO represents the International Maritime Dangerous Goods Code.
Why Go for Tank Container? 
They have multiple benefits and are
More productive than utilizing more small drums.
simple to ship
simple and brisk load and unload load through rooftop lids and valves.
Using a Tank Container disposes of the dangers of relocating or moving liquids from one vessel to the next. This gives a financially savvy, secure, and very protected suitable method of shipment.
After shipping, the tank container is moved to a cleaning terminal preparing it for the next cargo.
ISO Tank Container 
ISO tanks are cost-effective as they can place and effectively transport less than shipload or truckload materials with much less shipping and handling cost. They can generally be stacked in 90mins whereas drums require a few hours.
Moreover, the freight can be easily carried by truck to the railroad, from the train to the transport deck and ISO tanks can also be shipped via air.
Like other container types, ISO tanks can also be stacked. Inter-modal containers Ltd. permits two ISO tanks to be shipped on the well with two more tanks loaded on top. This technique allows thousands of gallons of liquid to be shipped in much less time.
The ISO tank can accommodate around 4 thousand gallons much more than the previous standard-sized methods involving an IBC tank that could only place at around 3 thousand gallons each or 55-gallon drums.
Types and sizes: 
All ISO holders require to adjust to guidelines, for example, size, strength, and reliability. ISO tank containers have dimensions and features set according to the principles of the International Organization for Standardization.
The ISO Tank Container permits the shipping of a wide range of items. From edible fluids and non-hazardous liquids to shipping dangerous materials including erosive and explosive materials, toxins, and flammables.
What is the average cost of an ISO Tank container?  
You can buy an ISO Tank container for U$21,000.00, however, if worked beneficially for an additional 12 years, can cost you under US$annum.
Types of ISO Tank Containers: 
UN assigned the items that are appropriate for transportation inside a tank container with an extra 'T' code in the table, and this shows the sort of tank that should be utilized for shipping it.
Based on the usage, the following are the types of ISO Tank containers.
| | |
| --- | --- |
| Container Type  | Usage |
| Rubber-lined ISO tank | To ship corrosive-based synthetic compounds |
| T1 ISO tank | For shipping wine and light fluids |
| T4 ISO tank | To transport non-perilous eatable and non-consumable oils |
| T11 ISO tank | To ship non-dangerous synthetics |
| T14 ISO tank holder | To ship dangerous synthetics and acids like HCl and zinc chloride |
| T50 ISO tank | To transport LPG and alkali gas |
| T75 ISO tank | For moving Cryogenic fluids |
T Code System Classifications for ISO Tank Containers
The IMO classifications for ISO Tank Containers have been replaced by the 'T' code system.
The T-Code system specifies the test pressure of each type of tank container, its shell thickness, the pressure relief set-up, and the bottom and top outlet arrangement. T-Code instructions apply to dangerous goods in classes 1 and 3 through 9. Class 2.
The T-Code system for tank containers was introduced in 2001. The T-Code system identifies tank containers from T1 through T22 and identifies the type of cargo each container is designed to carry.
ISO tank containers have to be manufactured in accordance with strict international codes for worldwide carriage of liquids whether by land or sea.
Whilst the following isn't a complete listing of the IMO types, it provides an indication of the original system of classification.
IMO Type 1 – Hazardous Tanks – approved for transportation of substances of Class 1 and Classes 3 through 9 where the liquids have a flashpoint of less than 0°C. Some examples of the types of liquids include explosives, flammable liquids, and corrosive and toxic substances.
IMO Type 2 – Low Hazardous Tanks – approved for transportation of Class 3 substances that have a flashpoint of 0 – 61°C. Some examples of combustible liquids include diesel and cooking oils.
IMO Type 5 – Gas Tanks –  approved for transport of non-refrigerated liquefied gases of Class 2.
For reference, IMO stands for International Maritime Dangerous Goods Code.
T Code System for ISO Tank Containers and specifications:
| T-Code | Minimum Test Pressure (bar) | Minimum Shell Thickness | Pressure-Relief Requirements | Bottom Opening Requirements |
| --- | --- | --- | --- | --- |
| T1 | 1.5 | > or = 6mm | normal | 2 shut-off devices (Int + Ext) |
| T2 | 1.5 | > or = 6mm | normal | 3 shut-off devices (Int + Ext + cap/blank) |
| T3 | 2.65 | > or = 6mm | normal | 2 shut-off devices (Int + Ext) |
| T4 | 2.65 | > or = 6mm | normal | 3 shut-off devices (Int + Ext + cap/blank) |
| T5 | 2.65 | > or = 6mm | normal + rupture disc | Not Allowed |
| T6 | 4 | > or = 6mm | normal | 2 shut-off devices (Int + Ext) |
| T7 | 4 | > or = 6mm | normal | 3 shut-off devices (Int + Ext + cap/blank) |
| T8 | 4 | > or = 6mm | normal | Not Allowed |
| T9 | 4 | 6mm | normal | Not Allowed |
| T10 | 4 | 6mm | normal + rupture disc | Not Allowed |
| T11 | 6 | > or = 6mm | normal | 3 shut-off devices (Int + Ext + cap/blank) |
| T12 | 6 | > or = 6mm | normal + rupture disc | 3 shut-off devices (Int + Ext + cap/blank) |
| T13 | 6 | 6mm | normal | Not Allowed |
| T14 | 6 | 6mm | normal + rupture disc | Not Allowed |
| T15 | 10 | >or = 6mm | normal | 3 shut-off devices (Int + Ext + cap/blank) |
| T16 | 10 | > or = 6mm | normal + rupture disc | <3 shut-off devices (Int + Ext + cap/blank)/td> |
| T17 | 10 | 6mm | normal | 3 shut-off devices (Int + Ext + cap/blank) |
| T18 | 10 | 6mm | normal + rupture disc | Not Allowed |
| T19 | 10 | 6mm | normal + rupture disc | 3 shut-off devices (Int + Ext + cap/blank) |
| T20 | 10 | 8mm | normal + rupture disc | Not Allowed |
| T21 | 10 | 10mm | normal | Not Allowed |
| T22 | 10 | 10mm | normal + rupture disc | Not Allowed |
In addition to the above types of ISO tank containers, there are 2 others, namely, a T50 and a T70.
The T50 is a gas tank and has a minimum test pressure of 57.6 bar. Under the IMO system, this was classified IMO5.
The T70 is a cryogenic tank container designed for carrying liquefied gases. Under the IMO system, this was classified IMO7.
How Can use ISO tank Containers to manage our cargo effectively?  
These tank containers are tough. Pressure load tests are played out each time a container is unloaded. As the ISO tank containers ship all types of hazardous or non-hazardous materials, they need to be certified and examined.
How to load materials? 
You can load and unload a tank container from the top and the base by connecting the hoses to the valves. There are a vent and one valve on the top of a standard tank vessel, and there is a valve at the base.
The ISO frame makes these tank containers dispatched with Inter-modal containers Ltd. delivery choices incorporating container ships, rail lines, and trucks.
Effective use of ISO Tanks 
All in all, tank containers, at any rate, should always be 80% full, to prevent dangerous flooding of fluids during the transit. You can't fill them more than 95%; otherwise, there will be no space to consider thermal expansion.
They can transport a number of hazardous and non-hazardous materials, including:
Molasses
Milk and other dairy items
Alcoholic and Non-Alcoholic Beverages
Condensed sugars
Hydrogen Peroxide
Sulfur Acid/Nitric Acid
Synthetic compounds/Solvents
Fluid Food Products
Warming oil/Vegetable oils
Gas/Diesel/Liquefied petrol gas
Dimensions of Tank and ISO Tank Containers
Around 95% of tank containers have 20ft dimensions even though they come in other sizes, including 10ft, 30ft, 40ft, and 45ft containers.
Standard ISO Tank Container Specifications
| | | | | | | | |
| --- | --- | --- | --- | --- | --- | --- | --- |
| Capacity | Gross Weight | Tare Weight | Payload | Steam Heating Coil | Max. Cargo Temp. | Test Pressure | Working Pressure |
| 21,000L | 36,000kg | 3,650kg | 32,350kg | 8m² | 120°C | 6.00 BAR | 4.00 BAR |
| 24,000L | 36,000kg | 3.900kg | 32,100kg | 8m² | 120°C | 6.00 BAR | 4.00 BAR |
| 25,000L | 36,000kg | 3,730kg | 32,270kg | 8m² | 130°C | 6.00 BAR | 4.00 BAR |
| 26,000L | 36,000kg | 4,060kg | 31,940kg | 8m² | 130°C | 6.00 BAR | 4.00 BAR |
40ft. tank Container
Dimensions
| | | | | |
| --- | --- | --- | --- | --- |
| Length | Width | Height | Door Width | Door Height |
| 12.192m | 2.438 m | 2.62 m | 0.000 m | 0.000 m |
Specifications
| | | |
| --- | --- | --- |
| Tare Weight | Max. Cargo Weight | Max. Payload Weight |
| 11,800 Kgs | 36,000kgs | 22, 200 kg |
45ft. tank Container
Dimensions:
| | | | | |
| --- | --- | --- | --- | --- |
| Length | Width | Height | Door Width | Door Height |
| 13.716m | 2.438 m | 2.62 m | 0.000 m | 0.000 m |
 Specifications
| | | |
| --- | --- | --- |
| Tare Weight | Volume L | Max. Payload Weight |
| 16,370 Kgs | 54,120 L | 19,630kg |
HJH
Additional information
| | |
| --- | --- |
| Condition | New T75 Un Portable Cryogenic 40ft Lng Iso Tank Container, Used T75 Un Portable Cryogenic 40ft Lng Iso Tank Container |