Sale!
Buy 1000 Gallon Underground Propane Tanks Online Best ASME & DOT New
Buy 1000 Gallon Underground Propane Tanks Online
Buy 1000 Gallon Propane Gas Tanks Online
Propane Tanks For Sale
DOT & ASME Steel Cylinders
Different portable propane tank sizes give you options when it comes to how much equipment you want to power and how long you can operate before you run out of gas.
UNDERGROUND PROPANE STORAGE TANKS
Propane tanks come in all different sizes and vary in use from powering your grill to your food truck, from your forklift to your fleet, from drying your crops to keeping your materials warm. In all cases, propane keeps your business fueled and operating with the highest efficiency.
Buy Propane Gas Tank Online
Used in Large commercial applications and heating larger homes with multiple appliances.
Description
Buy 1000 Gallon Underground Propane Tanks Online
Buy Underground Propane Tank Online
1000 Gallon Propane Tank
These extra-large propane tanks are most common for agricultural customers and commercial businesses. Although rarer for residences, these are not unheard of. With a higher one-time investment, you'll have greater control over when and where you fill up your tank
How to Figure Out What Size Propane Tank
1,000 Gallon Propane Tank
1000 Gallon Underground Propane Tank
Best 1000 Gallon Propane Tank Price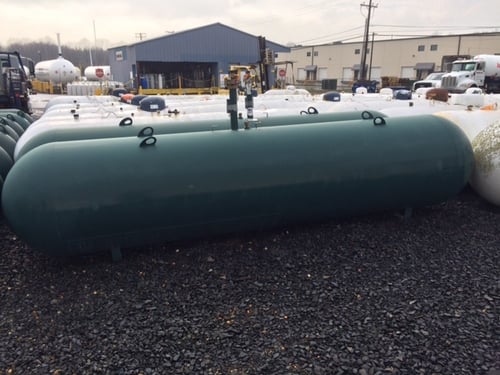 Underground propane tanks help retain your curb appeal. Once buried, only the lid is seen protruding from the ground. The lid keeps the regulator, gauges, and filling port from exposure to the elements. We offer different propane tank sizes to meet a wide range of residential and commercial needs. When filled, the volume of propane is approximately 80% of the total tank capacity to allow for expansion.
These large propane tanks are typically used for whole-home systems, home heating, generators, pool heat, commercial cooking, drying cleaning, and crop drying. The tank is about 6′ 3/16″  tall and 15′ 11″ long. It is appropriate for most buildings ranging from 4500 sq. ft. and up. Metered systems for small communities and shared commercial buildings commonly install 1000-gallon propane tanks as their central propane storage.
This underground propane tank requires you to dig a hole in the yard on your property. Excavating the yard will cause damage and leave a large patch of dirt. However, you can plant grass and sod, and you'll eventually be able to plant and landscape this space. In fact, the yard can end up looking even better than before and help raise the value of your property!
Above-ground propane tanks can be an eyesore and can require more creative landscaping to hide. Underground propane tanks are also surrounded by earth so they're not as affected by weather conditions and freezing temperatures as above-ground tanks.
Features
Conforms to the latest edition of ASME Rules for Construction of Pressure Vessels, Section VIII, Division 1. Complies with NFPA 58.
Rated at 250 psig from -20° F to 125° F. All vessels are registered with National Board. Some standard vessels are available with CRN (Canadian Registration Number).
Heavy-duty steel is painted with a mastic application to ensure long life and remain anti-corrosive
Vessels shipped with durable ready-to-bury coating. Vessels, depending on manufacturing location, are either powder coated with phenolic epoxy, painted with a single application urethane coating, or primed with liquid epoxy and coated with liquid epoxy top coat – all providing a durable ready-to-bury coating.
All vessels are shipped vacuum pre-purged to enable a simplified first fill of the vessel.
The green composite dome provides a large working space and is resistant to the elements. Anode stud attached to riser pipe to enable ease of cathodic connection.
Specifications
Water Capacity: 1000 Gallons
Outside Diameter: 41″
Head Type: Hemi
Overall Length: 15′ 11″
Riser Height: 6′ 3/16″
Leg Width: 16 1/4″
Leg Spacing: 9′ 0″
Weight Empty: 1812 lbs.
PRESSURE VESSEL CODES & REGISTRATION
• Designed and constructed in accordance with theASME Section VIII, Division 1 Code• Registered with the National Board ofBoiler & Pressure Vessels Inspectors• Complies with NFPA 58• Conforms to specifications set forth by theRailroad Commission of Texas
PAINT SPECIFICATIONS
• Epoxy powder paint for maximum rust protection• Tanks painted gray• Ready to bury durable epoxy powder coating†Shroud Features (500 & 1,000 gallons)• Durable construction• Large opening for easy filling and maintenance• Recessed markers to indicate proper burial depth• Permanent hole for mounting location flag• Access on sides for flexible riser connection• New shroud available for 500 gallon and1,000 gallon UG tanks, shroud dimensions:* Shroud for long riser 32 3/16" X 26 5/16"* Shroud for short riser 19 3/8" X 26 5/16"
VESSEL FEATURES
• Tanks fully fitted with RegO valves andRochester liquid level gauges• Container pressure rated at 250 PSI @ 400°F• Vacuum purged• Duplicate data plate is zip tied on the riser pipebelow is the anode bolt connection for convenience• Product is offered with 14" short or 28" tall risers• Anode bolt connection located under the dome• Short or tall plastic shroud assemblies (w/lid)supplied accordingly• #54 liquid level outage valve orifice
PROCESS CONTROLAll welded products are x-rayed and pressure tested@ 325 PSI per ASME Sec VIII, Div 1 requirements,followed by rigorous leak test inspections, bothpre and post valvingSTORAGE & DISTRIBUTIONContact Propane Education & Research Council foradditional resources and information at Inter-modal containers Ltd.
Underground 1000 Gallon Propane Tank Installation
Got this customer's 1000gal put in this evening! Our three guys made short work of this job! Thanks to our wonderful customers we are able to purchase great equipment and with the right equipment, any job goes smoothly!
Find Your Gauge on Underground Tanks
Factors That Affect the Cost of Propane Tank Installation
Buying or Leasing a Propane Tank
Choosing to buy or lease (or rent) a propane tank is a major determinant of the overall cost of the propane tank installation. Buying a propane tank has a high startup cost, plus you'll be expected to pay all maintenance costs. Owning your propane tank provides you the flexibility to contract out for propane service from any propane company.
Leasing or renting a propane tank can be a good option if you don't expect to stay on the property for the long term. Leasing can be ideal if you simply don't want to outlay money on a propane tank—especially since propane tanks add little or nothing to a home's resale value.
Length of Pipe
The length of the pipe running from the propane tank to the entry point of the house influences the cost of installing a propane tank. The larger the tank, the farther away from the house it must be installed—per local code. A 1,000-gallon propane tank may need to be a minimum of 25 feet from the house.
Location
An exposed propane tank will be less expensive than a buried tank. A buried propane tank costs more to bury, plus maintenance and repair costs down the road will be higher.
In addition, locating the propane tank conveniently for refilling is important since the delivery truck's hoses have limited lengths. Generally, the propane tank should be located no more than 80 feet away from a road, driveway, or another hard surface for the propane truck to drive onto.
Advantages And Disadvantages
Propane tanks buried underground are usually larger tanks and come in different sizes. Underground propane tanks can be used for many different applications and are typically used for homeowners or businesses wishing to run multiple appliances off a large tank.
In addition, underground propane tanks are commonly found in both residential and commercial applications. Read on for a comprehensive guide to the pros and cons of underground propane tanks.
Appearance:Underground propane tanks are landscape-friendly and won't mess up your lawn's appearance. At most, you'll need to plant some new grass. Many homeowners find an above-ground tank an eyesore that can potentially decrease their property values. The only thing you'll have to get used to is a small "collar" sticking up in your yard and remember not to place anything on top of the area where the tank is.
Harsh Weather Is Not A Factor:An underground tank will deal with extreme temperatures much better than its above-ground counterparts. Since there is earth and soil surrounding them, there is less chance of drastic weather changes affecting or disrupting your tank. Also, during the winter time, underground tanks will receive warmth from the earth.
Safety:Underground tanks are typically safer than above-ground tanks because they are never exposed to any outside elements. They are also installed with anode bags to protect it from the natural electrical currents sent through the Earth. If for some reason there is a gas leak in an underground propane tank, the gas will remain in the soil underneath the ground, ensuring that the fuel will not harm the local soil or water.
Increases Home Value:Some homes will increase in value with the addition of an underground propane tank. More and more homes are seeing the benefit of switching to propane as a whole-home heating source. Also, underground propane tanks don't provide an eye sore for vehicles driving by.
More Expensive:The installation of an underground tank includes more upfront work and extra protective features to keep it safe from corrosion and contamination. However, when you choose to lease an underground propane tank from GVP and use it for whole-house heat or commercial heat, we'll do the installation for free!
Floating Tank Problems:If your underground propane tank is in an area that is prone to flooding and is not installed correctly, your tank could end up floating underground. Unfortunately, the effects can be detrimental and include cracked tanks, broken tank straps, twisted and damaged supply lines, and damage to your yard and landscaping.
May Lead To Unique Safety Challenges:While underground propane tanks have proven very safe to use over the years, they do bring some unique safety challenges. For example, detecting a leakage takes more effort than for above-ground tanks. Secondly, natural pressures underground can make it warp over time. The good news is that regular inspections can help you identify such problems before they cause damage.
Delivery To Underground Propane Tanks
Delivering underground propane tanks requires a little more knowledge of the consumer's property.  With our experience and advanced technology system, we have no problem! Our drivers locate the underground tank by identifying the "collar" of the tank sticking out of the ground.
They pull the hose up to the tank location, kneel down, open the collar to expose the fill pipe, and fill the tank. Because underground tanks are usually larger, you can expect the filling process to take a bit longer.
It's important to have the collar clearly marked and cleared of all snow for our drivers during harsh weather. We do our best to clean the inside of the collar of all leaves, but drivers do appreciate it when customers lend a helping hand with this.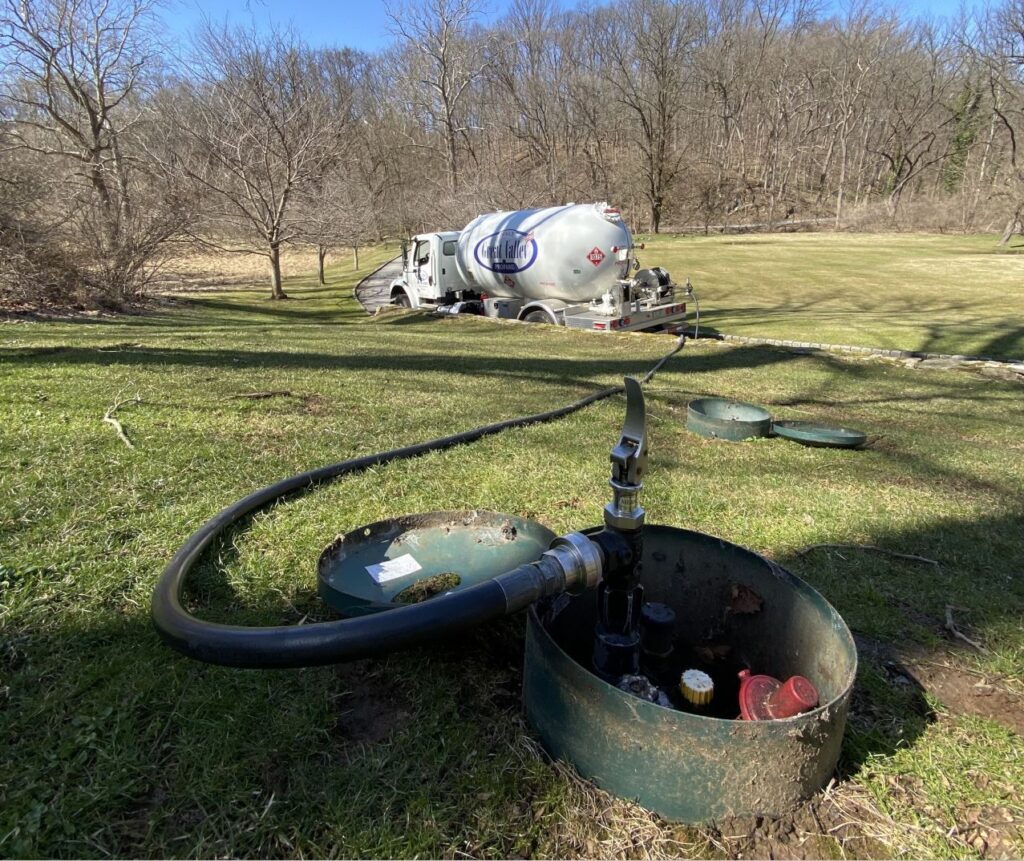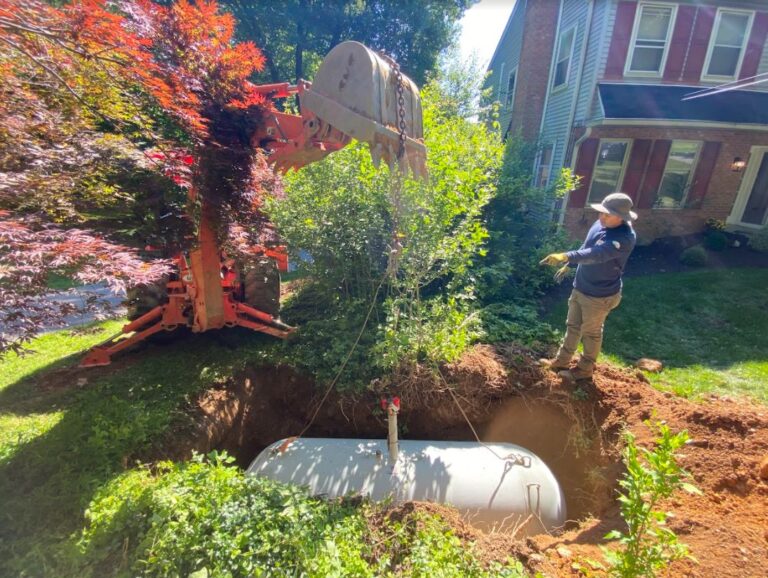 Installation Of Underground Propane Tanks
If you have decided that an underground propane tank is the right choice for your home or business, you should know what to expect when it comes to installing it.
After determining what size propane tank you need and what it will be used for, Great Valley Propane will take over. Here are the things we plan for:
All propane tanks must meet certain NFPA 58 codes and be placed the required distance from windows, doors, ignition sources, and property lines.
The ground above the tank must remain open.
The hole must be deep enough to accommodate the tank, plus an additional foot of dirt on top of the tank to ensure proper insulation and compliance with the code.
Anode bags are placed around the tank before it is put into place to protect it from the naturally occurring electrical current in the soil, known as electrolysis.
Propane lines will be run underground in trenches that are dug by our team and connected.
Great Valley Propane will rake and seed your yard to ensure your yard will return to how it looked prior to the installation.
After completion, all new propane tanks will receive pressure and leak check to make sure everything is in functioning order.
Great Valley Propane knows all the local codes and regulations so you don't have to worry!
Commercial Uses For Underground Propane Tanks
When it comes to your business, appeal, and efficiency are two of the most important factors to consider. If you would like your company to benefit from everything propane has to offer but don't want a big tank outside your building, then an underground tank is a perfect option for you.
Underground propane tanks are hidden out of sight from your customers, so they will never know it's there. In addition, burying a large underground propane tank at your business can help decrease the number of deliveries you receive and keep you running for longer periods of time. Businesses are all about being as efficient as possible with their money and services, so contact us today to let us help you!
Underground propane tanks are commonly found at golf courses, tennis courts, and many more businesses!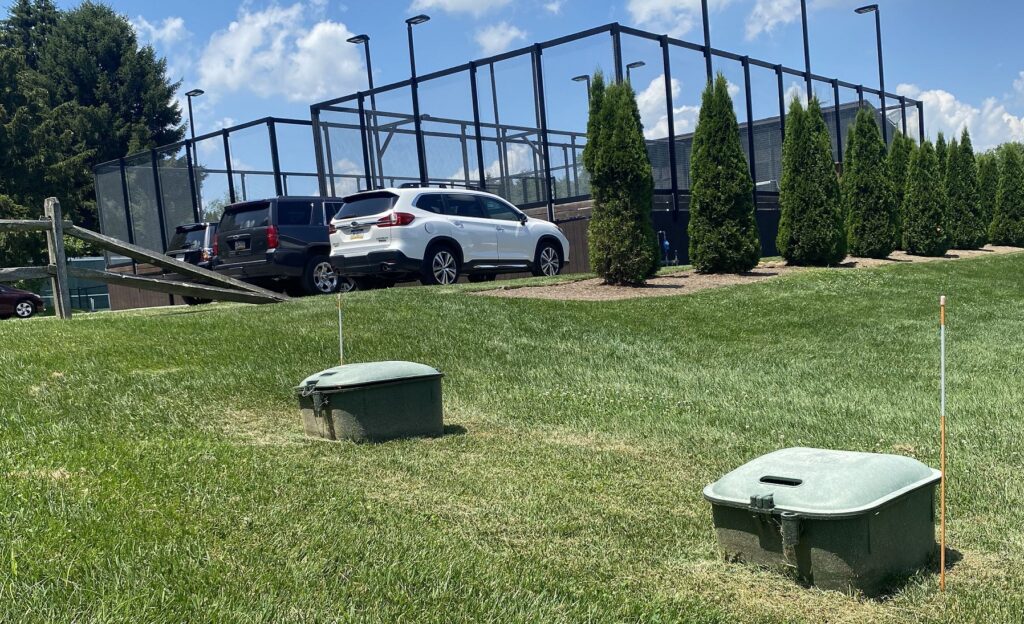 Propane tanks that GVP commonly installs below the ground can range from 320-gallon tanks to 1,990-gallon tanks. Below are some more details on the most common options for underground installation:
A 320-gallon tank holds about 256 gallons of propane when full. It is perfect for users who wish to bury their propane tank while still having suitable storage and don't want a big 500-gallon tank in their yard. It is commonly used for residential hot water, generators, pool heaters, and heating smaller homes.
A 500-gallon underground propane tank is approved to hold 400 gallons of propane and is suitable for larger homes that rely on propane to power their appliances and their heating system. In addition, it is an excellent choice for small to medium-sized commercial applications. Homes and businesses choose this option when they want the tank out of sight and also might not have room for a larger tank.
A 1,000-gallon tank is approved to hold 800 gallons of propane when filled to capacity. Some large homes and businesses require multiple tanks of this size. 1000-gallon underground propane tanks are typically found in homes that use propane for their heating system and most of their appliances.
Keep in mind, both the 500-gallon and 1,000-gallon tanks can be placed above ground as well.
A 1,900-gallon tank holds about 1,592 gallons of propane when full. Commercial businesses love big tanks because it means less frequent fill-ups and more extended operating power! They are almost exclusively for commercial heating purposes but can be used when building out large complexes full of apartments, townhomes, or single-family homes.
UNDERGROUND VESSEL DIMENSIONS & SPECIFICATIONSDescription120 Gallon UndergroundLR Storage Tank120 Gallon UndergroundSR Storage Tank250 Gallon UndergroundLR Storage Tank250 Gallon UndergroundSR Storage Tank320 Gallon UndergroundLR Storage Tank320 Gallon UndergroundSR Storage Tank500 Gallon UndergroundLR Storage Tank500 Gallon UndergroundSR Storage Tank1000 Gallon UndergroundLR Storage Tank1000 Gallon UndergroundSR Storage TankProudly Made in the U.S.A
,
1000-gallon underground propane tank installation,

used 1000-gallon propane tanks for sale, 1000-gallon underground propane tanks,

500-gallon underground propane tank, 1000-gallon underground propane tanks for sale, 1000-gallon underground propane tank price
Additional information
| | |
| --- | --- |
| Tank Type | 1000 Gallon Above Ground Propane Tank, 1000 Gallon Underground Propane Tank |