Sale!
Buy 40FT Shipping Container Pool Online
Buy 40FT Shipping Container Pool Online
Buy 40FT Container Pool Online
40FT Shipping Container Swimming Pool with Air Heater
shipping container pool for sale
Our custom made shipping container pools are a low footprint, cost effective backyard pool solution that have the versatility of being fully transportable when you move or relocate. Manufactured to your specifications in our factory in Long Beach CA, we ship our container pools WORLD wide.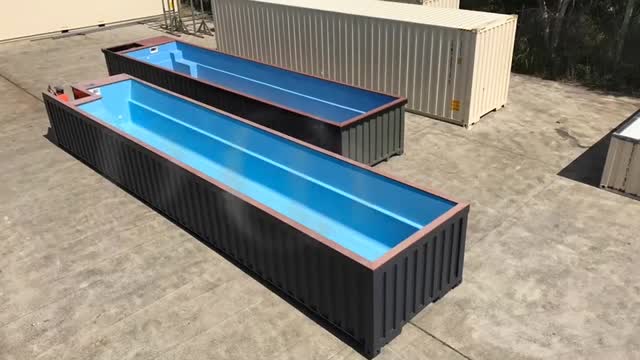 A solution for any site
The only pool to suit any site, regardless weather you have an extreme sloping property, restricted access, live remotely or just want to have a pool that connects directly to your entertainment area.
Description
Buy 40FT Shipping Container Pool Online with Air Heater
40FT Shipping Container Pool
40ft shipping container swimming pools
Find Your Perfect Swimming Pool
40FT  Container Swimming Pool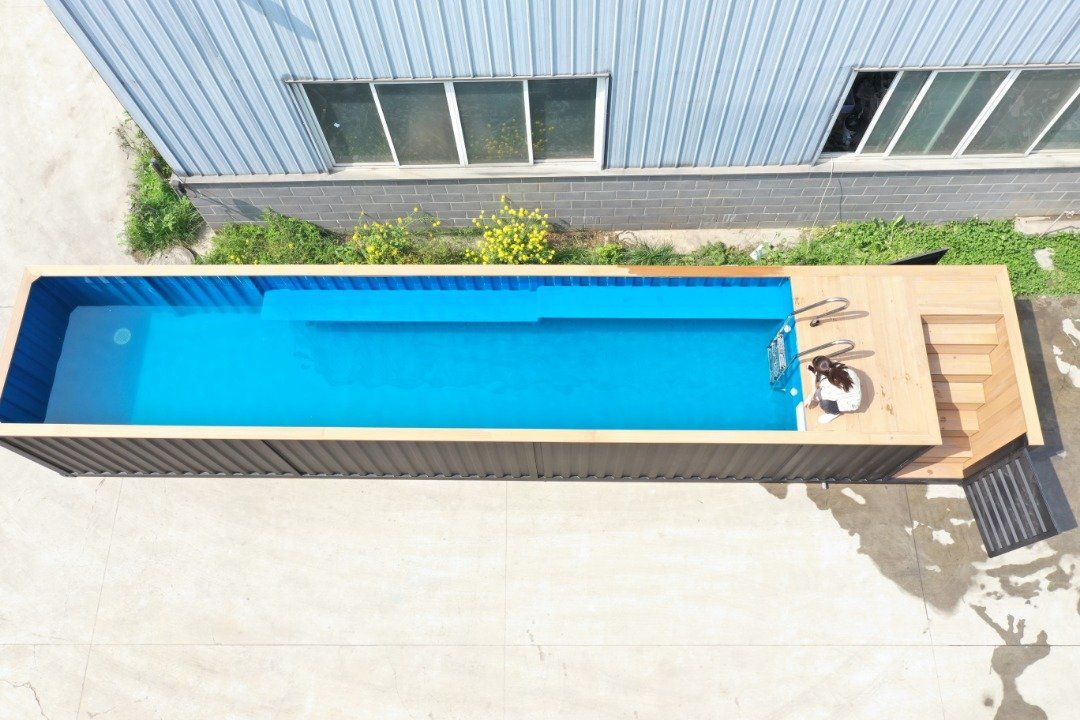 40FT Shipping Container Pool
Choose from the following
2 Sizes – 6m & 12m length

2.44m wide

1.5m deep

Child Safety Ledge

Heating Option

LED Lighting Option

Choice of internal fibreglass colours – choice of 12 vibrant colours

Choice of external colour – choose from the full range of Colorbond colours

Fully self contained filtration system

Integrated child safety door

Above ground or below ground options
To get the conversation started and receive an obligation free shipping container pool quotation simply fill out our Request for Quotation form below.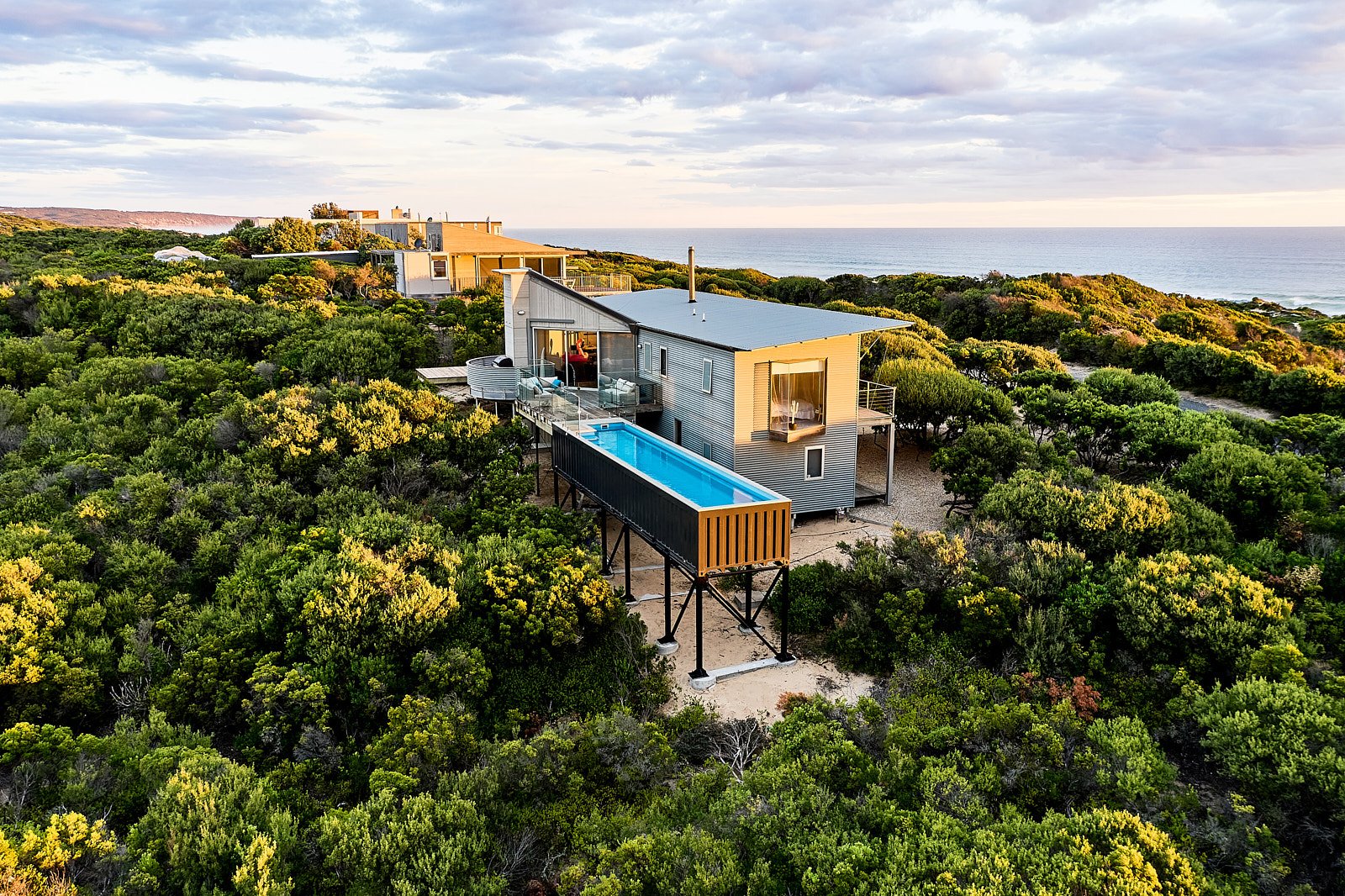 If you're looking to get a pool, and not looking to shell out $50K+ for one, these semi-mobile all-in-one swimming pools might be your best bet! Made from welded shipping containers, the unique 40ft shipping container pools are made to be much more easily transported and installed compared to a standard in-ground or above-ground swimming pool.
40 ft shipping container pool for sale
The pool comes shipped to you in fully working condition so that you can start using your pool as soon as you get it, fill it up with water, and plug it in. The 40ft shipping container pools also have built-in stairs to access to easily get in and out of the water, along with a child safety door that will prevent children from wandering up the stairs and into the pool.
The pump and filtration system for the pool lives inside the shipping container right below the stairs so that everything you'll need for the pool is all self-contained.
Multiple filtration systems are available for the 40ft shipping container pools. Other options for the pools include swim jets, a water heater, a variety of different interior finish colors, and any color of your choice for the exterior of the pool.
Shipping container pool can be shaped to meet the needs of almost any environment or facility specifications
The quick and easy installation is one of the main advantages of the container pool. As it sits above ground, it does not need to be built into the ground of your backyard, so there is none of the long preparation and building work that goes with having an in-ground pool built. This means it causes very little disruption to your lifestyle.
As most shipping container pools come as complete kits with everything you need to get started, including pool lighting and a filtration system, this means they can be used practically straight away as soon as they have been installed and connected to an electricity supply. This enables you to start enjoying your pool almost instantly, instead of having to wait for it to be built.
Another major bonus of the container pool is that it can easily be transported by road on a truck. This means it can be taken with you if you decide to move home, making it an extremely convenient option for a wide variety of homeowners. Alternatively, you can include the pool as part of the deal if you sell your home, or choose to sell it separately.
Most importantly, shipping container pools are highly attractive because of their affordable price.While it is possible to buy a container pool for as little as $6,000, this is unlikely to be of particularly high quality. The safest and most durable container pools are those with fibre glass inserts, so it is worth paying the extra for the higher build quality.
40FT Shipping Container Pool Specifications
| ITEM | PRODUCT SPECIFICATIONS |
| --- | --- |
| | |
| | Channel steel and square tube steel structure, Galvanized Corrugated Steel |
| | Lope steel plate floor, Wood plastic composite flooring for pool platform |
| | Brush 2 times of medium gray epoxy zinc-rich primer, Acrylic topcoat |
| | Special paint for pool, Mosaic film |
| | |
| | Safety door, Laminated glass, Filtration system, Drainage system, Leakage protection system, Pool lighting system, Stainless steel pool ladder, Plastic wood platform |
| | |