Sale!
Buy Propane Gas Tanks Online ASME & DOT
$1,500.00 – $4,500.00

Buy Propane Gas Tanks Online
Propane Gas Tank
DOT & ASME Steel Cylinders
Propane Tank Sizes
Different portable propane tank sizes give you options when it comes to how much equipment you want to power and how long you can operate before you run out of gas.
Propane tanks come in all different sizes and vary in use from powering your grill to your food truck, from your forklift to your fleet, from drying your crops to keeping your materials warm. In all cases, propane keeps your business fueled and operating with the highest efficiency.
Description
Buy Propane Gas Tanks Online
One gallon of propane weighs 4.2 pounds which need to be considered in addition to the weight of the empty tank.
Residential Propane Tanks: How to Figure Out What Size Propane Tank You Need for Your Home
Choosing the right size propane tank is a critical starting point for your propane investment. If you have the wrong size tank installed, your budget will suffer.
You may think it couldn't happen to you. However, countless people install the wrong-sized residential propane tanks in their homes every year.
Owning your own propane tank has several advantages, the greatest being the freedom to shop around for the best propane prices and services.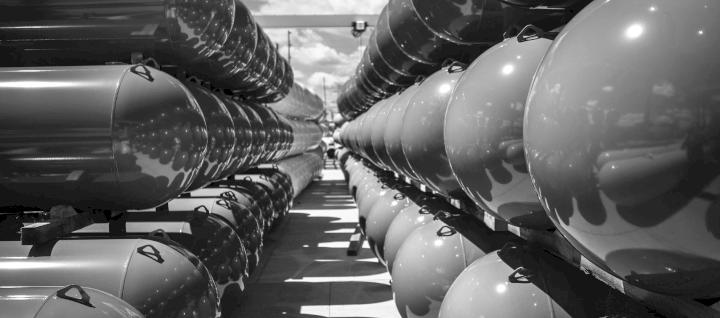 In today's age, big box stores have taken over everything. Here at Inter-modal containers Ltd., we saw an opportunity to serve our local rural neighbors' propane needs better than the existing propane giants. We strive to go above and beyond, offering quality propane refills delivered to your door for a fair price.
PROPANE REFILLS
We deliver large propane tank refills (120–1000 gallons and above). We do specialize in installing large propane tanks, so if you heat your whole home with propane, or you are thinking about switching to propane, give us a call!
For smaller tanks for your BBQ or RV, come to our Eagle Creek location.
We have many types of propane tanks for lease, ranging from the small 57-gallon to the largest 1,000-gallon propane tank. As such, we service both residential and commercial propane needs.
Inter-modal Container Ltd. installs both aboveground and underground propane tanks. There are many benefits to both, but our favorite is the underground propane tank. If you choose to install an underground propane tank, we take care of the whole process—from excavation to clean up.
PROPANE DELIVERY
Need propane delivered? Our fleet of trucks is available Monday-Friday for propane delivery at your convenience. We like to get to know the customers on our route and look forward to serving you.
AMERICAN FUEL
Support American fuel independence and use propane! Our propane is made right here in CA. Plus, propane burns clean—leaving the country and our beautiful state ready for the next generation.
MOST AFFORDABLE
Propane prices from the big box stores are getting too inflated. To them, their customers are just a number. That's why we're here as your neighbors to fill your tank for less. If you fall on hard times, we're not going to let you freeze. Inter-modal Containers Ltd. cares more about doing the right thing than making money.
Make the switch today and meet your neighbors!
To own your own tank, it is critical to have the tank installed in a safe way that follows all codes and regulations.
It's also important to regularly reevaluate your propane usage and ensure your tank size is meeting your needs. New propane appliances or even a growing family can dramatically change your propane needs and may warrant installing a new tank.
However, with our handy propane tank guide, you'll find the size that's just right. Keep reading for tips about buying the correct size propane tank.
What size propane tank do you need?
Tank sizes range from portable 20-lb. containers to tanks that can hold over 2,000 gallons. The size of your propane tank will depend on the size of your home as well as the number and size of appliances using propane.
Your geographical location and local climate can also play a role in choosing your propane tank size. For example, a tank for heating in milder climates may not need to be as big as a tank for heating in a colder climate. This guide can help you determine the right size tank for your needs and location.
Review the propane tank size guide below for more information on propane tank sizes. It is important to note that a propane tank is only able to be filled to 80%. The tank details will highlight how many gallons you get when full.
PROPANE TANK SIZES
Whatever you need propane for, Superior can provide a tank size that suits your needs. The following are sizes and specifications for some of our most commonly used tanks for your home or business.
420-LB. PROPANE CYLINDER
Height 4′-4 ½" | Diameter 30″ | LPG Capacity 375 litres* (Per Cylinder)
Ideal Use: If you are using propane at home for something other than primary home heating, this is the tank for you. Popular uses include water heaters, fireplaces, pool heaters, and auxiliary heaters.Distance/Position: Cylinders can be placed against a building, and more than one cylinder can be connected together for higher volume use when a 500 gallon tank is not feasible. A maximum of four cylinders can be placed together. A typical residential application would require two to three cylinders.
500-GALLON PROPANE TANK
Height 3′-10″ | Length 9′-10″ | Diameter 38″ | LPG Capacity 1514 litres*Ideal Use: If you are heating your home with propane, this is a popular choice. Commonly used for residential and small commercial heating applications, or where a higher BTU load is required for multiple uses.Distance/Position: Must be installed at least 10 feet (3 metres)  from any building or property line.
1,000-GALLON PROPANE TANK
1,000-Gallon TankHeight 4′-4″ | Length 15′-11″ | Diameter 41″ | LPG Capacity 3028 litres*Ideal Use: A 1,000-gallon tank is usually for commercial or agricultural operations with high volume usage and very high BTU loads.Distance/Position: Must be installed at least 10 feet (3 meters) from any building and at least 10 feet from any property line.
LARGER PROPANE TANKS
If you have a large commercial operation and need a greater supply of propane we have tanks ranging from 2,000 to 60,000 gallons. With over six decades of experience, we'll ensure that you get the best storage solution for your energy requirements.
CYLINDER DELIVERY
If you are using portable propane cylinders for forklifts or on a construction site, we can deliver portable propane cylinders to you. We consider the number of vehicles in your fleet, shift schedules, and hours worked to customize a delivery schedule that meets your needs. Plus, we can automate the process, so propane is there when you need it, worry-free.
CUSTOMER-FOCUSED DIGITAL SOLUTIONS
Inter-modal Container Ltd puts your propane account at your fingertips. With Inter-modal containers Ltd. you can schedule a delivery, view SMART* TankTM levels, make payments, and more online. Connect to your propane even faster with our mobile app available on both Google Play and the App Store.
SMART* TANK™ WIRELESS MONITORING
Managing your propane has never been easier. Our remote tank monitoring technology called SMART* Tank™ ensures you always have the fuel you need. SMART* Tank™ detects when it's almost time for a fill and notifies Superior Propane to automatically schedule the delivery. You will also receive text or email notifications with up-to-date propane levels and can view readings, delivery details, and historic usage online at Inter-modal containers Ltd.
Find Your Gauge on Underground & Aboveground Tanks
DOT specifications require that cylinders of 40 lbs or less are equipped with an OPD safety device and have POL and Type 1/QCC ACME threads. Please note that the cylinders requiring these features are labeled accordingly.  Consult your appliance manufacturer's owner manual to determine the cylinder type and size required.
Why Is It Important to Pick the Right Size Propane Tank?
This guide is devoted to helping you pick the right size propane tank. However, you may be wondering: why is it so important that I pick the right size?
The right size propane tank can help you save on your energy bills by controlling how often you need to fill it up.
While buying a tank that is too big isn't too much of a disadvantage, buying a tank that is too small will affect your budget because you will need deliveries more often. Also, since you're buying a smaller quantity of propane, the cost might be slightly higher.
Propane Tank Sizes
Before you can figure out what size tank you need, it's important to know what sizes are available. Use our guide to figure out exactly which one of these you should buy for your particular home needs.
20 Pound Tanks
One of the most common residential propane tanks is the 20 lb. tank, which is the size of the tank you hook up to your propane gas grill or for other modest residential energy needs, like a fireplace.
20 lb. tanks are not used for home heating or anything else that a large scale, but the benefit is that you can purchase several tanks to have on hand for backup, and you can have them refilled at any propane retailer.
33 Pound Tanks
33 lb. propane tanks are relatively specialized. They are used almost exclusively to power certain vehicles, including forklifts, although they can fuel any vehicle that relies on autogas.
Because of the focus on powering vehicles, a 33 lb. propane tank may not be the best choice for most residential homes. However, people with farms or large tracts of land where you might need to use specialized vehicles may find such tanks very useful.
100 Pound Tanks
100 lb. tanks are a good choice if you have smaller appliances or heating devices that use propane. For instance, many people rely on 100 lb. propane tanks to power their gas cooking ranges, as well as their indoor fireplaces.
These tanks are obviously much larger than the 20 or 33 lb. tanks, but they are still small enough to be relatively portable.
Remember, the more items in your home that are fueled by propane, the more likely it is you will need a larger propane tank. Keep in mind that the bigger the tank, the stricter the local safety and installation regulations may be. You will want to keep tanks of this size at least three feet away from your house.
420 Pound or 100 Gallon Tanks
420 lb. tanks are large enough to be used for a variety of commercial purposes. However, these tanks can have many residential uses as well.
They work well as a heating solution for your home, for instance. They can also power emergency generators and are a great way to heat a swimming pool if you have one. If you intend to use your fireplace a lot, these tanks are also suitable for that purpose.
Just so you know, some homeowners and professionals refer to 420 lb. tanks as "100-gallon tanks" because that is how many gallons this size tank can hold.
500-Gallon Tanks
The 500-gallon tank is the most common size propane tank for residential propane use. It is often used for home heating, generator powering, cooking, pool heating, and more.
The primary benefit of this larger tank is that you can go that much longer without having to get it refilled. And when you are buying more gallons of propane, you can often get a slightly lower price rate for buying in bulk.
Typically, a home needs to be at least 2,500 square feet, and using propane for multiple appliances for a 500-gallon tank is the best choice. You can also choose above-ground or below-ground tank installation for 500-gallon tanks.
1,000-Gallon Tanks
Long story short about the 1,000-gallon tank? It does everything that the 500-gallon tank does, but it is twice as big.
That means this tank is also suitable for heating homes and pools and for powering generators. However, because this tank is so large, you should not buy it unless your home is at least 4,500 square feet.
1,000-gallon tanks are also popular for agricultural uses.
Buy Propane Gas Tank Online
What's the Verdict?
With all that being said, the question remains: what size residential propane tank do you actually need?
It all comes down to how large your house is and how many propane appliances you own. Smaller homes with fewer appliances need smaller tanks; larger homes with more appliances and items like heated pools are going to need much larger ones.
Residential Propane Tanks: The Bottom Line
Now you know all about how to buy the best residential propane tanks. But do you know where to buy them?
Industrial, commercial, residential, and agriculture industries all benefit from clean-burning propane. Kleen-Rite offers different sizes of propane tanks. Learn more about our 100-gallon propane tanks and 500-gallon propane tanks for sale. The size that you use depends on your demand, usage, and the number of appliances. The most common uses include fireplace inserts, furnaces, water heaters, stoves, and standby generators.
Why use propane over gas or diesel? Propane stores well, it's clean-burning, and the price is typically better than gas. We recommend buying your own tank because you get a better price per gallon and you can own the same tank long-term. Browse our above-ground and underground propane tanks to find the one that's right for your property. Underground propane tanks are great because they won't be an eyesore and detract from your landscaping.
We offer DOT and ASME tanks. DOT (Department of Transportation) tanks are certified to travel. Use them for food trucks, tow motors, grills, or other units that move. ASME is a certification, and once this type of tank is installed, it doesn't move. ASME tanks are typically larger and used for home heating.
We also carry the essential propane tank cylinder parts and accessories you need for your propane system. Every tank needs a regulator to reduce the pressure of the tank to the correct working pressure. We carry single-stage, two-stage, and twin-stage regulators.
Beyond propane supply, we're here to help you do business better. Your dedicated account manager will work to understand your business, so we can optimize your day-to-day operations and plot your long-term path to success. From training your staff to monitoring your usage to budgeting, Inter-modal containers Ltd. is an expert teammate to help your business run smarter.
Important LPG Tank Information
The propane industry is educated about tanks, proper installation requirements, laws, and procedures governing the repair of tanks and systems they service. It is of the utmost importance that unlicensed individuals do not attempt to make repairs or modifications to their own tanks for safety and continued serviceability.
Because the laws and safety practices change within the propane industry, tank installation and maintenance should only be performed by those who are familiar with these codes and regulations regarding LP Gas tanks. This cannot be stressed enough. DO NOT MOVE, REPAIR OR MODIFY ANY PART OF AN LP GAS TANK OR ANY PART OF THE GAS PIPING SYSTEM.
The information provided within this section is for consumer educational purposes only and is intended to better familiarize users with propane tanks and their parts. Portable tanks, known as bottles or cylinders are used as a fuel source for gas grills as well as forklifts. Stationary propane tanks are often found behind homes or businesses supplying all propane-fueled appliances in the structure. Stationary tanks are also used to refill cylinders and mobile containers at bottle plants.
Propane tanks, regardless of size, store propane liquid until it is used as either a liquid or vapor. All tanks are subject to rules based on safety for users, service technicians, and the general public and can only be filled to about 80% which constitutes a "full" tank of gas. Many people believe that propane tanks and butane tanks are the same but propane pressure is much higher than that of butane.
This means that while mostly identical in appearance and attached fittings, propane tanks are subject to higher pressures and the two types of tanks are in fact very different and cannot be filled with either of the two LP Gases. Propane tanks are for storing only propane. This section covers related subjects such as
Basic explanations to help LP Gas consumers to better understand tanks
Various sizes of propane tanks and how it relate to demand requirements
Installation of and basic facts about underground tanks
An overview and explanation of the tank installation process
Safeguarding and protection of propane tanks
Propane supplied to vaporizers for high-demand applications
Additional information
| | |
| --- | --- |
| Tank Type | Above Ground Propane Tanks, Underground Propane Tanks |
| Tank Sizes | 1000 Gallon Propane Tank, 500 Gallon Propane Tank, 250 Gallon Propane Tank, 120 Gallon Propane Tank, 57 Gallon Propane Tank, 100 lb Propane Tank (23 gallons), 33 lb Propane Tank (7.8 gallons), 20 lb Propane Tank (4.6 gallons) |