Buy Freight Farms Greenery S
$130,000.00 – $155,000.00
Buy Freight Farms Greenery S Online
Container Farms Greenery S For Sale
Containerized Farm Contract Manufacturing for Freight Farms
Move Farms, Not Food
Bring vertical farming to your corner of the world and join our global network of Freight Farmers changing the food system for the better.
THE ULTIMATE PRECISION GROWING TECHNOLOGY.
Experience unprecedented environmental control and exceptional ease-of-use to unlock your growing potential.
START CONTAINER FARMING | EXPLORE THE GREENERY S
Recycled Shipping Containers Serve an Ecofriendly Purpose
The ultimate precision growing platform is here.
Freight Farms' flagship product, the Greenery™ S, is a vertical hydroponic farm built entirely inside a shipping container. Experience unprecedented environmental control and exceptional ease-of-use to unlock your growing potential. The Greenery S gives you complete control of the elements with five specialized systems that make it possible to grow food 365 days a year.
New Freight Farms Greenery S Ushers in the Next Era of Smart Small-Space Farming
Five Specialized Systems Allow Farmers to Grow Food 365 Days a Year With Complete Control.
Description
Buy Freight Farms Greenery S Online
Freight Farms Greenery S For Sale
Purpose At Work: Freight Farms, A Boston Startup Growing Global Solutions To Food Insecurity And Injustice
'We' First, focusing on rooftop hydroponic greenhouses. What that really meant was a focus on parts of the country that couldn't support traditional farming methods.
Freight Farms' flagship product, the Greenery™ S, is a vertical hydroponic farm
designed and built entirely inside a shipping container.
Your farm journey starts now.
Take the first step to becoming a Freight Farmer with a custom quote and ROI projection. Plus explore all our resources to help you get started quickly.
Client Services
Become a farming expert with the help of our Client Services team.
Our goal is your success. Aside from technical support, we also offer on-boarding, training, continued education, and a community platform to ensure you are not just working with Freight Farms, but that you are becoming a Freight Farmer. 
Freight Farms, is the world's leading manufacturer of container farming technology. working as it does to empower anyone to grow food for their own community.
world's leading manufacturer of container farming, unveiled its new container farm, the
Greenery S
. This latest model is the tenth generation of the technology since the company pioneered the small space farming concept in 2013.
SMALL FOOTPRINT, BIG OUTPUT
The Greenery S is a complete commercial farm within 320 square feet. With our farm, you can successfully grow hundreds of high-value crops, such as lettuces, leafy greens, herbs, roots, edible flowers, and more.
AIR, LIGHT, WATER, SPACE…ALL WITHIN YOUR CONTROL
The Greenery S has a state-of-the-art controlled environment system that gives you complete control of the elements with five specialized systems that make it possible to grow food 365 days a year.
Freight Farms Takes Container Growing to the Next Level
Those communities Freight Farms has reached span all 50 states in the US, as well as 32 other countries. To date, about 420 of its prefabricated steel farms span the globe, owned and operated by 750 growers the company trained, all connected through its proprietary vertical farming software, farmhand. That worldwide community of farmers are together addressing global problems of food insecurity, suboptimal nutrition, and unsustainable extractive agriculture.
farmhand® 
Farm smart with IoT farm management
and automation
Stay in control of your farming operation with our proprietary IoT farm management software, farmhand. Use farmhand to automatically optimize all growing variables based on the desired crop, and create the perfect environment no matter where you are in the world.
The Greenery S brings an entirely new level of design, control, robustness, and ease of use to our already industry-leading growing platform. It is built upon the technology we have developed over the past ten years while introducing a fresh suite of features. This farm is not just a refinement of our past models – it redefines what it means to be a farmer, With the Greenery S, we hope to further simplify the process of farming to make the profession as accessible as possible to people around the world.
Container Farms Greenery S For Sale – New and Used Container Farms
With Our global infrastructure, We First, the company aims to expand our efforts to revolutionize local access to food for a more sustainable future. Not only in terms of the environment but by increasing local community resilience and security.
Industry-Leading Features for Design, Automation, and Performance

Of all the Greenery S features, the most notable are the re-imagined workspace, the enhanced farmhand® automation software, and the dynamic new proprietary LED technology.
"Together," With our team and network of farmers we hope to build a future-facing and inclusive world.
Containerized Farm Greenery S Contract Manufacturing for Freight Farms
The Freight Farms model and those like it are solving multiple interconnected challenges. For example, the number of food deserts in the US, Long Beach Offcoast Port explains, translates not only to inequitable nutrition but to an environmental challenge, too. Members of "communities that just do not have access to fresh, nutritious food, have to certainly move a considerable number of miles to find a grocery store.
THE ALL-NEW NURSERY WORKSTATION
DESIGN, AUTOMATION, PERFORMANCE IN ACTION
Our core principles of design, automation, and performance are all captured in the all-new Nursery Workstation. New features guide, streamline, optimize, and organize the central hub of all your farming activities
And that's shocking enough. And then secondly, the amount of food that's moved across the US  is also staggering and environmentally unsustainable, he says. "What you're eating is moved an average of 1,500 miles," for example from California to where you've actually purchased the product … the amount of waste is so embarrassing for me and my generation.
Container Farms Greenery S For Sale – Shipping Container Grow Rooms
We challenges those of us who come from a food-privileged socioeconomic stratum, to look in our fridge and see a small microcosm of [how] we take food for granted, and we massively over-consume in the Western world.
All in Container Farm
  2021 Freight Farms Greenery S

 Freight Farms Leafy Green Machine
AIR
ADAPTIVE AIR CONTROL
Whether it is located in snowy mountains, scorching deserts, or smoggy cities, the Greenery S farm's robust insulation and complete suite of climate control components work together to recreate the perfect growing environment 365 days a year.
LIGHT
DYNAMIC LIGHTING CONTROL
Dynamic Lighting Control – Power & Precision for Performance
The Greenery S takes a huge leap in LED technology by allowing farmers to customize the lighting spectrum, intensity, and duration of light to achieve their desired plant yields.
The Greenery S features Freight Farms' proprietary LEDs, which emit light with 60% greater intensity and 50% better efficiency compared to off-the-shelf options.
Farmers have precise control over their lights with brand new Eco (prioritizing farm efficiency by reducing power consumption), Performance (prioritizing plant growth for greater yields, and Standard (balancing the two) modes.
The Greenery S recreates the sun indoors with Freight Farms' proprietary indoor grow lights. Freight Farm's high-efficiency LED boards combine specialized light wavelengths with strategic light schedules and power levels to stimulate faster plant growth and development.
POWER-UP PRODUCTION
Here at Freight Farms, one of the ways we measure LED power is with PPFD (photosynthetic photon flux density), which describes how much usable light plants receive from the LED lights. The Greenery S features our strongest LEDs yet, with max PPFD capable of hitting 347, a 50%-190% increase compared to previous farming models.
This astronomical increase in LED output powers faster growth, bigger plants, and greater yields.
WATER
PRECISION NUTRIENT CONTROL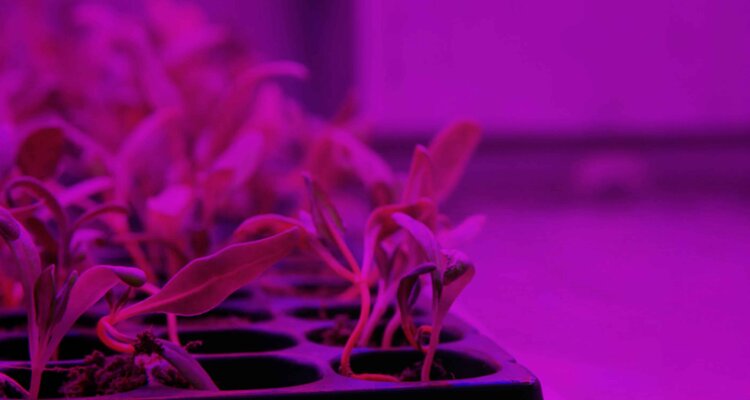 The Greenery S is a soil-less, hydroponic farm that uses water to deliver plants all the nutrients they need. The entire Greenery S hydroponic system is closed-loop and extremely water-efficient: The Greenery S uses only 5 gallons of water/day to support over 13,000 plants.
SPACE
MAXIMUM SPACE CONTROL
The Greenery S recreates acres worth of farmland within a 40-foot container by using advanced vertical farming techniques to unlock every inch of growing space within the container's four walls.
CONTROL
COMPLETE TRANSPARENCY
Get a complete look into your Greenery S with our integrated farmhand® software, which uses IoT-connected sensors and auto-updating camera feeds to give you full visibility into your everyday farm operations from anywhere in the world.
The Greenery S is built on three key principles
Design
The Greenery S leverages a decade of experience in building and designing container farms. Every bespoke component gives equal priority to the needs of both plant and operator.
Automation
Above all else, the Greenery S is a smart farm. With full integration with Freight Farms' farmhand® software, you can automate most of the farming process.
Performance
Design and automation come together to drive peak performance in yields, quality, and efficiency. The result is a plant production powerhouse that will support your farming venture.
Site | 50 ft. x 10 ft.
Place the Greenery S on a flat, unobstructed plot measuring 50'x10' which can support the farm's 8-ton gross weight.
Electricity | 150 amp, 240V
The Greenery S comes standard with a 150-amp 240V split-phase electrical connection. The farm should be connected to electricity by a licensed electrician.
Water | 5 gallons/day
The Greenery S uses an average of 5 gallons of water a day. The site should have water access within 50 feet, or operators can schedule regular water deliveries.
WiFi | 1 GB/month
A WiFi signal is necessary for farmhand® connectivity. Farmhand® will use about 1 GB per month per farm.
GREENERY S SPECS
complete list of Greenery S specifications
Container & Climate
Cost | $149,000
Dimensions | 40′ x 8′ x 9.5′
Thermal U-Value | 180 BTU/hr/C
Climate Control Capacity | 36,000 BTUs
Cooling | 50ºF at 70ºF return
Air Exchange | 2-min full recycle
Growing Capacity
Seedling Capacity | Up to 4,608
Cultivation Area Capacity | Up to 8,800
Linear Growing Space | 36,960 in/ 3,080 ft
Annual Output | 2–4 tons
Hydroponics
Nursery Tank Capacity | 30 gallons continuous mix 250GPH
Nursery Station Hydroponics System | Ebb & flow irrigation
Cultivation Tank Capacity | 90 gallons continuous mix 500GPH
Cultivation Area Hydroponics System | Drip irrigation
Nutrient Delivery | 4 dedicated 50/ml/m pump injection
The Greenery S is the ultimate growing platform.
Meet hundreds of Freight Farmers from all over the world
The Freight Farms platform has empowered hundreds of individuals, businesses, and organizations to start farming. Together, they have created a worldwide community of farmers addressing global issues of food insecurity, nutrition, and sustainability.
The problem is different — scarcity and not overabundance — in other parts of the world. "Globally,"  think islands, think Caribbean, Cyprus, Tasmania — places where they don't have food security. They are completely dependent on importing food. The Bahamas alone, he says, imports a billion dollars worth of food a year. So as soon as there's a chink in the supply chain … there's so much volatility and risk within it — they have no security.
But even in the relatively well-off US, Long Beach Offcoast Port reveals, The average grocery market …has only three days of food in it. And when there's a run on Walmart" — such as in the early days of the pandemic — we all learned, "it's only three hours.
Shipping Container Hydroponics
For these reasons — though Long Beach Offcoast Port prefers to avoid "adspeak" — It's so important that we're able to move the farm, not the food. That's the key. If you can move a farm that creates a local point of production, then you can give an area food security.
But how, exactly, do you move the needle by moving the farm?
The big a-ha moment, according to Long Beach Offcoast Port, "in democratizing access" was to make farms more "modular and scalable … So, 'What if we put our farms in freight containers?'" Long Beach Offcoast Port says the founders asked themselves. That provided a modular … solution where we could control the environment within the container, completely seal it — and we could move it anywhere.
Around the time of the company's infancy a decade ago, shipping containers were already top of mind for some of the most visionary companies and designers, the portable assemblage of two dozen 40-feet long and 11-ton reinforced, corrugated steel shipping containers stacked like Lego into a multilevel retail pavilion, bar, and event space.
Container Farms For Sale – Shipping Container Grow Rooms
And in London the world's first pop-up mall, made entirely of shipping containers, debuted — there are three Boxpark locations now spread across the city's boroughs. Starting in the early 2000s, shipping containers had already become more versatile and visible around the world. They took the form of pop-up shops, restaurants, food "trucks," office, and retail spaces. The Dordoy Bazaar outside Bishkek, Kyrgyzstan, for example, features about 7,000 double-stacked containers, workplaces to 20,000 vendors and their staff.
But using containers for high-yield, low-water, portable, variable farming — that would have the ancillary benefit of cutting agriculture production and management costs, uncomplicating logistics, expanding reach, and decreasing obstacles to wider uptake. So, the company began retrofitting with its new technology widely available, perfectly-sized, shippable-anywhere freight containers. Such a radical shift in farming might someday be seen as revolutionary and influential as, say, the invention of the cotton gin.
This farm in a box generates $15,000 a month
Demand — a function of both the worsening of the environment, food justice, and the economy, as well as the company's excellent storytelling and support — started slow, but soon soared. Of late, Freight Farms, though still relatively small, has doubled its unit sales year after year, the company reports.
Why? Modularity equals accessibility. In the frozen tundra of Canada and Alaska — you get a farm! In the scorching, windswept deserts of the Middle East — you get a farm! Blighted, smoggy urban wilds? — you, too, get your very own farm!
What kind of farm? The tenth iteration of Freight Farm's core product, the Greenery S, is a modified new international, intermodal freight container with 320-square feet of soilless, hydroponic growing space. It's able to produce between 300 and 500 varieties of crops — lettuces, leafy greens, herbs, some root vegetables, edible flowers, and brassicas (cabbage, kale, broccoli, cauliflower, turnip, and mustard), etc. — in a closed-loop system consisting of four rows of panels on flexible moving racks. Equivalent to about two acres of traditional farmland, Woolard says, the container can support 8,000+ living plants at any given moment.
Freight Farms Takes Container Growing to the Next Level
And from it, every Freight Farmer, despite their wildly differing origins, are all gaining the power of growing food for their own communities, all massively shortening the distance that food travels from farm to table. Best of all, container farms can be the source of high-quality and sustainable produce, 365 days a year.
The green thumb of the IoT
But surely this product doesn't allow for a "plant it — and walk away until it's ripe" method? You can bet the farm, it doesn't.
All-New Workstation – User-Centric Design
As Freight Farms continues to define and refine what a farm can be, the company focuses specifically on optimizing workflow for their farmers with an all-new Workstation, a sleek, self-contained, and multi-functional farm command center.
Technical components – water and nutrient tanks, dosing panel, pumps – are hidden from view yet easily accessible with a simple push-to-open mechanism for instant access.
The 'Tabletop Riser' separates the workstation into two workzones, and includes an integrated, multi-functional LED bar (for tabletop illumination, plant spacing guidance, and task timing) and four full-range Bluetooth speakers.
Farmhand® Recipes – Network Learning & Automation
The latest release of Freight Farms' companion farming software–farmhand®–takes automation to the next level with the new Recipes feature.
Recipes allow farmers to achieve consistent harvests with the touch of a button: Operators simply choose the crop they wish to grow and farmhand automatically adjusts in-farm settings to optimize for that crop production.
Recipes are built by aggregating farmer network data and determining patterns that lead to exceptionally successful harvests; meaning the list of recipes will grow as the global Freight Farmer community continues to expand.
The basis of the company's more-or-less turnkey platform is the optional IoT technology, its farm management software, farmhand. The system automates most of the process, helping farmers stay in control of their farming operation with help monitoring the farm and driving efficiency — and therefore yield — in real-time. Farmhand automatically optimizes all essential pillars of the farm, all the main growing variables — air, light, water, space, and control — based on the desired crop, and creates the perfect environment no matter where the farms are in the world — no matter what's happening outside the container.
Container Farm, Hydroponic Container, Container Farm For Sale, Container Farming, Freight Farm, Container Farm Market, Container Farms for Sale, Freight Farm Cost, Freight Farm Price, Freight Farms Cost, Green Leafy Machine, iGrow, Leafy Green Machine, Leafy Green Machine Cost, Leafy Green Machine Price, Pre-Owned Freight Farm, Pre-Owned Container Farms, Shipping Container Ag, Shipping Container Farm, Shipping Container Farmin, Used Container Farms, container farming, shipping container farm, container farms for sale, pre-owned container farms, diy container farm, pre-owned freight farms, freight farms cost, freight farms price, container farm for sale, freight farms greenery