Sale!
Buy 20ft High Cube Double Door Shipping Container
$2,300.00 – $2,800.00
Buy 20ft High Cube Double Door Shipping Container Online
20FT High Cube Double Door New (One Trip) Shipping Container
20′ Storage Container with Double Doors
Our 20ft high cube one trip shipping containers are manufactured overseas — mainly in Asia — and shipped with a single container cargo load. Once containers reach their destination, they are often available for sale. These containers are an excellent choice because they have not spent time on the ocean or in a container depot / terminal.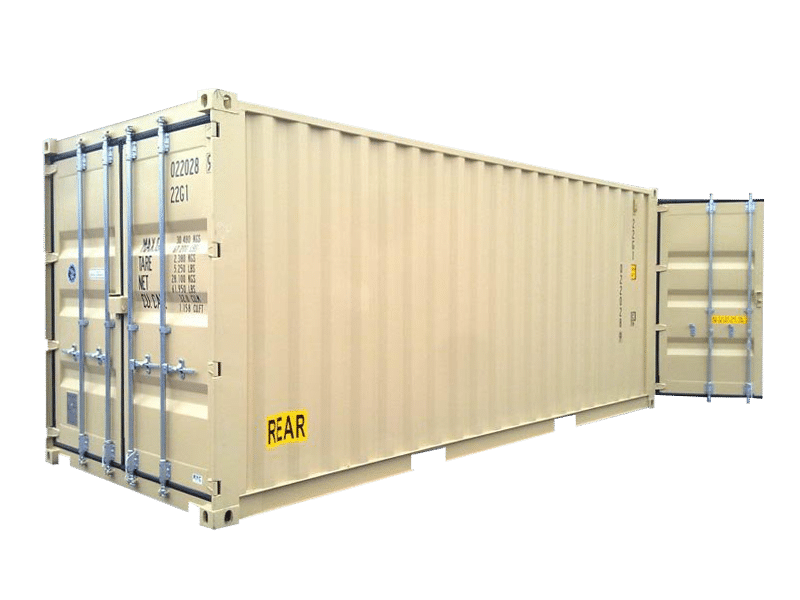 The High Cube containers are a popular choice because extra space always comes in handy. High Cubes have an extra foot of height, making the container 9ft 6in tall on the exterior. That extra foot of height gives them more volume, space, and shipping capacity.
20′ High Cube Double Door One Trip Container
Like New Condition
Doors On Both Ends
Lock Boxes Included
Eco-Friendly Flooring
Description
Buy 20ft High Cube Double Door Shipping Container
20ft High Cube Double Door Shipping Container
Our Double Doors Containers have the following features
Designed for multipurpose onsite storage and transportation of cargo
Double door design allows for easy access to cargo at both ends of the container
Easily sorted without having to unload the entire container
All Inter-modal Containers Ltd. containers are manufactured with Corten steel frames, sides, doors, and understructure. All units come with a CSC safe plate and are fit with ventilation & lashing rings. The locking gear height is set per client's request.
All our units come with a high-security lock box and plywood flooring. They are suitable for carrying a wide variety of cargo and are stackable.
Inter-modal Containers Ltd. is one of America's leading suppliers of shipping containers, delivering them throughout the USA, to individuals and to the mining, construction, agricultural, and corporate sectors. We offer new, used, modified, and customised shipping containers for sale in a variety of sizes and types, with fast and efficient service direct to your worksite, business, or home. And with multiple depots all over Australia, we can usually have your order to you within a few days.
Customizable options are as follows
Wide range of exterior & interior colors
Choice of flooring: PU coating, steel, bamboo, hazmat
Tie bar & tie rail
Forklift pockets
9'6″ High Cube is also available
Pallet wide
One Way Free Use (1-Trip) shipping delivery available
20′ High Cube Double Door Shipping Containers For Sale
20ft Double Door Container
You can order your containers from Inter-modal Containers Ltd. at any time or night. This process is entirely digital with an easy check-out process. So easy, you can complete your order in only a few minutes.
Inter-modal Containers Ltd. offers several shipping options. If you select one of the delivery options, your container will be delivered to your location within the delivery window you've selected after the order payment date.
For those that need their containers quicker, select the pick-up option and you can pick up your container the following business day after placing your order. If you choose the pick-up option, you can pick up your container the following business day after placing your order.
20' Storage Container with Double Doors Features
Lockable door handles
Increased vents to reduce condensation
Uniformly painted fleet in beige to blend with surroundings
Standard lock box provides additional protection
Available high-security lock option on all units
Forklift pockets are provided to facilitate movement and stacking
Manufactured from weather-resistant, industry-grade steel
Optional upgrade to climate-controlled insulated containers
we deliver shipping containers to and partner with customers from major industries, such as commercial, construction, retail, education, and theme parks. We help you arrive at the perfect price for containers.
We rent at a 30-day billing plan at no extra cost, unlike the usual 28-day billing cycle. Mobile Modular Portable Storage delivers the shipping containers in excellent condition and delivered on the scheduled day with our fleet of trucks and trailers. This means you can expect delivery according to your timeline.
20ft used standard height DOUBLE DOOR Shipping Container
SPECIFICATIONS
CORTEN anti-corrosive steel construction
Marine grade plywood of 19 plies, 1.1" (28mm)
Cargo worthy condition
Wind and water-tight
Operational doors
Weatherproof vents
Forklift pockets
Lockable handles
8 years old
Minor dents and surface rust
We serve multiple locations across the US. Speak to our dedicated support team for custom options and a free quote.
Although we like digital efficiency, we will always stay human. This means you can easily call, e-mail, or chat with us through our U.S.-located customer service department. Inter-modal Containers Ltd. delivers shipping containers quickly and at the fairest price online – exactly what you need. And our fully digital operation is far more sustainable than other businesses.
Shipping container conditions.
NEW "One Trip" containers are shipped from Asia with a single container cargo load. These containers are referred to as "new" or in "like new" condition. One-trip containers are ideal if appearance and longevity are top priorities.
USED cargo-worthy containers are certified for global transport based on the condition of the doors, floor, walls, and ceiling. Dents, rust, and corroded paint may be present. The unit is leakproof.
Features of our 20ft high cube double door one trip containers
Safe and secure cargo doors on both ends

Allows access from either side or both ends of the container
A much more cost-efficient solution compared to modifying the container as the additional cost of the cargo door is typically $400-$600 more than single-door units

Security lock boxes on both ends
We also offer containers with a cargo door on one end and a roll-up on the other. See custom doors
Buy 20ft High Cube Double Door Shipping Container
Using Your Container For Export? You'll Need a CSC Survey.
For customers who plan to export their container, please make sure to purchase a CWO (cargo-worthy) or One Trip container as well as a CSC Survey. Please note that we cannot move loaded containers, and strongly recommend customers that who are exporting their container work with their shipping company to pick up the container after the survey is complete.
Inter-modal Containers Ltd. warranty.
Each storage container is durable, secure, and weatherproof. The Warranty Coverage Period for New ISO shipping containers is ten years from the date of purchase from Inter-modal Containers Ltd. The Warranty Coverage Period for Used Cargo Worthy ISO shipping containers is five years from the date of purchase from Inter-modal Containers Ltd.. A leak-proof unit guarantee is included.
During the warranty period, Inter-modal Containers Ltd. will repair, using new or refurbished replacement parts, or replace units or parts of a container at no charge. The container must prove defective because of improper material or workmanship, under normal use and maintenance.
Inter-modal Containers Ltd. Delivery services
Inter-modal Containers Ltd. transforms an essential service into the customer experience with on-demand storage unit delivery services for customers. We need to know things like door direction, and site contact, and that you have enough space for the truck to deliver the container safely.
Customers have scheduled deliveries to ensure consistency. At Inter-modal Containers Ltd., we have a dedicated team that helps our customers to plan better and operate smarter. Emergency transportation services are available. Reduce your overall logistics costs and request our 3 – 7-day truck and trailer delivery move.
We believe in providing up-front and transparent pricing to our customers.
Shipping Containers For Sale | Buy Shipping Containers
Inter-modal Containers Ltd. has a huge selection of shipping containers for sale. In addition to selling the standard General Purpose, High Cube, and Side Opening containers, we are proud to be Australia's specialist supplier and manufacturer of modified shipping containers.
From site offices, first aid rooms, portable accommodation, kitchens, lunch rooms, and switch rooms; to storage containers, dangerous goods containers, training containers, and ablution blocks. Whatever your work site or property requires, Port can modify a container to perfectly match your needs.
Buy 20ft High Cube Double Door Shipping Container
Inter-modal Containers Ltd. products and solutions.
Inter-modal Containers Ltd. can provide standard, insulated, refrigerated, freezer, and office containers in 10′ – 45′ standard, custom, or high cube sizes.
If you require easy accessibility to your cargo, our fleet of shipping containers for sale offers an assortment of entry configurations, including quad doors, doors on both ends, roll-up doors, or open side doors.
Purchase air-conditioned job-site offices, trade show booths, living spaces, or extra-large dry storage units for your personal or company items. All units are leak-proof and durable for relocation, pack-up, and shipping.
How to Buy a 20ft

High Cube Double Door

Shipping Container
Pick-up: 2-3 Business Days
Delivery: 4-7 Business Days
After you order, we'll be in touch within one business day to confirm your order and coordinate the logistics. To ensure everyone's safety, only customers with the proper equipment should select intermodal depot pick-up (please allow 2-3 business days for release information). Delivery is optional and calculated at checkout by zip code.  Contact us with any questions, we're always happy to help.
Selecting the right container & buying containers online
Browse the website for new and used containers that meet your requirements. If you are unsure please contact our container sales team for advice and information.  buy your container online. Select your container and accessories and follow the simple checkout process.
The Trucks are Big, and We Need Space to Deliver
Our haulers need 80′ of additional space to deliver a 40′ shipping container (120′ of total space), plus room for the truck to maneuver. Please make sure you've got space for delivery. 20′ shipping containers are delivered on a different size truck, and so we only need an additional 55′ of space (75′ of total space) to deliver 20′ containers.