Sale!
Buy 20ft Flat Rack Container Best 20ft
$1,600.00 – $2,500.00
Buy 20ft Flat Rack Container
20ft Flat Rack Container
20ft Flat Rack container for sale
Buy  20ft Flat Rack container is used to transport bulky oversized cargo. Flat Racks are shipping containers without sidewalls or a roof. The cargo is fixed and lashed on the flat racks with belts and chains to ensure safe transit. Trident both leases and sells 20-foot Flat Rack containers. We have both used and new containers.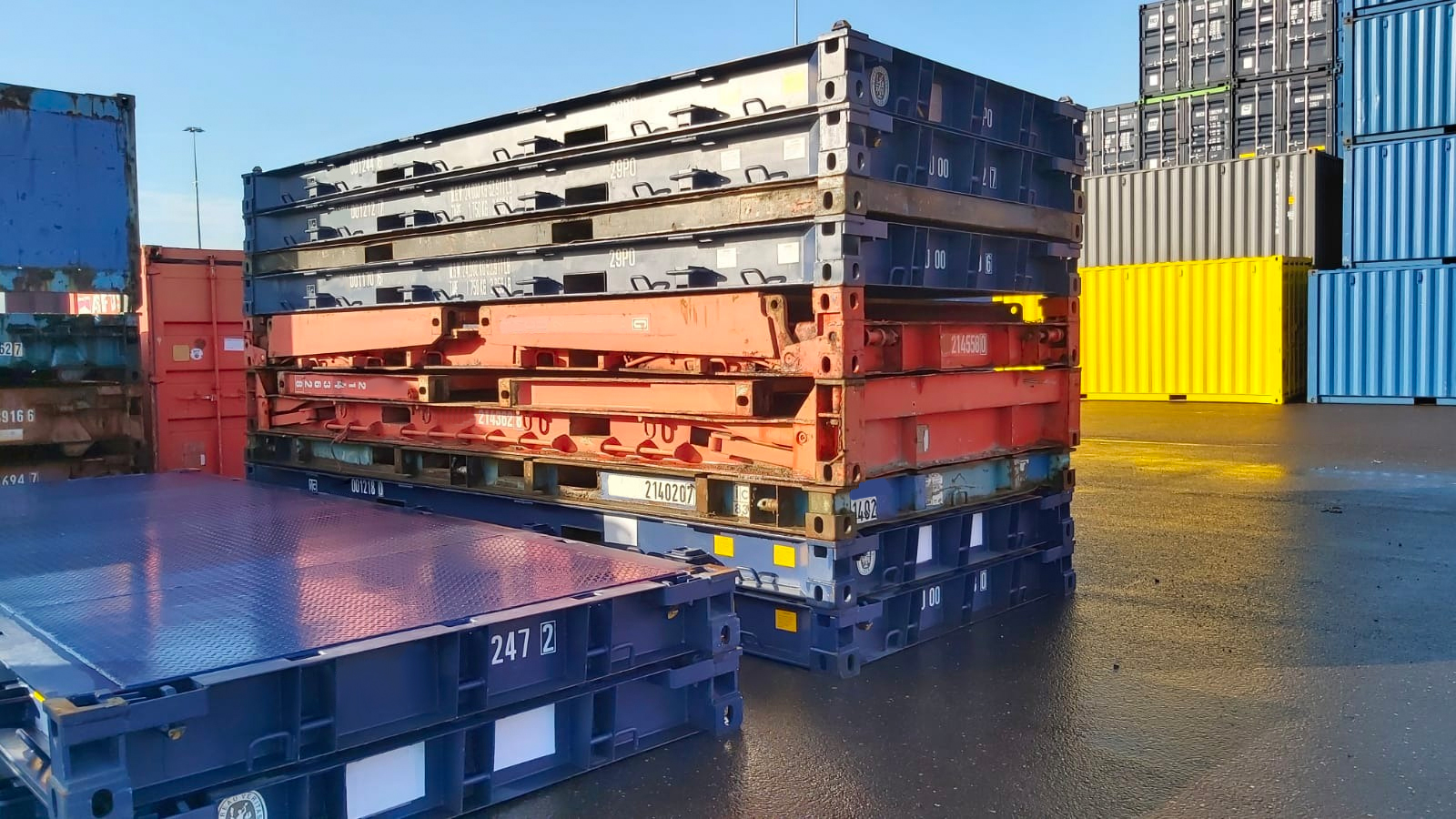 Buy 20ft Flat Rack Container
20ft Flat racks are ideal for shipping oversized items and are designed for cost-effective transport
Vehicles
Heavy machinery
Large industrial parts
Construction materials
Piping
Description
Buy 20ft Flat Rack containers
Flat Rack Details
This 20ft used flat rack container is available for sale and delivery UK-wide.
Buy 20ft flat rack shipping containers Available in 20ft and 40ft flat rack containers are ideal for large and heavy loads which cannot be loaded into a conventional container. There are no sides at all on a flat rack container and the ends can be either fixed or collapsible.
The benefit of the collapsible design is that empty containers can be stacked to take up less space.
The unit includes lashing rings in the side rails, floors and corner posts to allow the cargo to be secured and tied down. Units are available with and without forklift pockets.
20ft Flat Rack containers and 20ft collapsible flat containers
Our 20ft Flat Rack containers are the so-called 20ft Collapsible Flat containers. These containers have vertical foldable walls. This way, the containers can be used in a flexible manner. The 20ft Collapsible Flat container is provided with a wooden floor.
New and used 20-foot Flat Rack containers
Trident Container B.V. leases and sells 20ft Flat Rack containers. We can also rent Flat Rack containers. Trident has a wide network of depot facilities in all the main ports in Europe and strategic locations in Asia and the South Pacific to ensure that customers can pick up and redeliver containers with maximum flexibility and promptly.
FEATURES
No side walls
Lashing rings for securing load
Plated for shipping and stacking when loaded (refer to plat for full details)
BENEFITS
Ideal for large, heavy or unusual loads
Popular for re-use as bridges and platforms
20′ Flat Rack container dimensions
The 20ftFlat Rack containers have these dimensions and weight:
Certification:                  ISO, CSC Sizes:                Length x Width x Height in mm.External:                 6,058×2,438×2,591Internal:                  5,612×2,438×2,221
Capacity:      CBM for the 20ft Flat Rack containers:Volume:        m3Weight:        2,740 kgMax payload:    31,260 kgMax total weight:      34,000 kg
Miscellaneous Container Accessories
Levelling
Gateway flat racks are available in a number of configurations, including
Buy 20ft Flat Rack Container
Flat fixed end – provides additional load security for items such as pipes.
Flat collapsible – designed to provide the same as above – the ends can be collapsed to allow easy stacking for transport of multiple empty units saving in transport costs.
Flush folding flat – incorporate the advantages of both 1 & 2 – the end walls collapse into the frame allowing for large machinery and other bulky material to be loaded directly over the collapsed ends – designed for over dimensional loads.
Creative uses of Flat Rack containers include portable bridges for work sites, rural properties and in public spaces recovering from flooding or fire
20 Foot Flat Rack Container
Flat rack containers are engineered to address highly specialized shipping changes. Our 20 FT flat rackflat racks offer the ultimate in-platform capacity. Eith panels at either end but no side walls, 40-foot flat rack shippingcontainers are primarily used to transport oversized cargo such as vehicles and machinery. Loading is accomplished from the top orfrom the sides. Flat rack containers can also be used as temporary bridges at construction sites or on farms or other facilities.The collapsible ends fold flush into the top of the platform, making flat racks easy to stack when not in use.
Flat racks are available in 20ft and 40ft lengths and have either fixed-ends or collapsible ends. Flat racks are ideal forshipping or hauling oversized items such as vehicles or heavy machinery.
20 Foot Collapsible End Flat Rack Container:
20′ collapsible-end flat rack containers address many specialized shipping challenges and can be employed in a variety of ways. With panels at either end but no sidewalls, 20 FT collapsible end flat rack shipping containers are mainly used to transport oversized loads or special-project cargo. Loading can be accomplished from the top or from the side. The sturdy steel platform also makes 20-foot collapsible-end flat rack containers useful as temporary bridges to span ditches or creeks. When not in use, the collapsible ends fold flush into the base for ease of stacking and storage.
Buy 20ft Flat Rack container
You can order your containers from Inter-modal Container Ltd at any time of the day or night. This process is entirely digital with an easy check-out process. So easy, you can complete your order in only a few minutes.
Inter-modal Container Ltd offers several shipping options. If you select one of the delivery options, your container will be delivered to your location within the delivery window you've selected after the order payment date.
For those that need their containers quicker, select the pick-up option and you can pick up your container the following business day after placing your order. If you choose the pick-up option, you can pick up your container the following business day after placing your order.
Buy 20ft Flat Rack Container
Although we like digital efficiency, we will always stay human. This means you can easily call, e-mail, or chat with us through our U.S.-located customer service department. INter-modal Container Ltd delivers shipping containers quickly and at the fairest price online – exactly what you need. And our fully digital operation is far more sustainable than other businesses.
20′ Flat Rack Container
Businesses that heavily rely on transportation processes like import and export can be very pricey due to shipment expenses like containers. If you would like to cut costs without hurting the hard-earned trust of your customers, you should check our 20' used flat rack shipping containers. Used containers are just the same as brand-new ones:
They get the job done! Yet they are much more budget-friendly, so they can be very helpful in cutting the costs of business operations.  we offer used 20ft flat rack shipping containers in mint condition. With our extensive knowledge of the container business, we purchase used containers from vendors and take care of their maintenance needs. Then we offer these used shipping containers to our customers at competitive prices
. Used containers can have minimal dents or small company logos on their surface, but their structural integrity is always intact. In fact, our used flat rack shipping containers are so durable and reliable that we offer 5 5-year structural and 1-year wind and watertight warranty. Moreover, we have a 30-day money-back policy in order to make sure that you are satisfied with our used 20ft flat rack containers.
Taraweight,(kgs)
Innervolume,(kgs)
InnerLength(mm)
InnerWidth(mm)
InnerHeight(mm)
Ft DoorWidth(mm)
Ft DoorHeight(mm)
Payload(kgs)
Type ofloadingof container
20' Flat Rack container
2560
–
5935
2398
2327
–
–
27030
Side or Top
Buy 20ft Flat Rack container
Inter-modal Container Ltd warranty. Each storage container is durable, secure, and weatherproof. The Warranty Coverage Period for New ISO shipping containers is ten years from the date of purchase from Inter-modal Container Ltd. The Warranty Coverage Period for Used Cargo Worthy ISO shipping containers is five years from the date of purchase from Inter-modal Container Ltd. A leak-proof unit guarantee is included.
During the warranty period, Inter-modal Container Ltd. will repair, using new or refurbished replacement parts, or replace units or parts of a container at no charge. The container must prove defective because of improper material or workmanship, under normal use and maintenance.
Inter-modal Container Ltd. Delivery servicesInter-modal Container Ltd. transforms an essential service into the customer experience with on-demand storage unit delivery services for customers. We need to know things like door direction, site contact, and that you have enough space for the truck to deliver the container safely.
Customers have scheduled deliveries to ensure consistency. At Inter-modal Container ltd.t, we have a dedicated team that helps our customers plan better and operate smarter. Emergency transportation services are available. Reduce your overall logistics costs and request our 3 – 7-day truck and trailer delivery move.
We believe in providing up-front and transparent pricing to our customers.
Buy 20ft Flat Rack container
From site offices, first aid rooms, portable accommodation, kitchens, lunch rooms, and switch rooms; to storage containers, dangerous goods containers, training containers, and ablution blocks. Whatever your work site or property requires, Port can modify a container to perfectly match your needs.
Buy 20ft Flat Rack container
How to Buy a Shipping Container:
Pick-up: 2-3 Business DaysDelivery: 4-7 Business Days
After you order, we'll be in touch within one business day to confirm your order and coordinate the logistics. To ensure everyone's safety, only customers with the proper equipment should select intermodal depot pick-up (please allow 2-3 business days for release information). Delivery is optional and calculated at checkout by zip code.  Contact us with any questions, we're always happy to help.
Selecting the right container & buying containers online
Browse the website for new and used containers that meet your requirements. If you are unsure please contact our container sales team for advice and information.  Buy your container online. Select your container and accessories and follow the simple checkout process.