Sale!
Buy 20ft open top container
$1,900.00 – $2,800.00
Buy 20ft Open Top Container
20ft Open Top container for sale
The difference between a 20′ Open Top Container and a regular container is the roof that can be fully opened. The roof structure of the container has been replaced by a tarpaulin, enabling the transportation of oversized loads.
Open Top Containers are containers built for freight use, with a tarpaulin instead of a steel roof. The cover can be removed during loading, to enable top loading of overly high products.
The 20′ Open Top Container has removable support bars under the tarpaulin and a TIR cable for fastening the tarpaulin to the container. All our Open Top Containers are approved for international freight transport (CSC). New and used 20′ Open Top Containers are available with fast delivery.
Description
Buy 20ft open top container
The 20ft Open Top container is meant for cargo that can be loaded with a crane from the upper side. The 20-foot Open Top container can be used for special and heavy goods. The new and used Open Top container has been made out of corten steel and provided with a wooden floor, galvanized locking equipment, removable header and a tarpaulin roof.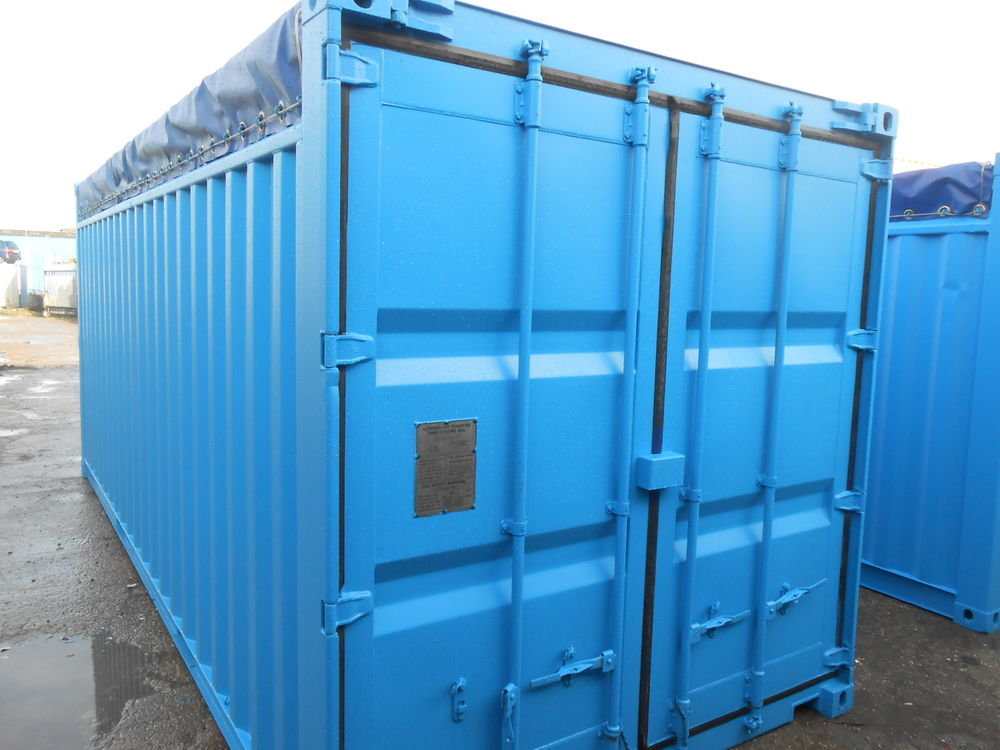 Open Top Container 20ft for sale.
When you have items that need to be lifted by a crane and the roof gets in the way, an Open Top Shipping Container is the perfect solution. Ideal for transporting cargo that is large or heavy, and cannot be loaded through shipping container doors, an Open Top Shipping Container is the best way to get your items from A to B. Many of our customers use Open Top Shipping Containers to transport a wide range of industrial cargo including pipes, steel bars, cabling, mineral ore, mining materials and equipment, and logs.
Open Top  Containers provide stress free transport
Port Melbourne Containers, provides both 20ft Open Top Shipping Container and 40ft Open Top Shipping Container options available. We also offer a range of container features and modifications listed below:
Features
Timber floors
4 locking mechanisms
Rear opening doors
Modifications Available
Fresh paint – exterior and interior
Security lock box
Our Shipping Containers Sydney team can take care of your purchase from start to finish, ensuring that delivery of your Open Top Shipping Container is a simple process. If you would like more information about the Open Top Shipping Containers we have for sale, phone our friendly and helpful team today
Buy 20ft open top container
The specifications of 20ft Open Top Container are as follows:
These are a specially designed container which does not have a standard steel roof, they have removable steel roof bows which support a removable tarp.
The top rails above the doors are also designed to unlock on one side,  so the header bar will swing open allowing easier access for over height loading and unloading.
These are perfect storage solutions for products which are over height or will not fit in a conventional shipping container.
Inter-modal containers Ltd. is one of America's leading manufacturers and suppliers of shipping containers, delivering them throughout the USA, individuals and to the mining, construction, agricultural and corporate sectors. We offer new, used, modified and customised shipping containers for sale in a variety of sizes and types, with fast and efficient service direct to your worksite, business or home. And with multiple depots all over Australia, we can usually have your order to you within a few days.
New and used 20ft Open Top containers
Trident Container B.V. leases, sells and rents Open Top containers. Trident has a wide network of depot facilities in all the main ports of Europe and strategic locations in Asia and the South Pacific to ensure that customers can pick up and return containers with maximum flexibility and in a timely manner.
You can order your containers from Inter-modal containers Ltd. at any time of the day or night. This process is entirely digital with an easy check-out process. So easy, you can complete your order in only a few minutes.
Buy 20ft open-top container
Inter-modal Containers Ltd. offers several shipping options. If you select one of the delivery options, your container will be delivered to your location within the delivery window you've selected after the order payment date.
For those that need their containers quicker, select the pick-up option and you can pick up your container the following business day after placing your order. If you choose the pick-up option, you can pick up your container the following business day after placing your order.
Although we like digital efficiency, we will always stay human. This means you can easily call, e-mail, or chat with us through our U.S.-located customer service department. Inter-modal Containers Ltd. delivers shipping containers quickly and at the fairest price online – exactly what you need. And our fully digital operation is far more sustainable than other businesses.
Shipping container conditions.NEW "One Trip" containers are shipped from Asia with a single container cargo load. These containers are referred to as "new" or in "like new" condition. One-trip containers are ideal if appearance and longevity are top priorities.
USED cargo-worthy containers are certified for global transport based on the condition of the doors, floor, walls, and ceiling. Dents, rust, and corroded paint may be present. The unit is leakproof.
Buy a 20ft open-top container
For customers who plan to export their container, please make sure to purchase a CWO (cargo-worthy) or One Trip container as well as a CSC Survey. Please note that we cannot move loaded containers, and strongly recommend customers that who are exporting their container work with their shipping company to pick up the container after the survey is complete.
Inter-modal Containers Ltd. warranty. Each storage container is durable, secure, and weatherproof. The Warranty Coverage Period for New ISO shipping containers is ten years from the date of purchase from Inter-modal Containers Ltd.. The Warranty Coverage Period for Used Cargo Worthy ISO shipping containers is five years from the date of purchase from Inter-modal Containers Ltd.. A leak-proof unit guarantee is included.
During the warranty period, Inter-modal Containers Ltd. will repair, using new or refurbished replacement parts, or replace units or parts of a container at no charge. The container must prove defective because of improper material or workmanship, under normal use and maintenance.
Inter-modal Containers Ltd. Delivery servicesInter-modal Containers Ltd. transforms an essential service into the customer experience with on-demand storage unit delivery services for customers. We need to know things like door direction, and site contact, and that you have enough space for the truck to deliver the container safely.
Customers have scheduled deliveries to ensure consistency. At Inter-modal Containers Ltd., we have a dedicated team that helps our customers to plan better and operate smarter. Emergency transportation services are available. Reduce your overall logistics costs and request our 3 – 7-day truck and trailer delivery move.
We believe in providing up-front and transparent pricing to our customers.
Our one-trip (new) 20ft Open Top (or Tin Top) shipping containers are typically used to ship or store goods that are best, or more easily, loaded through the top of the container. This option comes with a removable hard top roof but open tops do typically come with a tarpaulin cover. Most of these are also now available with a removable header bar above the cargo doors as well.
Open-top tarpaulin shipping containers are generally a more cost-effective solution to the 'load from the top' problem but for some customers or projects the hard top options are necessary. Note: if you do go for a tarp top we can also help supply extra large tarpaulins if your goods are too tall for the standard tarp.
All these units are original shipping containers, i.e. they are factory-made as open-top containers and they have not been converted from normal dry (or closed-top) containers. The converted units typically have much lower payloads and are not as strong or rigid as the original units.
Generally speaking, these are of interest to customers who need to export some specialist cargo. For site storage use we would most likely recommend a converted option as the payload we consider is classed safe for lifting whilst loaded. If this is going to be sat static on your site storing oversized items, then a cheaper converted unit is likely to be more cost-effective – but open tops for static storage use are rarely sought after.
Our new units are all held in our Rotterdam depot, we typically have smaller numbers in stock ready to go at 24 hours' notice and can have them moved into most of our US depots very quickly.
We have previously had a few in some US locations but it is very much on an 'as and when basis' so it's always worth contacting us to check stock levels. We can of course move units to any of our US depots at reasonably short notice. For this reason, local prices and availability will vary.
Please be advised that these are sold as 'one trip containers' and are not brand new. All of our shipping containers are built in a factory in China or the Far East and have done 1 trip into the USA since new. Some minor cosmetic wear may be evident from this initial trip. Minor dents and scrapes are reasonably common, as are tire marks inside your container where a forklift truck or similar may have unloaded goods from inside the container.
All of our containers are checked over in our USA depots before sale and are sold with our wind and watertight guarantees. You can read more on what wear we consider acceptable in our recent article What to expect from a one-trip shipping container.
Buy a 20ft open-top container
How to Buy a Shipping Container:
Pick-up: 2-3 Business DaysDelivery: 4-7 Business Days
After you order, we'll be in touch within one business day to confirm your order and coordinate the logistics. To ensure everyone's safety, only customers with the proper equipment should select intermodal depot pick-up (please allow 2-3 business days for release information). Delivery is optional and calculated at checkout by zip code.  Contact us with any questions, we're always happy to help.
Selecting the right container & buying containers online
Browse the website for new and used containers that meet your requirements. If you are unsure please contact our container sales team for advice and information.  buy your container online. Select your container and accessories and follow the simple checkout process.
What do open-top containers carry?
Open-top containers are like shipping containers but they have an extended capacity to allow for larger items.  Open tops are ideal for loading scrap metal and timber with large cranes as they can just be loaded right into the container from the top which makes it a lot easier than loading a conventional storage container.
Other uses include:
Recycling or waste material
Over-height cargo
Oversized cargo that needs the sides of the container to hold it in (rather than just using a flat rack or platform container)
Construction supplies for wind farms or oil rigs
Pipes and metal that is too tall for a regular container or too long for a flat rack container
Want to know more? Check out our article on buying and leasing Open Top Containers.
Looking for a regular ISO open-top container?
Cargostore also supplies a large range of 'regular' ISO-certified shipping containers. Click here to see our range