Buy CAT Mobile Generators Online
Buy CAT Mobile Generators Online
Caterpillar Mobile Generator For Sale Online
Caterpillar Portable Generators
MOBILE GENERATOR SETS
The lifeblood of your business is reliable electric power. Mobile generators ensure that you'll never be without them. Connect a unit to your building. Take one to a remote location. Connect multiple units in parallel. Our natural gas and diesel mobile generators were engineered for easy transporting and fast installation
Mobile Generator For Sale
Description
Buy CAT Mobile Generator Online
Long Beach off-coast Port is excited to announce the recent arrival of  CAT Diesel Portable Generators!
These generators are located at our facility in California, and ready for immediate shipment we have package pricing available too! We here at Long Beach off-coast Port know how important portable power is to our clients. Portable power is convenient since most businesses and operations can move from job sites and facilities with ease. These units are simply hooked up and go, hauled by standard truck and hitch configurations.
NEW CAT® MOBILE GENERATORS FOR SALE
Mobility is essential when selecting a towable generator, as you must be able to move it between job sites and set it up safely and efficiently. Long Beach off-coast Port has an inventory of Cat® mobile generators to help you find the right power option for the towing vehicles you have available. These units are easy to install and tear down, so you can save valuable time on your project schedule.
CATERPILLAR Towable Generators For Sale
Mobile generators help provide peace of mind for your team on the job site since you always know you can access electricity when you need it most, even when a power grid is unavailable. Our selection of Cat Genset models contains a variety of sizes, power outputs, and configurations to match the capacity for many industry applications. The Long Beach off-coast Port team is here to provide the power you need, whatever tools you're running.
POWER SYSTEMS
Wherever you are and whatever your business, Cat® power systems have been meeting your most critical needs and matching the world's most stringent standards. For more than 85 years we've been powering the industries and businesses that communities rely on. And with 5 to 16,000 kW, we're equipped to power today and built to power tomorrow.
XQP30
MOBILE GENERATOR SETS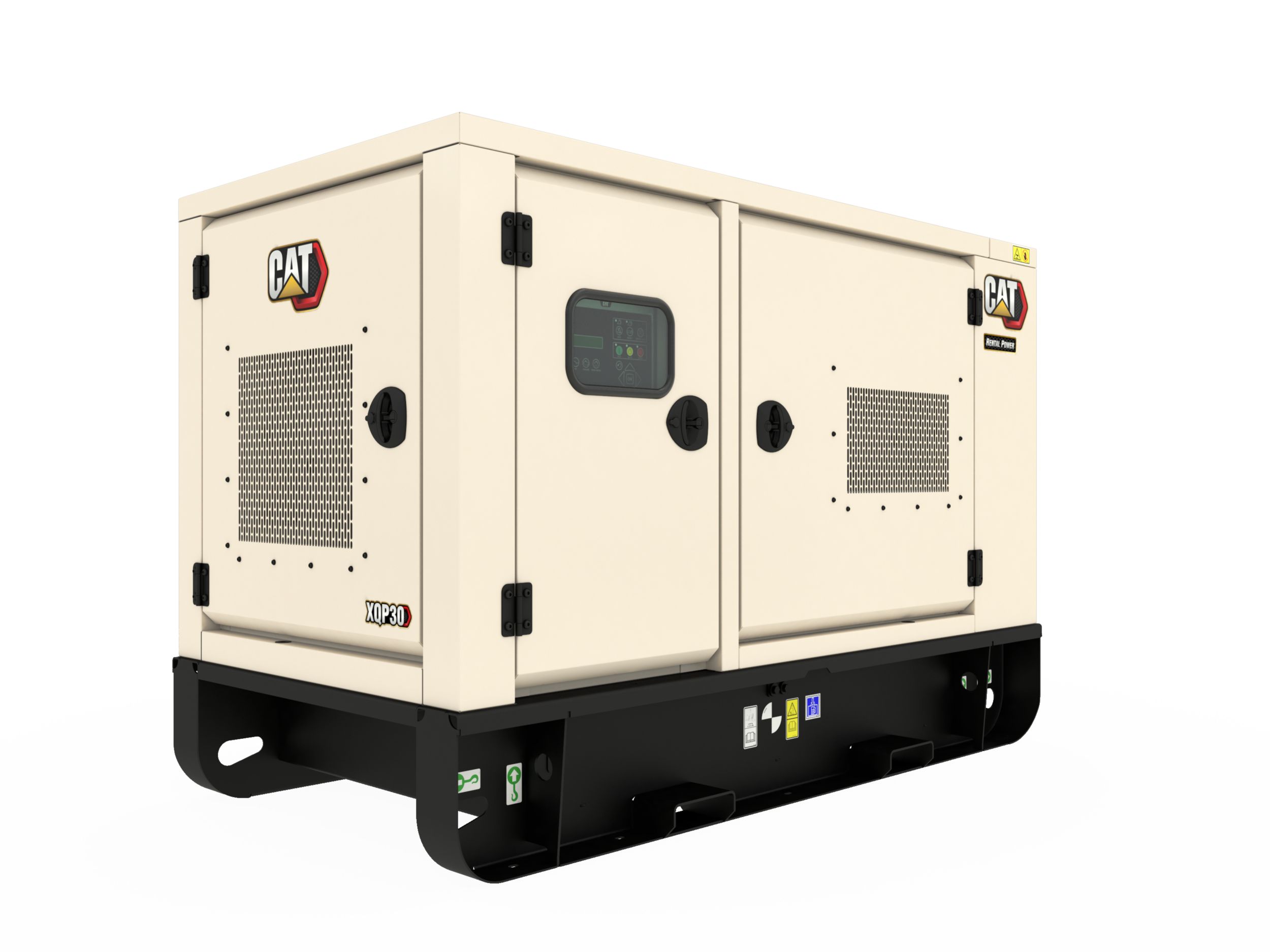 30 kVA Mobile Diesel Generator Set

This XQP30 generator set is Fuel consumption optimized for customers in non-regulated territories. With robust, rental, or mobile-ready construction, the product line is designed to be easily transported around project sites safely and efficiently.

Heavy-duty bases with integrated forklift pockets allow the unit to be dragged and lifted with ease, while Clipsal or CEE socket options are available on select models to reduce installation time and provide trouble-free power distribution.

Benefits

Selectable 50/60Hz Operation

Easy frequency switch via terminal link eliminates geographical limitations allowing generator set to be used wherever it is needed

Sound Power 60 dBA @ 7 m Attenuation

Sound Attenuation and electric fans bring sound levels to that of a quiet conversation

Standard 500 Hour oil change intervals

Maximizes run time before routine service is required

Rating Prime

30 kVa

Frequency

50/60 Hz

Voltage

127 – 480 V
XQ35 Tier 4 Final
MOBILE GENERATOR SETS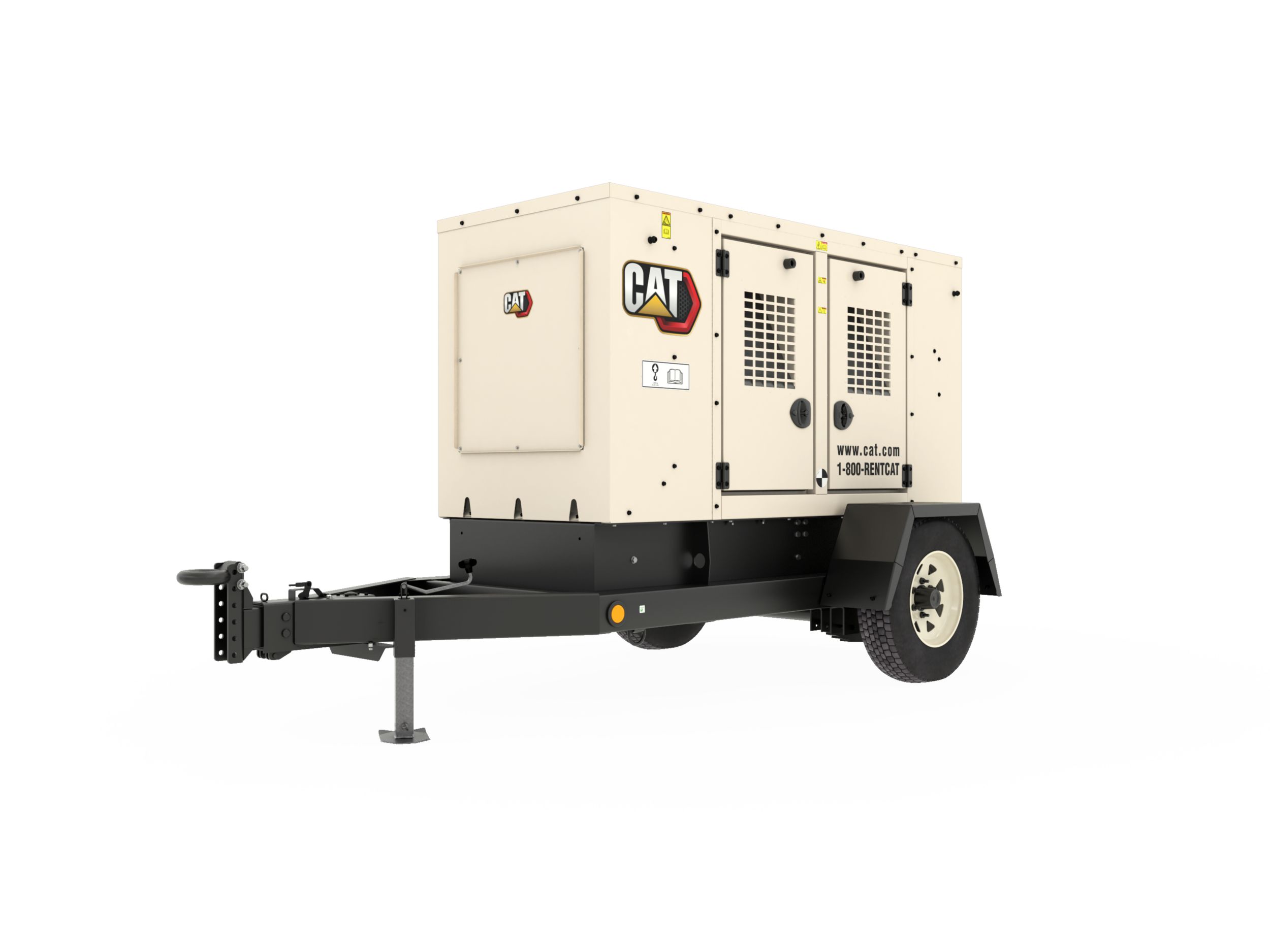 35 kVA Mobile Diesel Generator Set
With robust, rental-ready construction, the XQ35 is designed to be easily transported around project sites safely and efficiently. A smaller footprint saves space and provides installation versatility on worksites, while a galvanized enclosure is resilient to potentially harsh environments.
Benefits
Environmentally friendly 110% spill containment of all engine fluids
Minimizes possibility for environmental damage on site
Sound Power 63 dBA @ 7 m Attenuation
Two-speed, electric cooling fans for reduced fuel consumption and reduced sound
Power Distribution Three-position switch for easy selection of desired output
Eliminates the need for reconnection to meet on-site requirements
Rating Prime

27 ekW (35 kVA)

Frequency

60 Hz

Voltage

120 – 600V
XQ60 Tier 4 Final
MOBILE GENERATOR SETS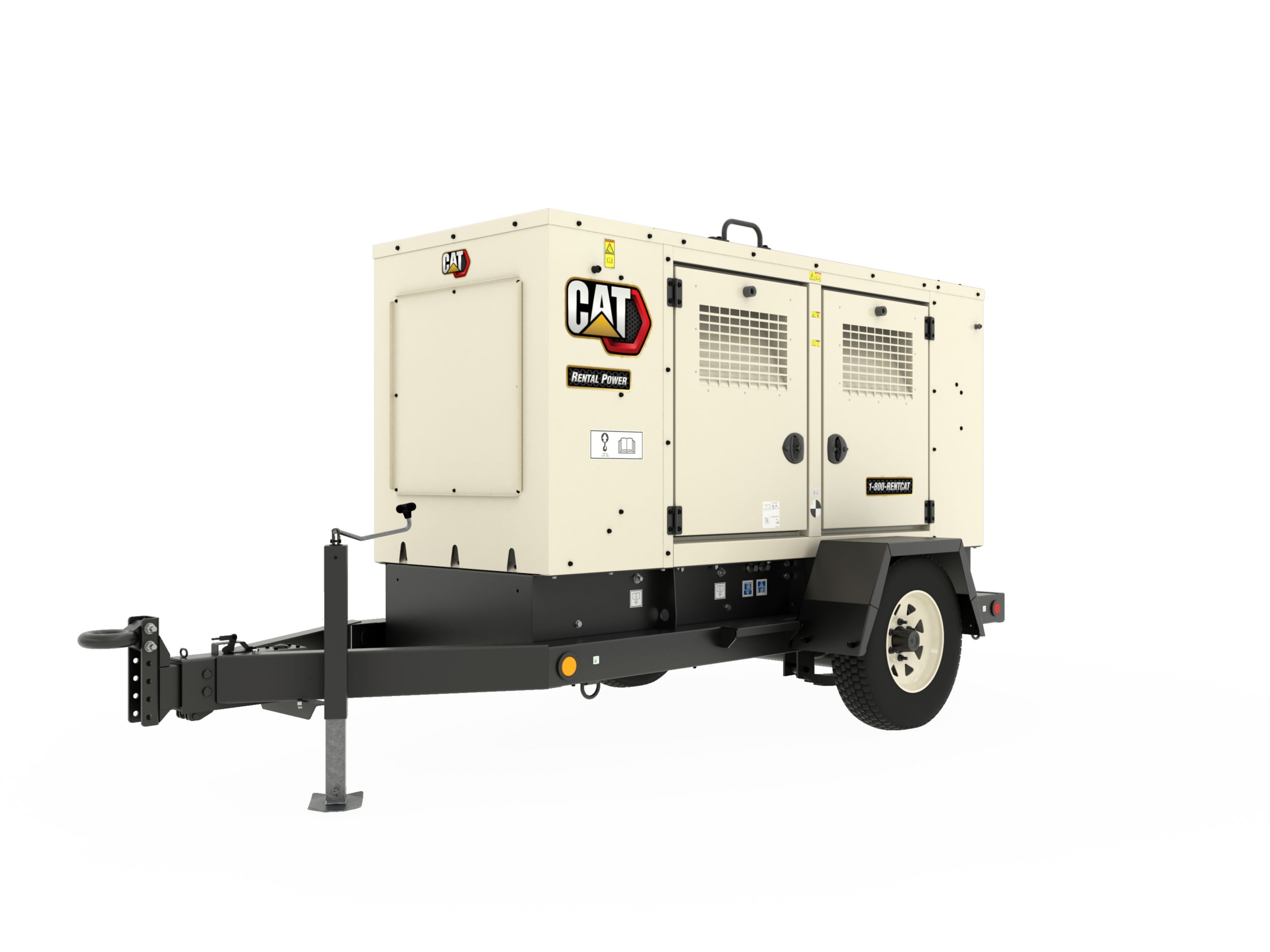 60 kVA Mobile Diesel Generator Set

With robust, rental-ready construction, the XQ60 is designed to be easily transported around project sites safely and efficiently. A smaller footprint saves space and provides installation versatility on worksites. The XQ60 is capable of 500-hour oil change intervals, which likewise increases uptime, lowers maintenance costs, and consumes fewer parts and oil making it friendlier for the environment.

Benefits

Environmentally friendly 110% spill containment of all engine fluids

Minimizes possibility for environmental damage on site

Sound Power 63 dBA @ 7 m Attenuation

Sound Attenuation and electric fans bring sound levels to that of a normal conversation

Power Distribution Three-position switch for easy selection of desired output

Eliminates the need for reconnection to meet on-site requirements
Rating Prime

47.5 ekW (60 kVA)

Frequency

60 Hz

Voltage

120 – 600V
XQP60
MOBILE GENERATOR SETS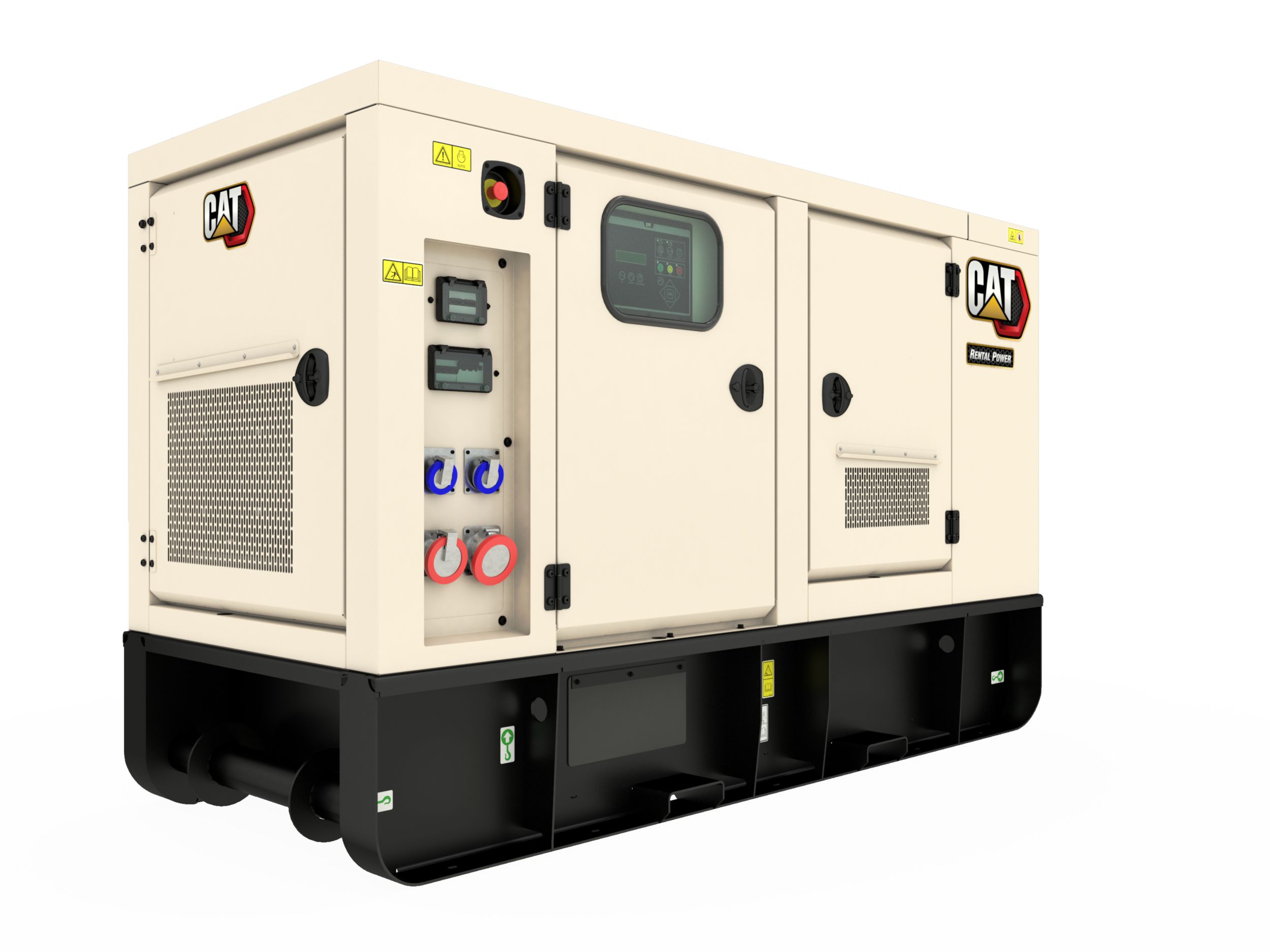 60 kVA Mobile Diesel Generator Set

This XQP60 generator set provides low fuel consumption performance. With robust, rental, or mobile-ready construction, the product line is designed to be easily transported around project sites safely and efficiently. Heavy-duty bases with integrated forklift pockets allow the unit to be dragged and lifted with ease, while Clipsal or CEE socket options are available on select models to reduce installation time and provide trouble-free power distribution.

Benefits

Standard 500 Hour oil change intervals

Maximizes run time before routine service is required

Selectable 50/60Hz Operation

Easy frequency switch via terminal link eliminates geographical limitations allowing generator set to be used wherever it is needed

Flexible 3-way fuel valve

Extended run time provided by the changeover from base tank to external bulk tank

Rating Prime

60 kVA

Frequency

50/60 Hz

Voltage

127 – 480 V
XQP100
MOBILE GENERATOR SETS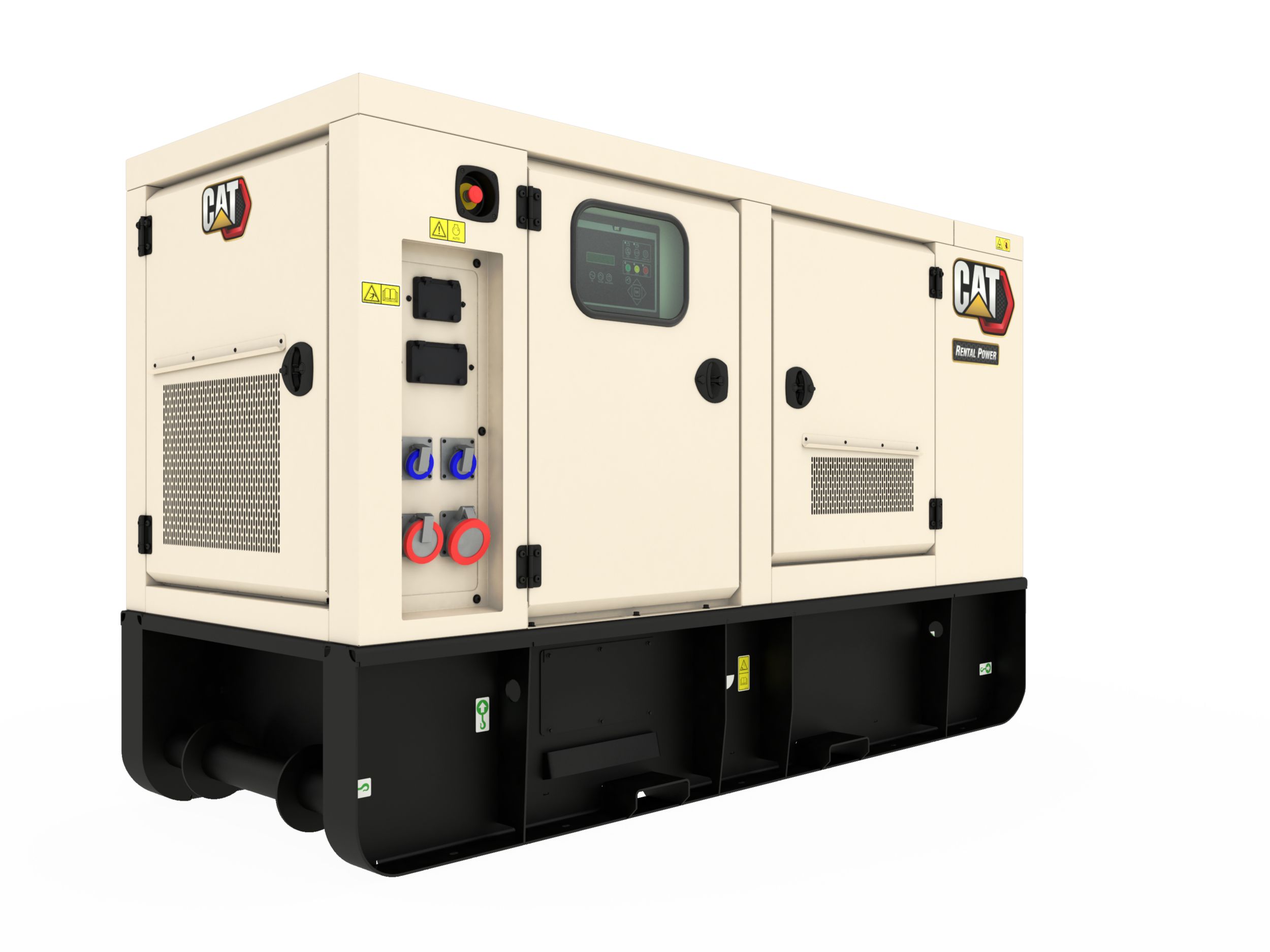 100 kVA Mobile Diesel Generator Set

This XQP100 generator set provides low fuel consumption performance. With robust, rental, or mobile-ready construction, the product line is designed to be easily transported around project sites safely and efficiently. Heavy-duty bases with integrated forklift pockets allow the unit to be dragged and lifted with ease, while Clipsal or CEE socket options are available on select models to reduce installation time and provide trouble-free power distribution.

Benefits

Integral 24hr Dual wall fuel tank

Meets most local codes and maximizes time between fills

Sound Power 67 dBA @ 7 m Attenuation

Sound Attenuation and electric fans bring sound levels to that of a quiet conversation

50/60Hz Operation

Easy frequency switch via terminal link eliminates geographical limitations allowing generator set to be used wherever it is needed

Rating Prime

100 kVA

Frequency

50/60 Hz

Voltage

127 – 480 V
XQP115
MOBILE GENERATOR SETS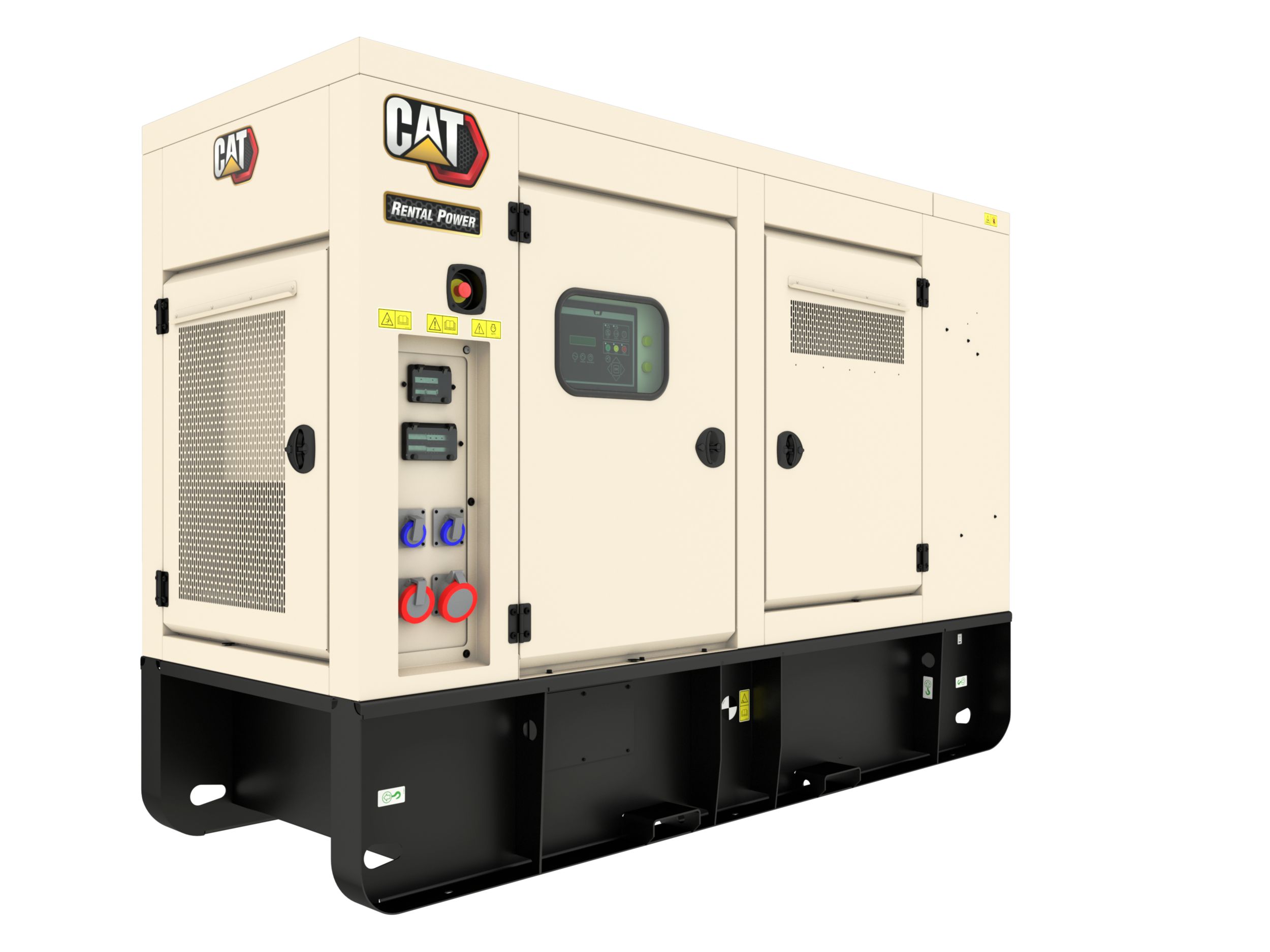 PRODUCT SPECIFICATIONS FOR XQP115
This XQP115 generator set is EU Stage V emission standard capable. Each model delivers increased flexibility by easily switching between 50 and 60 Hz, which allows one machine to satisfy varying load requirements across diverse regions and applications including mining, manufacturing, oil and gas and construction.

GENERATOR SET

| | |
| --- | --- |
| Rating Prime | 115 kVA |
| Frequency | 50/60 Hz |
| Voltage | 220 – 480 V |
| Fuel/Emissions Strategy | EU Stage V |

ENGINE

| | |
| --- | --- |
| Engine | Cat® C4.4 |
| Fuel | Diesel |
| Emissions | EU Stage V |

DIMENSIONS

| | |
| --- | --- |
| Width | 45 in |
| Height | 82 in |
| Length | 117 in |
| Weight – With Lube Oil and Coolant | 4579 lb |

FUEL CONSUMPTION

| | |
| --- | --- |
| 100% Load 50 Hz | 7.2 gal/hr |
| 100% Load 60 Hz | 7.4 gal/hr |
| 75% Load 50 Hz | 5.3 gal/hr |
| 75% Load 60 Hz | 5.5 gal/hr |
XQ125 Tier 4 Final
MOBILE GENERATOR SETS
125 kVA Mobile Diesel Generator Set

The Cat XQ125 is powered by a C 4.4 Tier 4 Final compliant industrial diesel engine offering the perfect balance of durability, efficiency, and low emissions. With advanced research and development techniques, the after-treatment system is precisely matched to the engine ensuring performance is optimized for maximum productivity.

Benefits

Reduced cost of operation 3,000 hrs Maintenance

The service interval for multi-vee belts and service-free tappets

Environmentally friendly 110% spill containment of all engine fluids

Minimizes possibility for environmental damage on site

Cooling System 50⁰C ambient capability

Provides full power even on the hottest days of the year

Rating Prime

100 ekW (125 kVA)

Frequency

60 Hz

Voltage

120 – 600V
XQP150
MOBILE GENERATOR SETS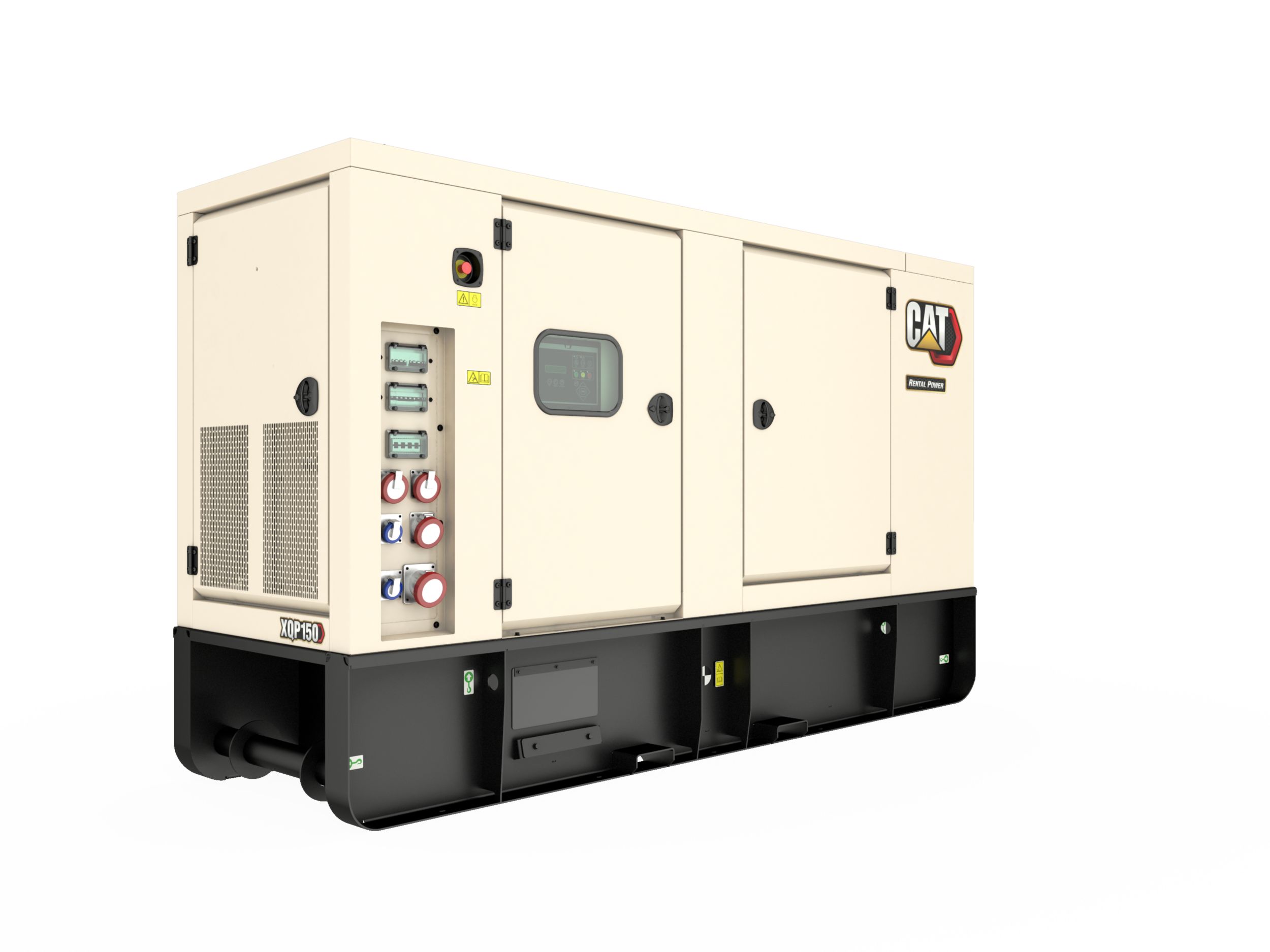 150 kVA Mobile Diesel Generator Set

This XQP150 generator set is fuel consumption optimized. Each model delivers increased flexibility by easily switching between 50 and 60 Hz, which allows one machine to satisfy varying load requirements across diverse regions and applications including mining, manufacturing, oil and gas, and construction.

Benefits

Standard 500 Hour oil change intervals

Maximizes run time before routine service is required

Flexible 3-way fuel valve

Extended run time provided by the changeover from base tank to external bulk tank

Selectable 50/60Hz Operation

Easy frequency switch via terminal link eliminates geographical limitations allowing generator set to be used wherever it is needed

Rating Prime

150 kVA

Frequency

50/60 Hz

Voltage

127 – 480 V
XQP200
MOBILE GENERATOR SETS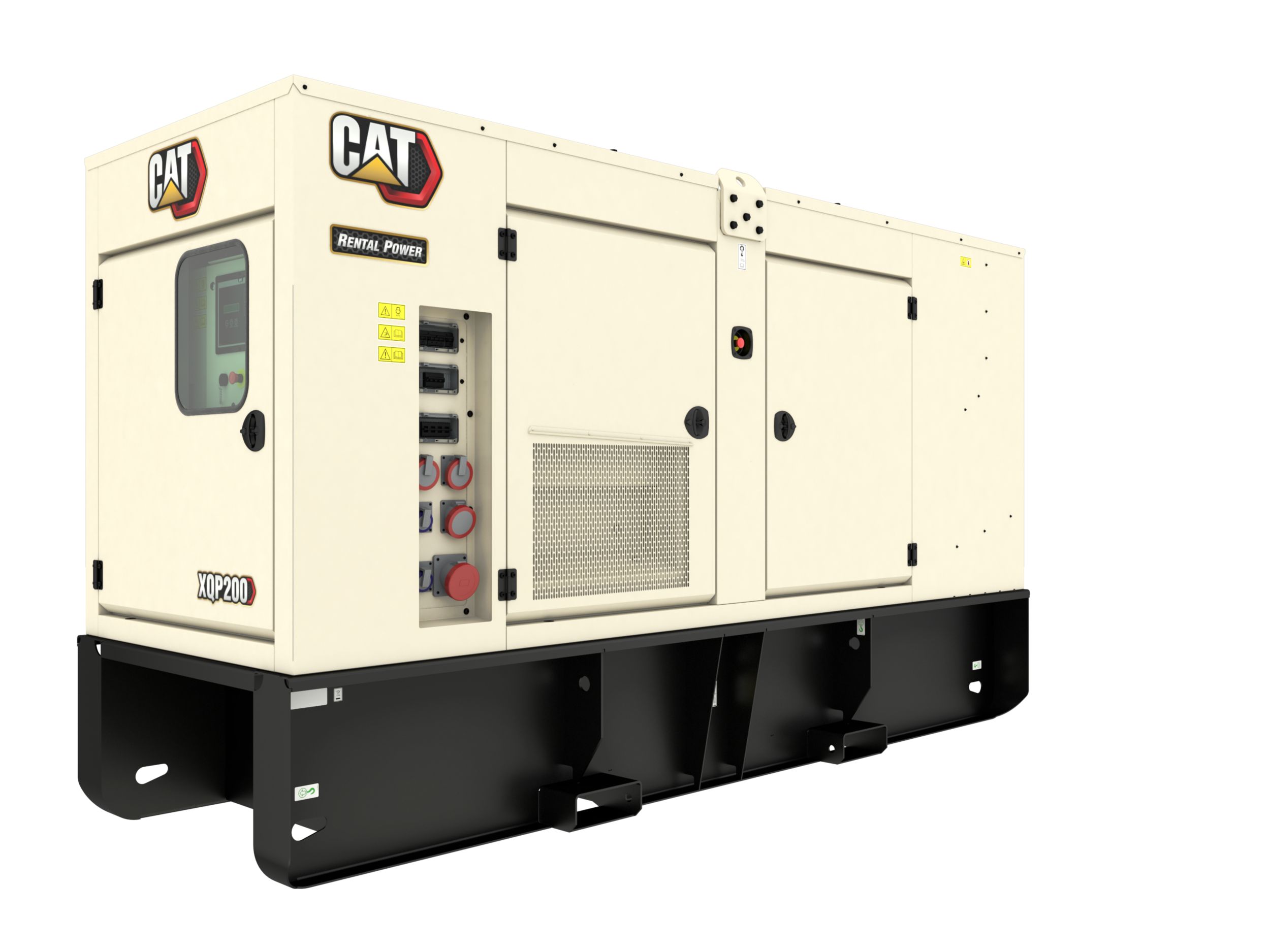 200 kVA Mobile Diesel Generator Set

This XQP200 generator set is EU Stage V emission standard capable. Each model delivers increased flexibility by easily switching between 50 and 60 Hz, which allows one machine to satisfy varying load requirements across diverse regions and applications including mining, manufacturing, oil and gas, and construction.

Benefits

Standard 500 Hour oil change intervals

Maximizes run time before routine service is required

Flexible 3-way fuel valve

Extended run time provided by the changeover from base tank to external bulk tank

Selectable 50/60Hz Operation

Easy frequency switch via terminal link eliminates geographical limitations allowing generator set to be used wherever it is needed

Rating Prime

200 kVA

Frequency

50/60 Hz

Voltage

127 – 480 V
XQ230 Tier 4 Final
MOBILE GENERATOR SETS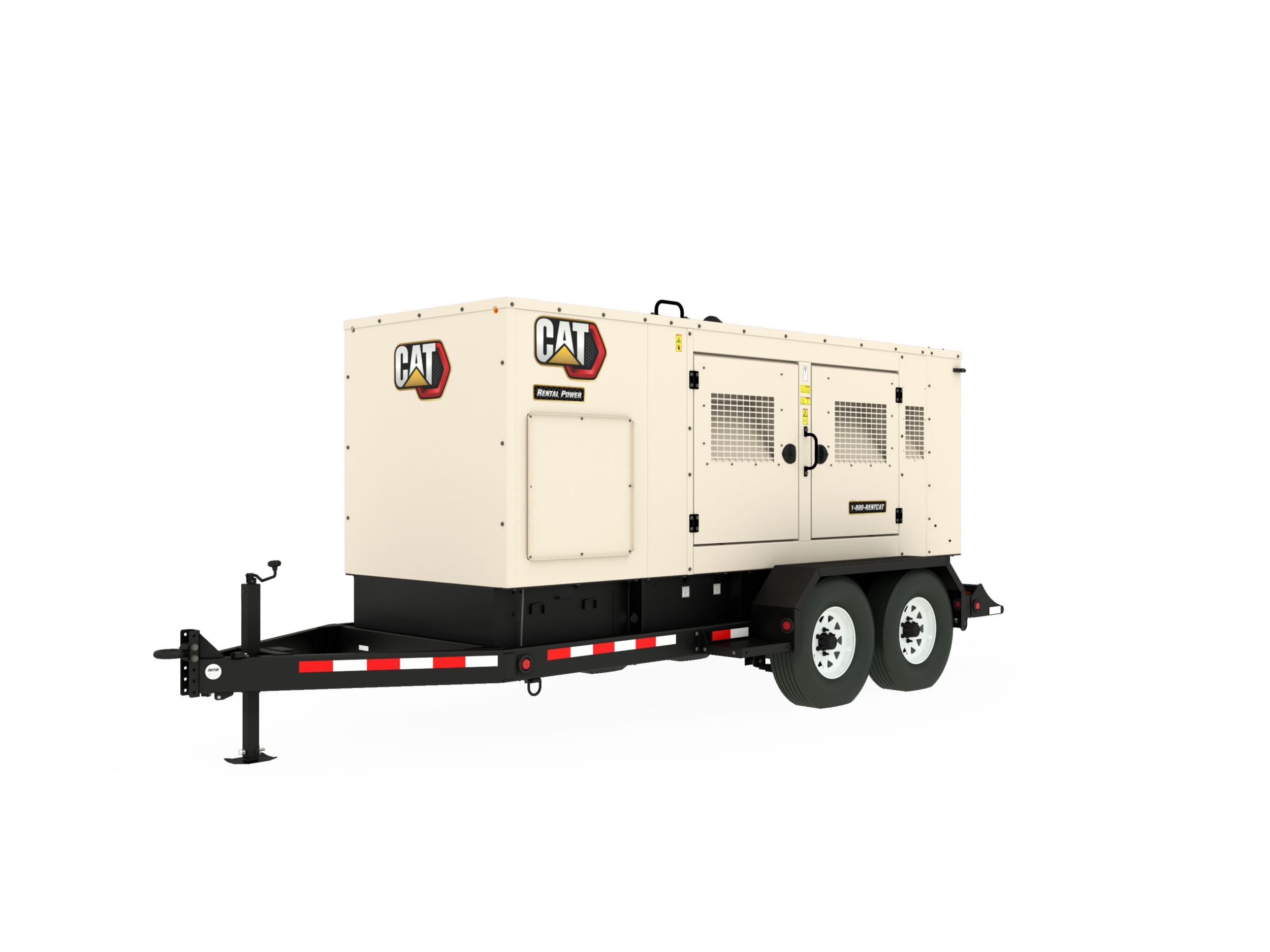 228 kVA Mobile Diesel Generator Set

The Cat XQ230 is powered by a C 7.1 Tier 4 Final compliant industrial diesel engine offering the perfect balance of durability, efficiency, and low emissions. With advanced research and development techniques, the after-treatment system is precisely matched to the engine ensuring performance is optimized for maximum productivity.

Benefits

Environmentally friendly 110% Battery isolator switch

Eliminates battery drain down when the generator set is not in operation

Flexible Two-way valve and external fuel ports

Easily switch between onboard and external fuel sources for extended run times

Power Distribution Three-position switch for easy selection of desired output

Eliminates the need for reconnection to meet on-site requirements

Rating Prime

182 ekW (228 kVA)

Frequency

60 Hz

Voltage

120 – 600V
XQP300
MOBILE GENERATOR SETS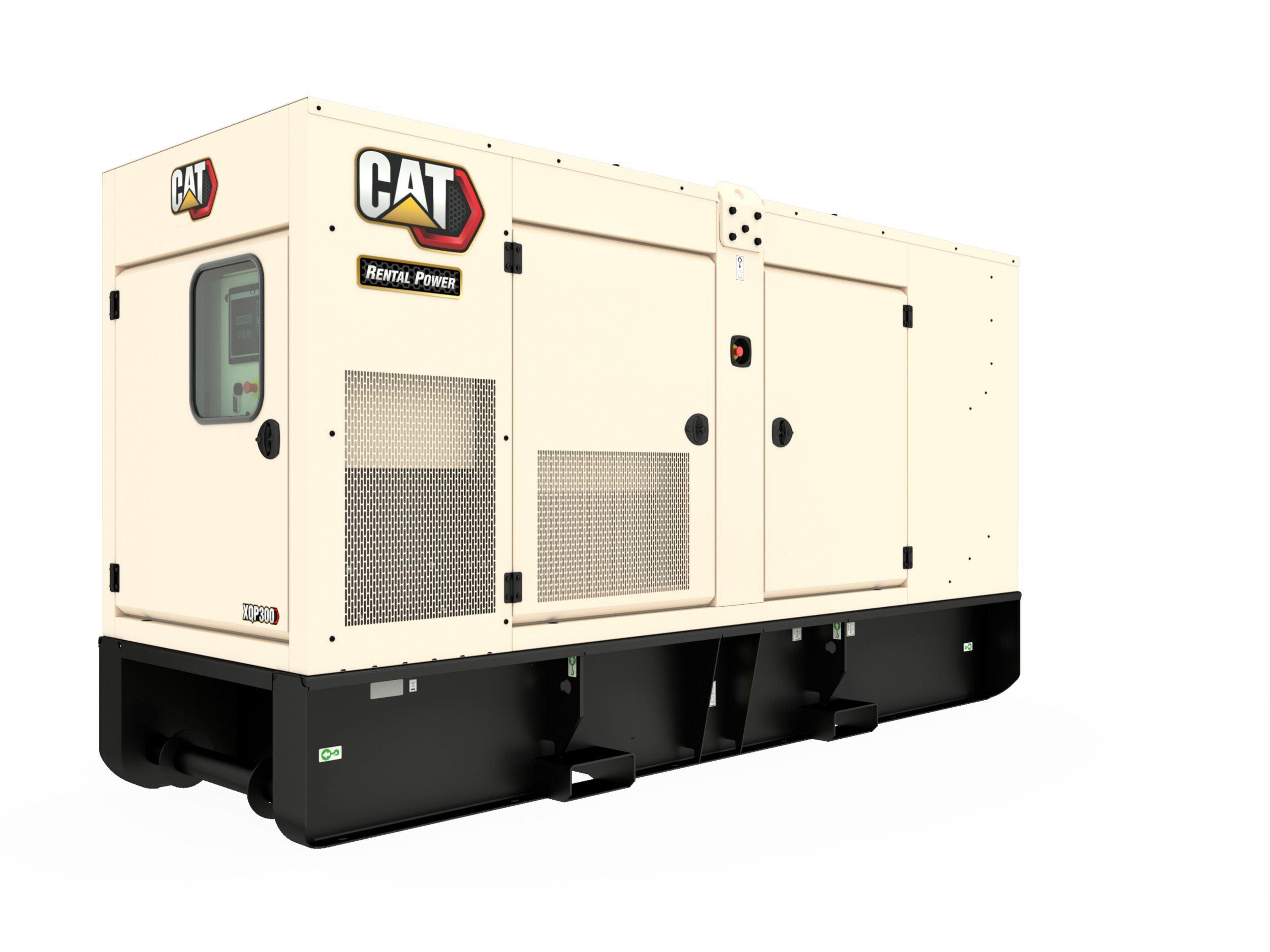 300 kVA Mobile Diesel Generator Set

This fuel-optimized rental power product is ideal for customers interested in consuming the least amount of fuel. Each model delivers increased flexibility by easily switching between 50 and 60 Hz, which allows one machine to satisfy varying load requirements across diverse regions and applications including mining, manufacturing, oil and gas, and construction.

Benefits

Selectable 50/60Hz Operation

Easy frequency switch via terminal link eliminates geographical limitations allowing generator set to be used wherever it is needed

Sound Power 64 dBA @ 7 m Attenuation

Sound Attenuation and electric fans bring sound levels to that of a quiet conversation

Standard 3-way fuel valve

Extended run time provided by the changeover from base tank to external bulk tank

Rating Prime

300 kVA

Frequency

50/60 Hz

Voltage

127 – 480 V
XQP310
MOBILE GENERATOR SETS
310 kVA Mobile Diesel Generator Set

This XQP310 generator set is EU Stage V emission standard capable. Each model delivers increased flexibility by easily switching between 50 and 60 Hz, which allows one machine to satisfy varying load requirements across diverse regions and applications including mining, manufacturing, oil and gas, and construction.

Benefits

Standard 500 Hour oil change intervals

Maximizes run time before routine service is required

Flexible 3-way fuel valve

Extended run time provided by the changeover from base tank to external bulk tank

Selectable 50/60Hz Operation

Easy frequency switch via terminal link eliminates geographical limitations allowing generator set to be used wherever it is needed

Rating Prime

310 kVA

Frequency

50/60 Hz

Voltage

127 – 480 V
XQ425 Tier 4 Final
MOBILE GENERATOR SETS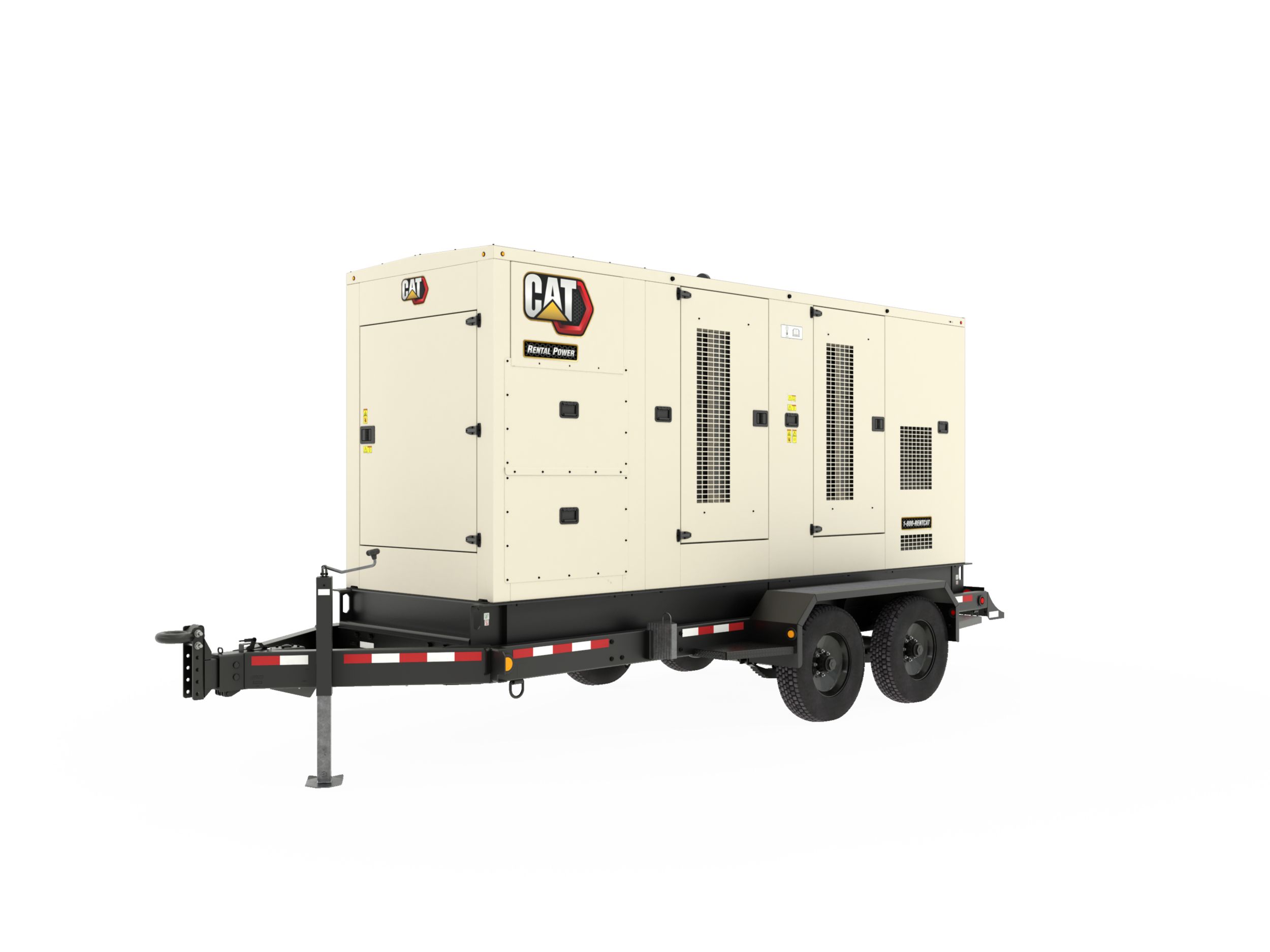 425 kVA Mobile Diesel Generator Set

The Cat® XQ425 provides world-class performance and enhanced usability. This model is powered by the fuel-efficient Cat C13 Tier 4 Final engine compliant and equipped with the Cat NOx Reduction System. Equipped with the new EMCP 4.4 control panel, the XQ425 features a user-friendly interface and automatic generator set paralleling.

A principal advantage of the control system offers simpler and faster voltage changes. Providing greater flexibility when moving between multiple job sites with differing frequency and voltage needs, the auto-configuration capability eliminates the time required when reprogramming units and potential errors. Additional features include lower noise levels and improved part load fuel consumption.

Benefits

Environmentally friendly 110% spill containment of all engine fluids

Minimizes possibility for environmental damage on site

Integral 520 gal (1970 L) double wall fuel tank

Maximizes run time between fuel fills

Solar-powered battery maintainer

Ensures generator set is always ready to start

Rating Prime

340 ekW (425 kVA)

Frequency

50/60 Hz

Voltage

120 – 600V
XQP500
MOBILE GENERATOR SETS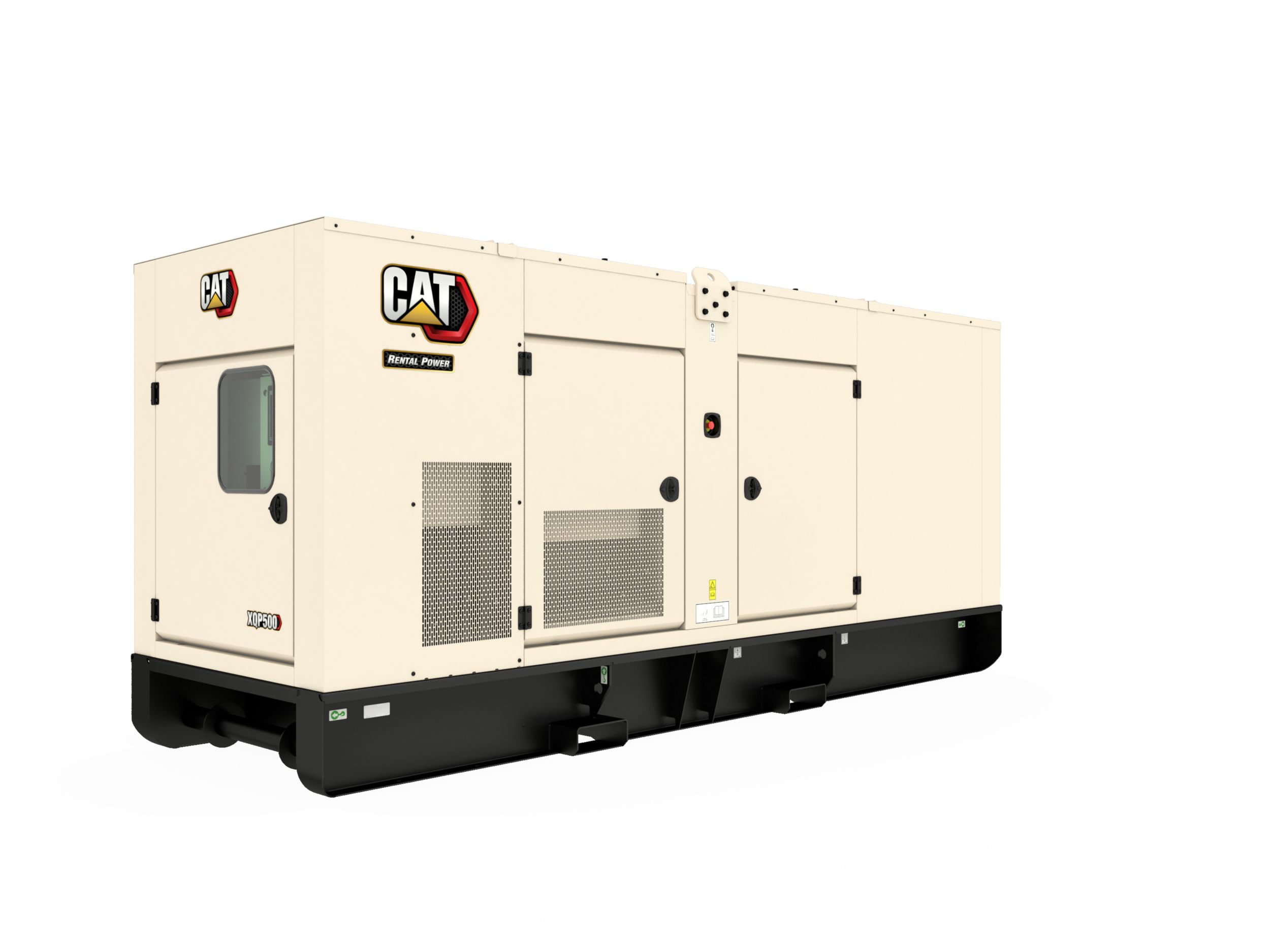 500 kVA Mobile Diesel Generator Set

This XQP500 generator set is fuel consumption optimized. A unique feature is the introduction of clutch fan drive technology, where the fan no longer needs to run continuously at full speed and power.

This saves additional fuel, while also lowering noise output; an ideal feature when operating at lower loads, in cooler temperatures, or most importantly, in evenings when noise levels are most noticeable.

Benefits

Selectable 50/60Hz Operation

Easy frequency switch via terminal link eliminates geographical limitations allowing generator set to be used wherever it is needed

Flexible 3-way fuel valve

Extended run time provided by the changeover from base tank to external bulk tank

Standard 500 Hour oil change intervals

Maximizes run time before routine service is required

Rating Prime

500 kVA

Frequency

50/60 Hz

Voltage

127 – 480 V
XQ570 Tier 4 Final
MOBILE GENERATOR SETS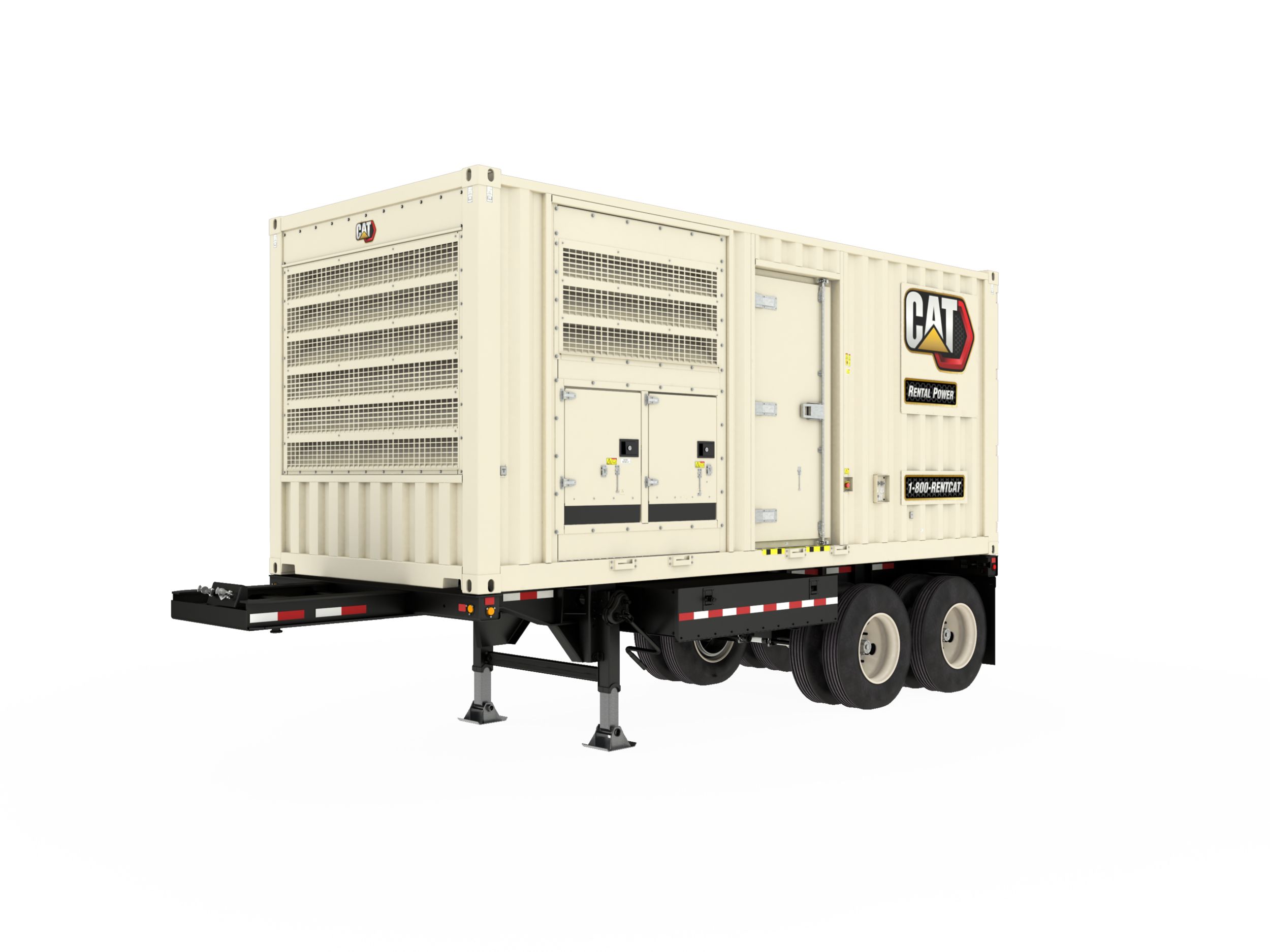 568 kVA Mobile Diesel Generator Set

The Cat® XQ570 Rental Power Generator Set provides world-class performance and enhanced usability. This model is powered by the fuel-efficient Cat C18 Tier 4 Final-compliant engine equipped with the Cat NOx Reduction System. Equipped with the new EMCP 4.4 control panel, the XQ570 features a user-friendly interface and automatic generator set paralleling.

A principal advantage of the control system offers simpler and faster voltage changes. Providing greater flexibility when moving between multiple job sites with differing frequency and voltage needs, the auto-configuration capability eliminates the time required when reprogramming units and potential errors. Additional features include lower noise levels and improved part load fuel consumption.

Benefits

Flexible Two-way valve and external fuel ports

Easily switch between onboard and external fuel sources for extended run times

Generator Set Mounted EMCP 4.4 Controller

Provides power metering, protective relaying, engine & generator control & monitoring, and the capability to run up to 8 units in parallel

Standard 500 Hour oil change intervals

Maximizes run time before routine service is required

Rating Prime

455 ekW (568 kVA)

Frequency

60 Hz

Voltage

120 – 600V
XQP1100
MOBILE GENERATOR SETS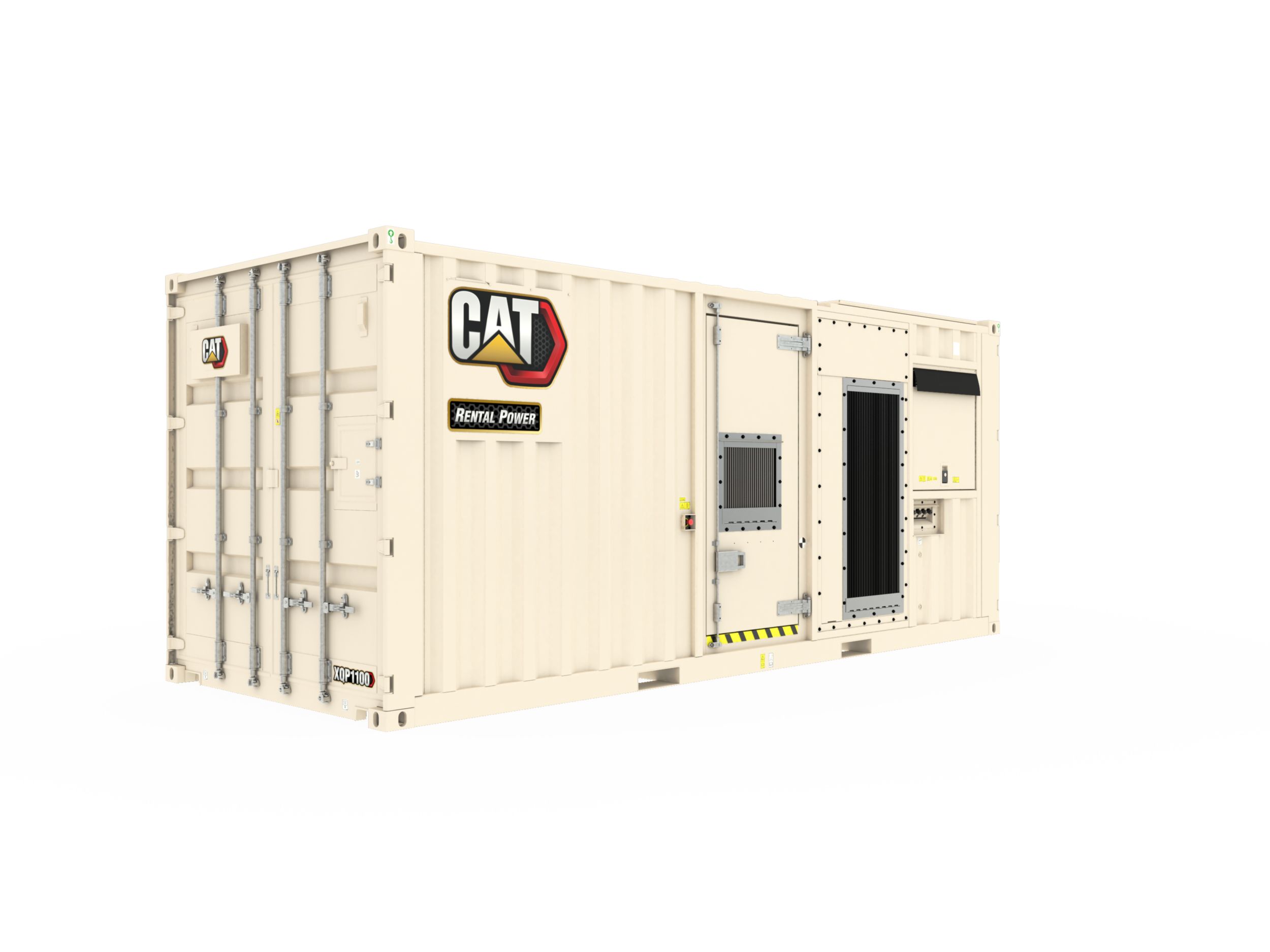 1100 kVA Mobile Diesel Generator Set

Packaging 1100 kVA in a 20' ISO transportable container, the power density offering in the XQP1100 is increased, and paralleling controls with an Electrically Operated (EO) breaker are featured as standard equipment. The XQP1100 is a fully self-contained unit capable of running for eight hours without refueling.

Benefits

Up to 700-hour oil change intervals

Maximizes run time before routine service is required

Generator Set Mounted EMCP 4.4 Controller

Provides power metering, protective relaying, engine & generator control & monitoring, and the capability to run up to 8 units in parallel

Selectable 50/60Hz Operation

Easy frequency switch via terminal link eliminates geographical limitations allowing generator set to be used wherever it is needed

Rating Prime

1100 kVA

Frequency

50/60 Hz

Voltage

127 – 480 V
XQ1140 Tier 4 Final
MOBILE GENERATOR SETS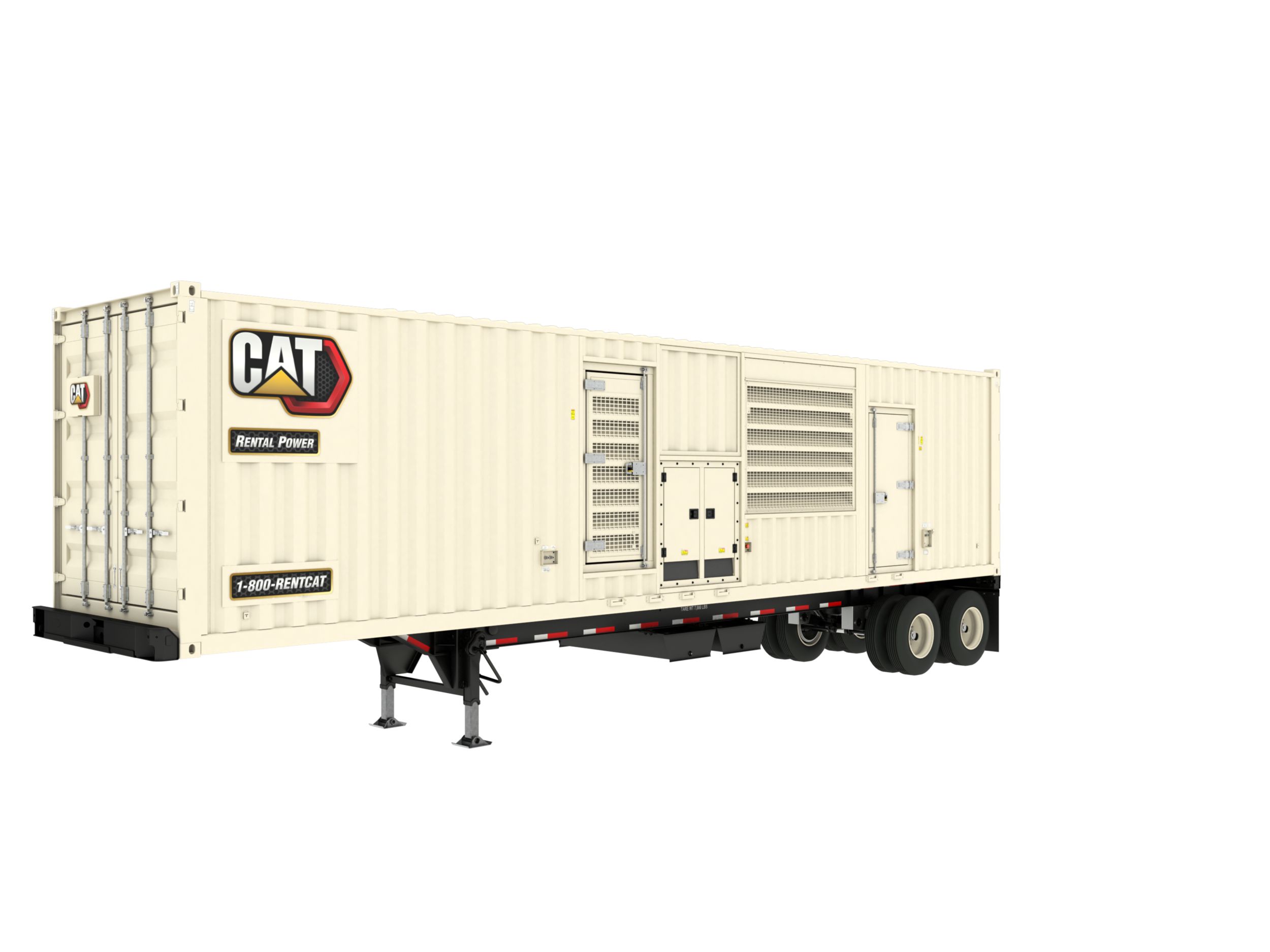 1000 ekW Mobile Diesel Generator Set

The XQ1140 offers multiple modes of operation to meet your unique needs – even as they change. By incorporating two C18, EPA Tier 4 Final compliant diesel generator sets, this package can provide power output from the generator sets in parallel, N+1 power, or independent power from each generator set. That versatility minimizes your operating costs always with the XQ1140 reliability and durability.

Benefits

Power Dual Cat C18 Tier 4 Final Engines

Twin Pack configuration for full power output or redundancy backup options

Controls Remote HMI Operator Interface

Externally mounted graphical color touch-screen interface for remote start, Genset monitoring, breaker operation, and alarm acknowledgments

Convenience External Fuel & DEF Fill Ports

Same-side curbside access for fuel and DEF fill

Rating Prime

910 ekW (1136 kVA)

Frequency

60 Hz

Voltage

120 – 600V

XQC1200

MOBILE GENERATOR SETS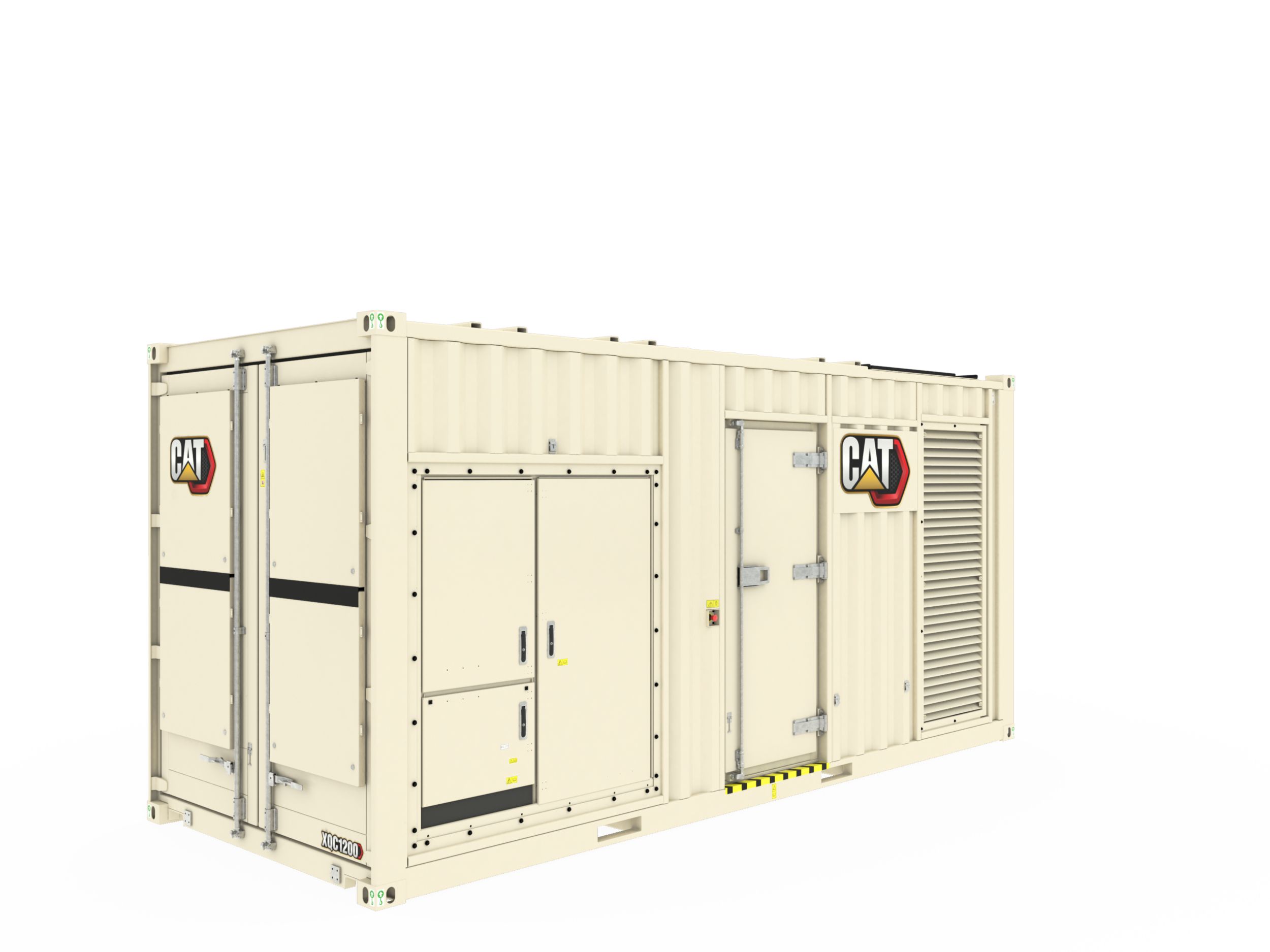 1150 ekW Mobile Diesel Generator Set

This rental generator set extends the Caterpillar line of rental power options improving efficiency and reducing owning and operating costs. The XQC1200 is equipped with an enhanced control system, designed to reduce installation and startup time. It is configured to switch between 50 and 60Hz ratings at the press of a button. The control system features plant control programming and simulation, allowing complete system testing prior to generator set startup.

Advanced product autonomy and monitoring capabilities reduce on-site manpower support requirements, minimize operator exposure to hazards, and permit site performance and maintenance data to be viewed, archived, and analyzed conveniently. Ideal in a stand-alone environment, combined with dozens of units in a power plant solution, or supporting utility systems worldwide.

Benefits

Environmentally friendly 110% spill containment of all engine fluids

Minimizes possibility for environmental damage on site

Installed 30 gal (114 L) oil tank

Engine-mounted oil level regulator maintains oil pan levels in extended-run applications

Industry Standard 20-ft ISO high-cube container

9-High Stack, CSC Certified – Designed and built for robustness, safety, and transportability

Rating

1150kW (1438 kVA) Continuous

Frequency

50/60 Hz

Voltage

230 – 480 V
XQC1600
MOBILE GENERATOR SETS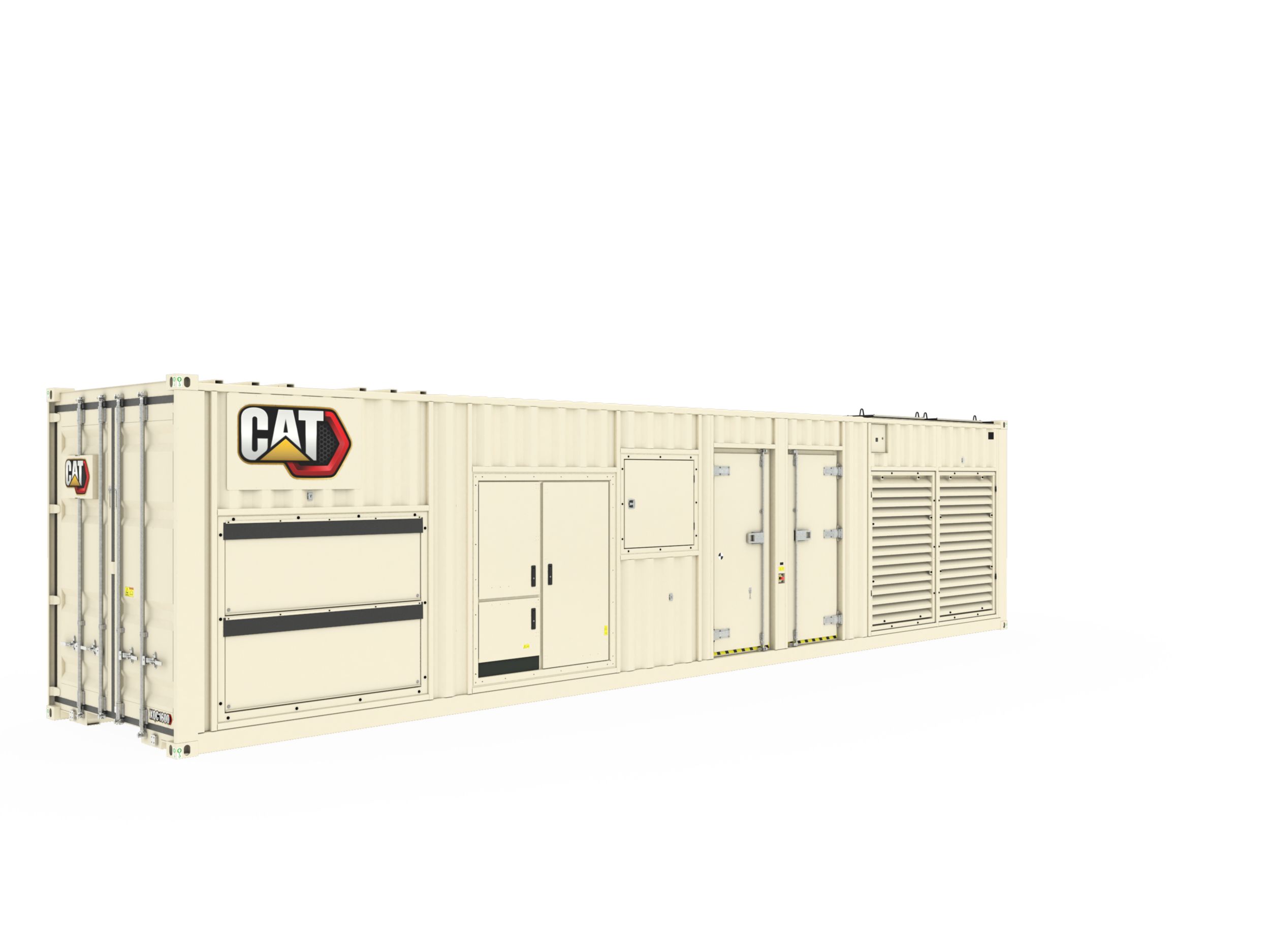 1515 ekW Mobile Diesel Generator Set

This rental generator set extends the Caterpillar line of rental power options improving efficiency and reducing owning and operating costs. The XQC1600 is equipped with an enhanced control system, designed to reduce installation and startup time. It is configured to switch between 50 and 60 Hz ratings at the press of a button. The control system features plant control programming and simulation, allowing complete system testing prior to generator set startup.

Advanced product autonomy and monitoring capabilities reduce on-site manpower support requirements, minimize operator exposure to hazards, and permit site performance and maintenance data to be viewed, archived, and analyzed conveniently. Ideal in a stand-alone environment, combined with dozens of units in a power plant solution, or supporting utility systems worldwide.

Benefits

Up To 49⁰C ambient capability

Provides full power even on the hottest days of the year

Industry Standard 40-ft ISO high-cube container

9-High Stack, CSC Certified – Designed and built for robustness, safety, and transportability

Installed 30 gal (114 L) oil tank

Engine-mounted oil level regulator maintains oil pan levels in extended-run applications

Rating

1515 ekW (1893 kVA) Continuous

Frequency

50/60 Hz

Voltage

230 – 480 V
XGC1900
MOBILE GENERATOR SETS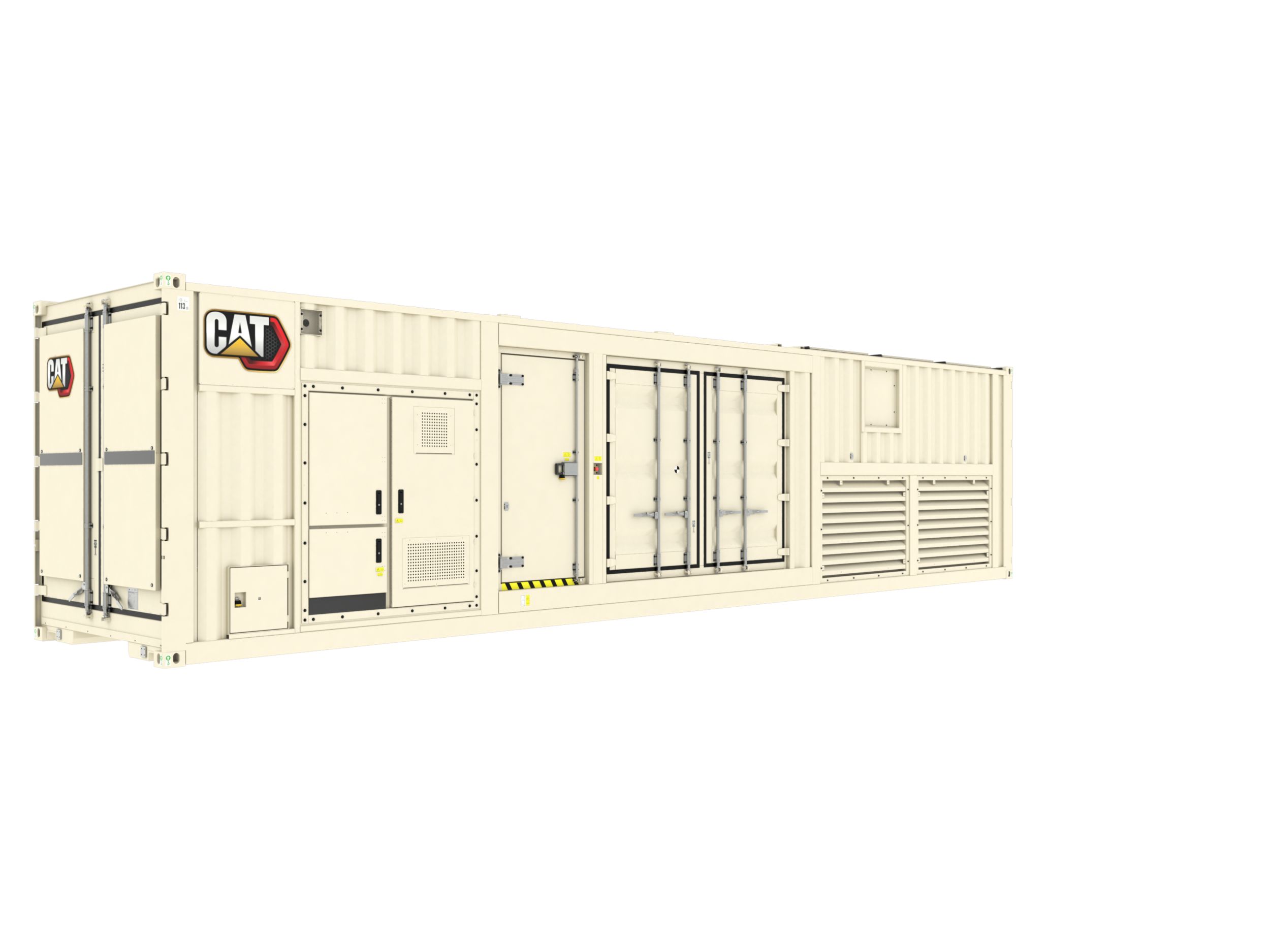 1900 eKW MOBILE GAS GENERATOR SET

In addition to improved fuel efficiency, the next-generation XGC1900 rental generator provides significant power density advantages. Caterpillar developed new exhaust stacks that reduce spacing requirements for sites requiring multiple units.

Benefits

Down to 500 MG/NM3 NOx Emissions levels

Without after treatment – Meets some of the most stringent codes worldwide

Industry Standard 40-FT ISO high-cube container

9-High Stack, CSC Certified – Designed and built for robustness, safety, and transportability

Environmentally friendly 110% spill containment of all engine fluids

Minimizes possibility for environmental damage on site

Rating

1900 ekW (2375 kVA) Continuous

Frequency

50Hz

Voltage

400 V
XQ2280 Tier 4 Final
MOBILE GENERATOR SETS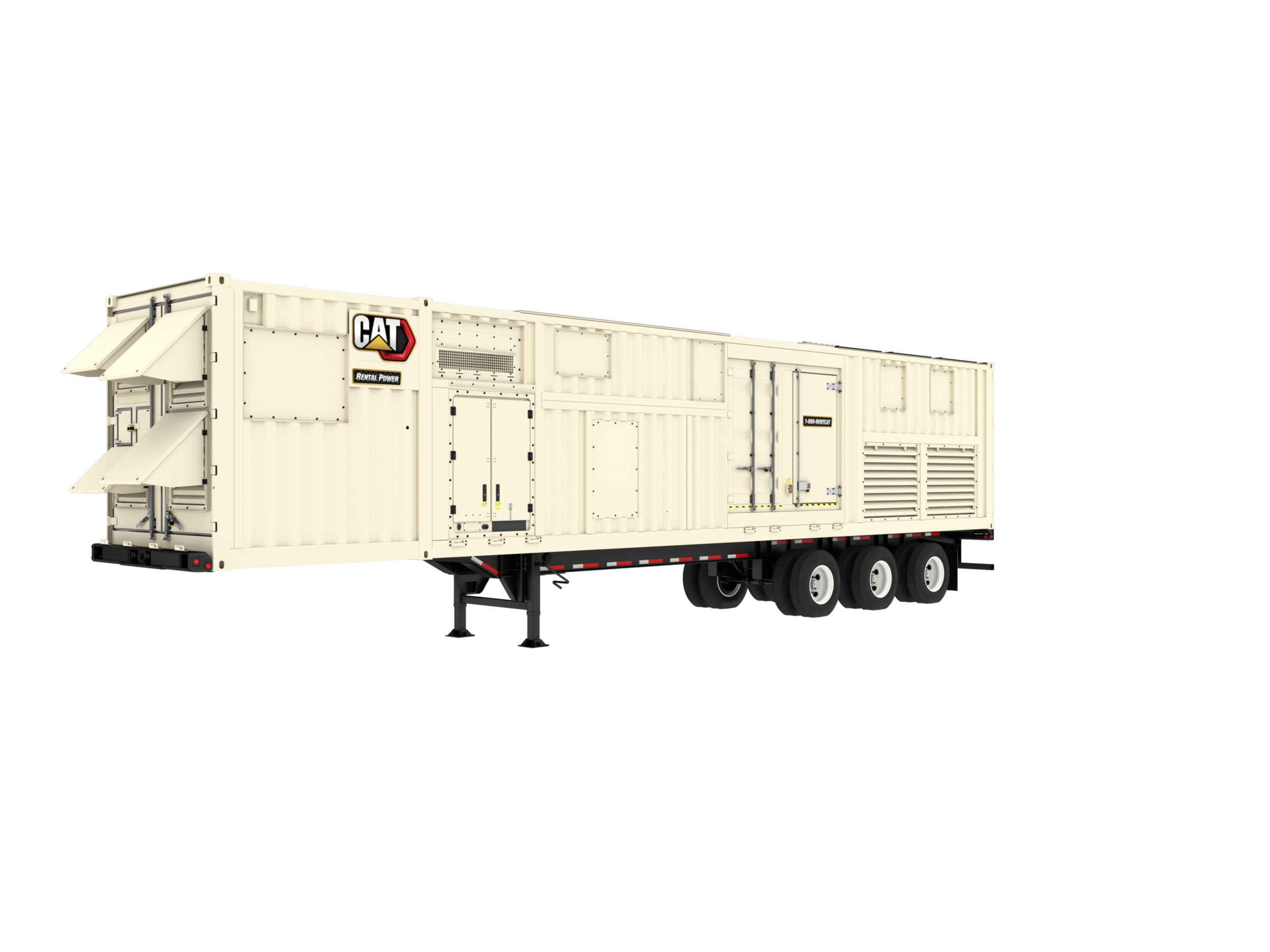 The Cat® XQ2280 rental power module extends the line of Cat Rental Power offerings that meet U.S. EPA Tier 4 Final emission standards.
Driven by the Cat 3516C engine, the Cat XQ2280 power module provides up to 2 MW of standby power or 1825 kW of prime power.

 The XQ2280 is equipped with an enhanced control system, designed to reduce installation and startup time.
Advanced product autonomy and monitoring capabilities reduce on-site manpower support requirements, minimize operator exposure to hazards, and permit site performance and maintenance data to be conveniently viewed, archived, and analyzed.

This module is ideal in a stand-alone environment, combined with dozens of units in a power plant solution, or supporting utility systems worldwide.
The Cat XQ2280 is suited for data centers, healthcare facilities, municipal infrastructure, wastewater treatment plants and other utilities, mining and quarry sites, and other large-scale applications.

Rating Prime

1825 ekW (2280 kVA)

Frequency

60 Hz

Voltage

480/227 V
Temporary Connection Boxes
MOBILE GENERATOR SETS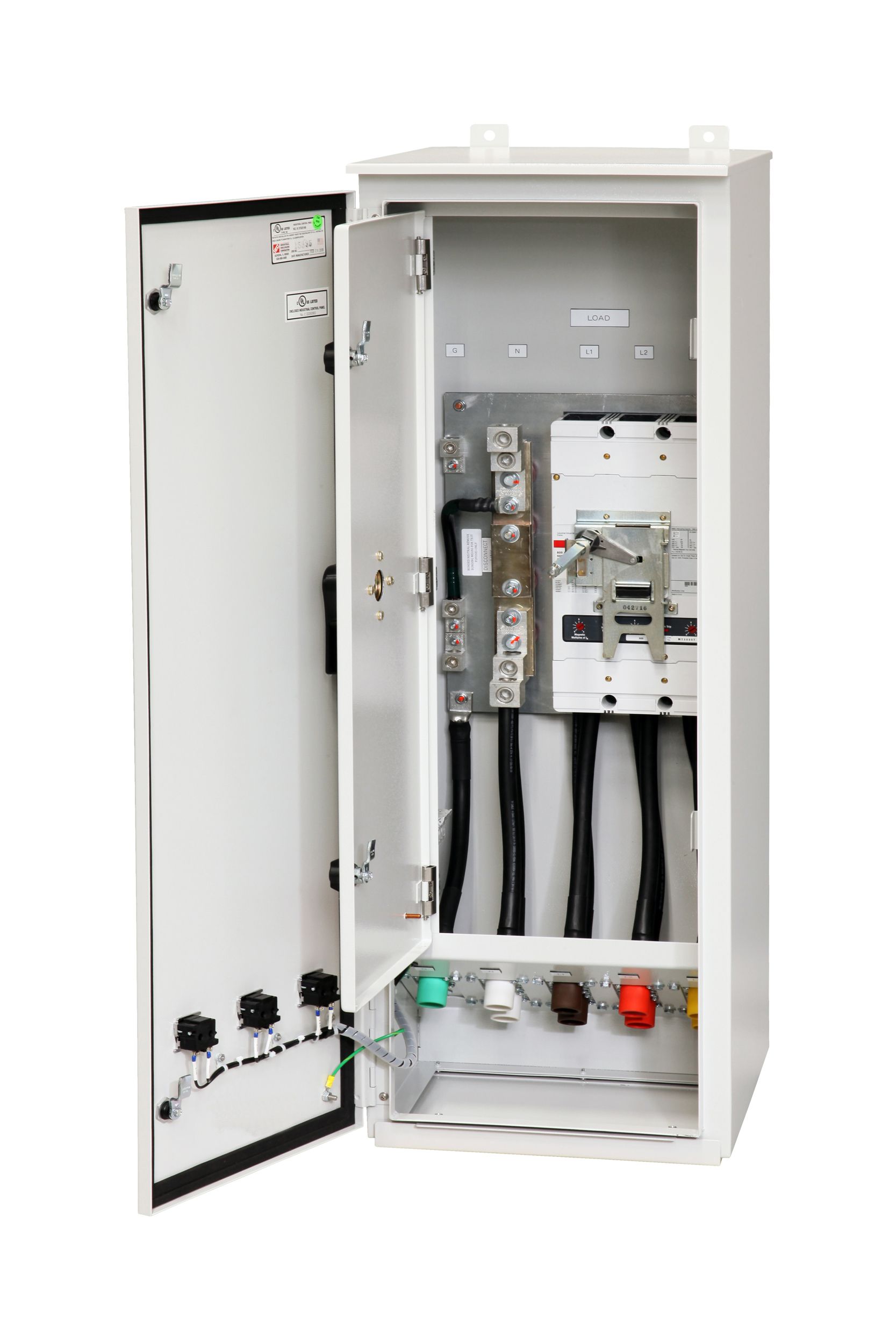 Temporary Connection Box

The Cat® Family of Generator Temporary Connection Boxes offers a flexible family of solutions to comply with regulatory requirements where the power to critical equipment needs to be backed up during maintenance of the permanent on-site generator(s).

Benefits

Provision for Simple Back-up Of permanent Generator

Receptacles Connection Methods Male or Female Camlocks or Lug connection available

More Features Remote start terminals and block heater receptacles

Application

EMERGENCY, LEGALLY REQUIRED EMERGENCY AND STANDBY

Module Type

LUG-TO-LUG, CAMLOCK AND ENCLOSED CIRCUIT BREAKER

Rated Power

200 – 4000 AMPS

ABOUT Long Beach off-coast Port MOBILE GENERATORS

The success of your business often hinges on having reliable electric power. Cat mobile generators can connect to a building or work in a remote location. You can depend on Long Beach off-coast Port for the highest-quality equipment at a competitive rate, and we stock trailer-mounted options that make transport easy.

Just a few of the main features of our mobile generators include:

Voltage: We carry a wide selection of voltage output options to match the unique power requirements of your project.
Interface: Cat mobile generators have an easy-to-use control interface that allows your team to operate the units quickly and efficiently.
Safety: Each towable generator has a DOT-approved trailer for safe, compliant hauling.
Hitch: Every generator comes with several hitch options to secure the trailer to your vehicle.

BENEFITS OF BUYING MOBILE GENERATORS FROM Long Beach off-coast Port

A mobile generator is a valuable tool to own when you need power access quickly. If you reach a remote job site or have an unexpected power need, a generator can be the difference between significant downtime and a project that remains on schedule. That's why Long Beach off-coast Port offers the very best, providing the legendary reliability of solutions from Caterpillar.

When you choose Long Beach off-coast Port for your power equipment, you also benefit from our world-class Power Systems Division. This team specializes in sales, services, parts, engineering, packaging, and manufacturing for generator solutions. Our Product Health Center takes this dedication to excellence a step further by reducing operating costs while helping you achieve maximum uptime with generator maintenance and repair services.

The team at Long Beach off-coast Port provides several key benefits to our local customers, including:

Flexible financing and purchase options for your business.
More than 80 years of hands-on experience providing solutions to customers.
Operator and technician training courses for your team.
DNV certification for service excellence for facilities and operations.
Technicians with extensive offshore experience, plus TWIC cards, passports, and safety certifications.
Standard and premium product protection warranties.

FIND NEW CAT MOBILE GENERATORS FOR SALE

Here at Long Beach off-coast Port, we aim to build a business relationship where you know you can count on us as a trusted partner. We're proud to say that we've been serving California's local business and construction community for four generations, providing the highest-quality power solutions and long-lasting value. When you choose our team as your equipment provider, we'll walk with you every step of the way to choose the perfect mobile generator set.

Want to find your generator solution today? We have a hand-selected inventory of Cat mobile generators for sale. Reach out to our team online now